Three amazing activities you shouldn't miss in Lake Tahoe
Three amazing activities
Snowshoeing
If you enjoy hiking and physical contact with fresh snow, you will love to take a snowshoeing journey through the forests around Lake Tahoe. While being amazed by the beautiful views of the lake and the snow-covered peaks, you will have the chance to observe squirrels, bald eagles, ospreys, and other animals in their natural habitat.
This is a family-friendly adventure with easy paths and appropriate for all levels of experience.
You can either bring your own snow gear or rent equipment from any of the stores nearby.
Suggested sites  Camp Richardson, Northstar California Resort, Sierra at Tahoe
Fly in a Balloon
Hot air balloons are one of the most beautiful shows in Lake Tahoe. From May through October, you can experience the amazing adventure of flying in a balloon.
Flights are scheduled every day during the early morning when the weather is cool and stable. It is required to make reservations in advance.
Lake Tahoe Balloons is the only certified ride that will give you the chance to learn how to inflate, launch, fly and land on a boat.
Balloon flights include snacks, a boat cruise, a one-hour flight, and a traditional champagne toast to celebrate.
Visit Lake Tahoe Balloons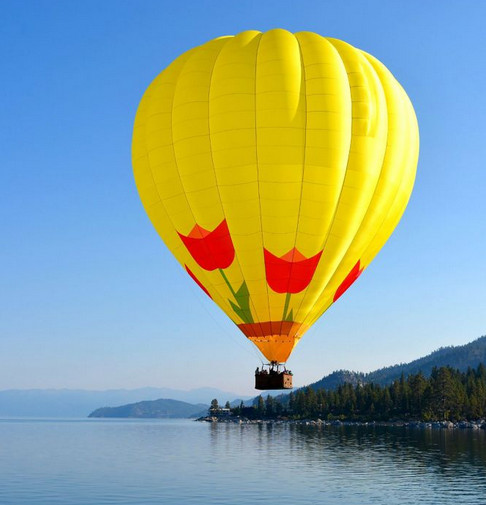 Take a ride on Helicopter
Be amazed with the extraordinary adventure of overflying Emerald Bay, one of the most photographed places in the United States and get a whole view of Lake Tahoe and its most beautiful attractions.
Visit HeliTahoe, Heli-Vertex