Article Quick Links - Post Table of Contents
Boating Lake Tahoe – How to get around by boat
How to Get Around Lake Tahoe Via Boat
By: Kayla Anderson
It's no secret that there's an influx of people in the Tahoe basin, looking to leave the city where there's more space, an abundance of nature, and outdoor activities to fill in the free time between remote working and Zoom calls. And although many lakes in California are currently affected by the drought, Lake Tahoe remains full of water, perfect for wakeboarding, paddle boarding, kayaking, or bar hopping/sightseeing by boat.
Whether you are visiting or have lived in Tahoe for years, getting out on the lake at least once in your life with all your friends or family is a must. Thankfully, there are plenty of marinas to launch from and/or boat charters who can help you have a memorable lake experience if you don't own your own boat. Here are some of the best places to rent a boat and/or jet ski in the area, but first…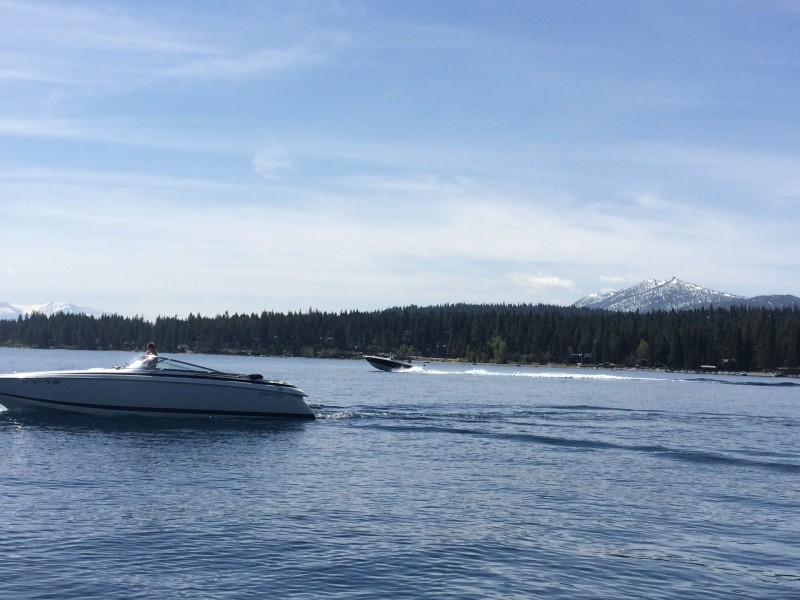 What you need to know before renting a boat
Driving a boat or a jet ski is not like driving a car, and some rental companies (like the Tahoe City Marina) require that you show proof of boating experience by showing a boater's license or safety course certification. Be aware that you will be responsible for any damage to the watercraft (I once saw a family go out and immediately ram the boat's $400 prop into a sandbar) and it's good to be aware of any landmarks and how long it takes to get there and back (it takes at least an hour to get from Tahoe City to Emerald Bay via boat). Along with that, here are a couple of other requirements that most Lake Tahoe boat rental companies have in place:
Must be 18 years old to rent a boat and at least 16 years old to ride a jet ski on one's own
Fuel is not included
Most boat rental companies are only open May-September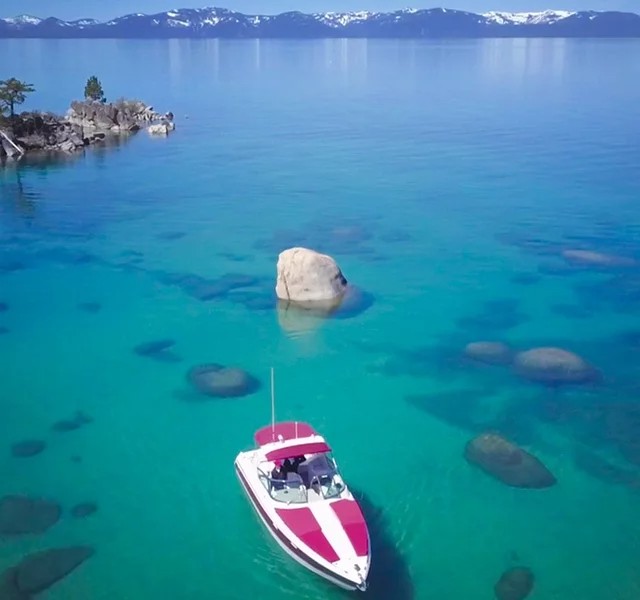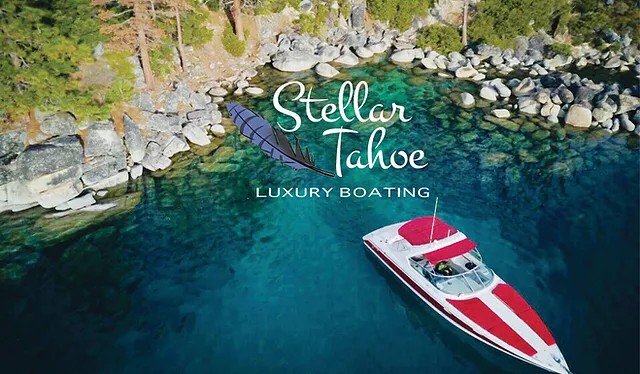 Now, here are the three best ways to rent a motorboat in Lake Tahoe…
If you want to be the captain of your own boat, check out:
Zephyr Cove Marina (Southeast Tahoe)
Staying on the South Shore? From Sea-Doo jet skis to its 36-ft. long pontoon boat that holds 12 people, the Zephyr Cove Marina has every kind of water toy you can imagine. It also keeps a fleet of 20-24 ft. Sea Rays and Malibu ski and wakeboard boats that can be rented out for around $1500 a day; wakeboards, wakesurf boards, and tubes are available for an extra cost. Must be at least 18 years old to rent a ski boat and 16 years old with a valid ID to drive a jet ski.
Tahoe Sports at the Ski Run Marina and Tahoe Keys (South Lake Tahoe)
Also, operating out of two lakefront marinas on the South Shore, TahoeSports.com keeps all kinds of jet skis and powerboats available to rent out. Powerboats that hold 6-13 passengers range from $169-$269 per hour but Tahoe Sports also takes people out parasailing and gives boat charters if they want to leave the driving to a professional.
High Sierra Waterski School (West Shore)
Located on the West Shore near Hurricane Bay (which ironically has the smoothest water for wakeboarding and waterskiing), the High Sierra Waterski School keeps the largest fleet of Correct Craft Ski Nautiques in the nation. They have more than 20 ski boats in their quiver, those for rent ranging from $1140-$1240 per day depending on the size and features you're looking for. They also rent jet skis and give waterski and wakeboard lessons.
Tahoe City Marina (Northwest Tahoe)
As one of the oldest marinas on Lake Tahoe, this harbor on the northwest shore of Big Blue is home of the Tahoe Gal cruise ship and the Tahoe Yacht Club. And right there on the dock within those boat slips adjacent to the Boatworks mall, the Marina rents out a 20-ft. and 23-ft. open bow powerboats and a 22-ft. Catalina sailboat. Rental rates range from $105-$215 per hour and can support 6-10 people.
North Tahoe Watersports (Kings Beach, Tahoe City)
In the dead center of North Lake Tahoe, North Tahoe Watersports in Kings Beach offers all kinds of human powered and motorized floating forms of entertainment ranging from parasailing, jet skis, kayaks, SUPs, and even Aqua Cycle Trikes. For information on North Tahoe Watersports' specific fleet, visit www.parasailtahoe.com.
Or if you want to sit back, relax, and leave the driving to a professional, here are some options:
Take a cruise on the M.S. Dixie II or the Tahoe Paradise (Zephyr Cove Marina, South Lake Tahoe)
If you're in the South Lake Tahoe area with a large group or family, consider taking a leisurely cruise to Emerald Bay on the M.S. Dixie II paddle wheeler or 90-passenger Tahoe Paradise yacht. Holding 500 people, the M.S. Dixie II is the largest boat on Lake Tahoe, shuttling people to Emerald Bay and back on daytime cruises. The three-story ship also holds dinner cruises for up to 300 people.
Sip on wine and snacks while cruising into the sunset on the Safari Rose (Ski Run Marina, South Lake Tahoe)
This 80-ft. long boat was originally built for the makers of Scotch Tape and is now managed by the same people who run the Idle Hour in South Lake Tahoe. This smooth-sailing yacht features three staterooms, six bathrooms, a dining room, a heated seating area with leather couches, a sun deck, enclosed fantail, and more. Much like the Tahoe Bleu Wave, the Safari Rose offers public scenic cruises, wedding charters, and private outings, and is well known for its sunset cruises.
Get married (or at least see incredible wildlife) on the Tahoe Bleu Wave (Tahoe Keys, South Lake Tahoe)
The 47-passenger Tahoe Bleu Wave offers a unique experience for guests by taking them out on public, private, or specially designed cruises to Emerald Bay and Rubicon from the Tahoe Keys. This ship sails year-round on Lake Tahoe and is equipped with a stocked bar (featuring Tahoe Blue vodka, of course), a fireplace, private lounge, party bow deck, and more. When I took this cruise in February of last year, we saw two bald eagle nests. Captain Augustin has been piloting cruise ships in Tahoe for decades and is extremely knowledgeable about the area; and they offer great packages for people who want to get married on the lake or celebrate a special occasion.
In the North Shore? Celebrate on Stellar Tahoe's Luxurious Yacht (Carnelian Bay, North Lake Tahoe)
If you're in town for a wedding but not the one getting married, consider going to the special event in style by jumping aboard Stellar Tahoe's luxurious Formula 330 boat. Kept at the Sierra Boat Company in Carnelian Bay, Stellar Tahoe is run by West Shore native Matt Lund and his incredibly sweet family who will take you wherever you want to go on the lake and do whatever you want to do. We suggest visiting the Hellman-Ehrman Mansion at Sugar Pine State Park or jumping off the rocks at D.L. Bliss. And the best part is that you won't have to sit in Tahoe traffic.
Be like a pirate and sling back a cocktail or two on the Rum Runner Cruise (Camp Richardson, South Lake Tahoe)
Over on the southwest side of Lake Tahoe, Camp Richardson is a popular place to park your RV for a night or two and explore, with an abundance of hiking trails, a deli/market, coffee shop, a bike path, and a big beach all within walking distance. However, Camp Richardson is best known for its restaurant called The Beacon which serves its signature Rum Runners. This resort even takes people out on an hour-and-a-half cruise to Emerald Bay with beer, wine, non-alcoholic drinks, and of course Rum Runners, available to purchase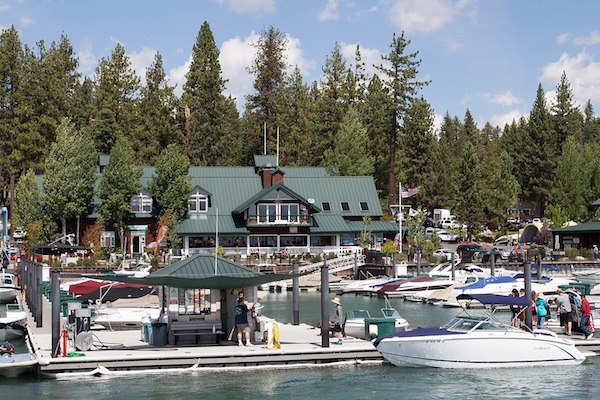 If you're local and have your own boat, here are some places to launch from:
If you are one of the fortunate few who own your own boat and are new to Lake Tahoe, then it's good to be aware of some of the places to launch from and how to navigate the Tahoe boat inspection process. Also, keep in mind a few ramps are closed for the 2021 summer season due to low lake levels, so it's good to check each launch ramp's website to make sure it's available. Here are the main launch points around the lake:
Sand Harbor State Park (East Shore, NV)- Closed for the 2021 season
Ski Beach (East Shore/Incline Village, NV)- Only available to Incline Village residents
Cave Rock (East Shore, NV)
Lake Forest (North Shore, CA)
Tahoe Vista Recreation Area (North Shore, CA)- Closed for the 2021 season
Obexer's Marina (West Shore/Homewood, CA)
Tahoe Keys Marina (South Shore, CA)
El Dorado Beach (South Shore, CA)
Most importantly, have FUN
Boating in Lake Tahoe is a unique thing to do and no matter how you decide to get out on the lake, you're bound to have a memorable experience. Do your research and find a way to best immerse yourself in one of the most beautiful alpine lakes in the U.S.