Winter in the Sierra Nevada mountains surrounding Lake Tahoe is spectacular, however navigating weather conditions, traffic conditions and even finding your vacation rental can present significant challenges.  The Tahoe Report Winter Travel page can assist with not only planning your trip, but also navigating the Tahoe Traffic, Road Conditions, Resort Closures and more.
So you are thinking of leaving San Francisco at 5 pm on the Friday of a holiday weekend…..well, you won't be alone and you may not even make it until Sunday if you are not checking the conditions.
Lake Tahoe area weather | It all starts here
While you don't control the weather, planning and adjusting for weather is a key component to visiting Lake Tahoe in the winter.  Whether to make sure that you are getting the best snow to knowing if you will be able to get there or even get back home in time for your Monday meeting these Tahoe Weather Resources can help.
Lake Tahoe Winter Weather Alerts & Forecasts
Mountain weather in the winter frequently changes.  From days to hours things change and the forecast that you saw while booking your vacation rental, hotel, or car may turn your planned powder day into a rainy day or your easy, sunny drive up the mountains into a 10 hour ordeal.  Key is to plan, but more importantly to revise the plan based on the latest weather and road conditions.
We recommend not only relying on your go to weather app, but to make sure that you include Weather.Gov | NOAA and if you are interested in how the weather forecast relates to snow, then add OpenSnow to your arsenal.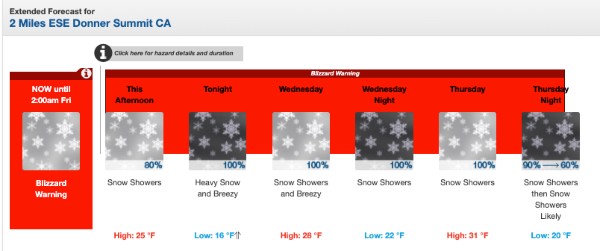 Direct Links to weather for key Lake Tahoe Mountain Towns 
Lake Tahoe Mountain Weather | Summits
Mountain Highways | Road Webcams
Lakeview Webcams
Mountain Webcams
And of course, if the weather outside is frightful, or you finished a fun day outside, check out some indoor options.