Article Quick Links - Post Table of Contents
Best Camping Spots & Camping Tips for Lake Tahoe
Top 10 Camping Spots & Camping Tips for Camping near Lake Tahoe? 
Lake Tahoe is a year-round dream destination for outdoor enthusiasts, and with summer activities such as hiking, biking, kayaking, and more at one's fingertips – summertime camping is an inexpensive way to enjoy the amenities that Tahoe has to offer and be fully immersed into the beauty that the Sierra Nevada Mountains embodies. But with roughly 72 miles of shoreline and a 22-mile-long alpine lake in the center, it can be difficult to find the perfect campsite fit. Here are the top ten California and Nevada campsites throughout the Tahoe National Forest.
What are the best camping spots near Lake Tahoe?
Here are the Top 10 Camping Spots for the Lake Tahoe Area.
Sugar Pine Point & Meeks Bay
Nestled between South Lake Tahoe and Tahoe City on the inland side of highway 89, the campsite at Sugar Pine Point State Park offers both RV and tent campsites for visitors to book. With over 170 campsites, General Creek Campground at Sugar Pine Point State Park is a great option for those that are wanting to experience Tahoe's sights a few miles away from the hustle and bustle of town. The campground offers common amenities such as a picnic table, bear-resistant food locker, and a fire ring at each site. This campground is perfect for guests who want to hike the famous Eagle Falls trail, which presents unforgettable views of Emerald Bay; or even campers who want to embrace Tahoe's rich history with touring sites such as the Tallac Historic Site and the Vikingsholm Mansion.
Fallen Leaf Lake Campground
On the south end of South Lake Tahoe is Fallen Leaf Lake, a small alpine lake that many locals and visitors alike frequent during the warm, summer months to avoid the busier crowds that Lake Tahoe can bring. Nestled among the towering pine trees that surround the small lake is Fallen Leaf Lake Campground. While this campground isn't on Lake Tahoe, it's still a great summer hub for those wanting to experience the amenities that Tahoe Basin camping has to offer. Fallen Leaf Lake Campground is across the street from Pope and Baldwin Beach, two large beaches on the shores of Lake Tahoe; and across from Taylor Creek Visitors Center, an interactive visitors center that hosts guided walking tours and provides educational information to guests on Tahoe's aquatic plant and animal species and sustainability. Campers at this site also have direct accessibility to the three-mile bike trail that runs along highway 89, providing easy access to some common areas that are visited. The campground itself has public bathrooms and showers, and each site has common camping amenities.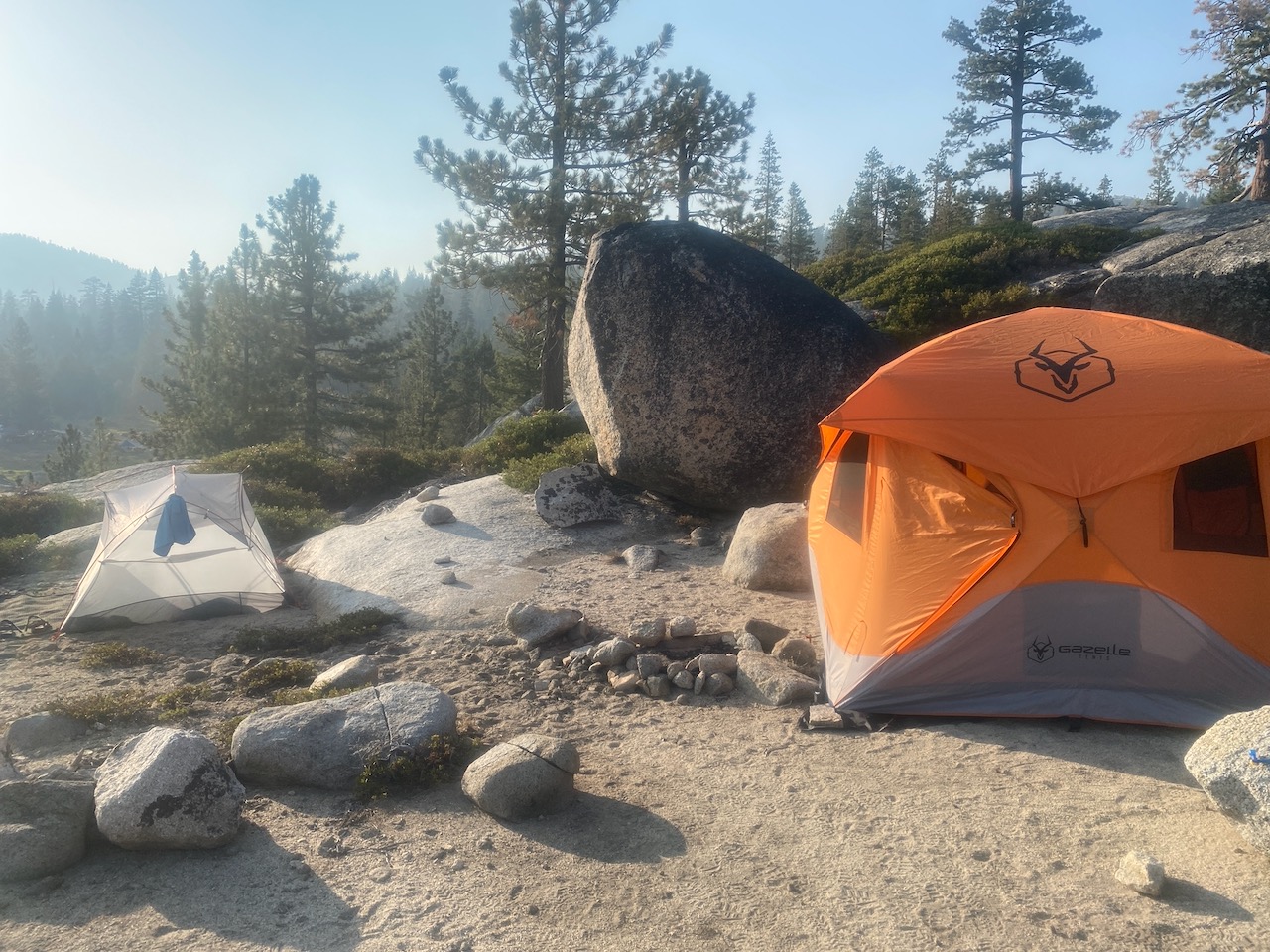 Eagle Point Campground & Boat Camp Campground (Emerald Bay)
With its rugged shoreline and enticing blue waters, it's safe to say that Emerald Bay is Lake Tahoe's gem. If you're wanting to soak in 24-hour views of Emerald Bay, Eagle Point Campground should be your go-to site.
Just 5 miles outside of South Lake Tahoe on the south side of Emerald Bay, Eagle Point Campground has 100 sites available for both tent and RV campers. But be weary: this site doesn't offer public showers or toilets. This campground is also at the front line of many well-known Tahoe hiking trails for all skill levels. From a quick ½ mile walk around the Eagle Falls Vista Point Loop, to a 10-mile intense hike on the famous Emerald Bay Rubicon Trail – many trailheads are easily accessible from this campground.
Looking to get on the pristine Lake Tahoe waters and experience Emerald Bay up close? On the north side of Emerald Bay, the boat-in campground offers lakefront campsites and buoys for those who want to launch or tie up their watercrafts. This campground typically opens Memorial Day weekend on a first-come, first-serve basis, and opens for reservations typically in mid-June.
Campground by the Lake – Lakeview Commons
Looking to experience more than nature on your Lake Tahoe adventure? Campground by the Lake is the perfect fit for your camping needs! Located in the heart of South Lake Tahoe directly across the street from Lakeview Commons, this campground is conveniently located within walking distance to the shores of Lake Tahoe as well as local bars, restaurants, and shopping. This campground is a must for those that want to experience both camping in the Tahoe Basin as well as enjoying South Lake's local fanfare. Just being a walk across the street from Lakeview Commons, campers at this site will have access to many of the local events and concerts that happen in South Lake Tahoe. This campground offers full amenities with coin-operated heated showers, restrooms, fire rings, and picnic tables.
Camp Richardson Campground
A town within a town, Camp Richardson is a must-see on your Lake Tahoe vacation. Located on highway 89, Camp Richardson offers classic summer camping energy. With a full-service marina, beach, ice cream shop, coffee shop, gift shop, and restaurant, this area is full of Lake Tahoe's rich history and perfect for family fun. Within Camp Richardson's "city" limits are both Badgers Den Campground, Eagles Nest Campground, and a full-service RV Village.
Both Badgers Den and Eagles Nest Campgrounds are tent-only sites. There are over 200 campsites that offer full-access amenities all the while being steps away from the shores of Lake Tahoe. These campgrounds are perfect for the family-friendly trip.
Zephyr Cove Campground + Nevada Beach Campground
Both Zephyr Cove and Nevada Beach campgrounds are the perfect option for those that are looking to enjoy the icy blue waters of Lake Tahoe a few miles outside of South Lake Tahoe's city limits.
For campers wanting a more interactive and adventurous experience, Zephyr Cove campground should be your go-to. A crosswalk away from Tahoe's shoreline, this campground is located next to a full-service restaurant, the Zephyr Cove stables for those that are wanting to try horseback riding, and the boarding site for the M.S. Dixie II: a paddlewheel boat that offers guided tours of Emerald Bay and dinner cruises! The Zephyr Cove campground offers amenities such as complimentary showers and toilets, vending machines, and even laundry.
Located directly past the California-Nevada state line is Nevada Beach campground, offering dozens of campsites for tents and RV's. While a handful of the sites at this campground don't have views of Lake Tahoe, don't be fooled – this campground is the perfect destination for those looking to be right on the shores of Lake Tahoe. Less than one mile long in length, Nevada Beach is one of Tahoe's smallest beaches; allowing for ample room for fun in the sun on your camping trip. Nevada Beach offers the typical campground amenities with a fire ring, toilets and showers, and a bear box to store food in.
Spooner Lake & Backcountry
If you're looking for an "off the beaten path" camping trip, then the three campgrounds at Spooner Lake are for you. Nestled in the Lake Tahoe Basin, the Spooner Backcountry is a widespread and recreational oasis. Spooner Lake, a small alpine lake, is surrounded by dense aspen trees and over 12,000 acres of open forest space. Spooner Lake offers over 50 miles of mountain biking, equestrian riding, and hiking for its visitors. All camping at Spooner Lake is hike-in only, and there are tent sites and simple sleeper cabins that are available.
Mt. Rose Campground
Located at a peak elevation of 9,300 feet and in the heart of the Humboldt-Toiyabe Forest is Mt. Rose Campground. Right off Mt. Rose Highway, this campground is surrounded by towering conifer trees, and provides its campers unbeatable views of Lake Tahoe, just nine miles away. Right outside of Incline Village, this campground is perfect for those that want to be immersed in Tahoe's landscape. This campground is typically open from mid-June – mid-September. A good locals tip is to wait until the later summer months and many of the hiking trails around Mt. Rose are engulfed in beautiful, late-fall wildflower blooms!
Silver Lake Campground
Wanting the alpine camping experience without the crowds of Lake Tahoe? Silver Lake campground is your spot. Located just south of Lake Tahoe near Kirkwood Resort is Silver Lake East. This amenities-included campground offers tent and RV sites for its guests to enjoy, just steps away from the shores of Silver Lake, a 200-acre alpine lake, surrounded by wooded forest. Away from the hustle and bustle of Lake Tahoe, Silver Lake campground offers camping amenities and is at the base of many hiking and biking trails, including the Potholes Trail in the El Dorado National Forest. Throughout the summer months, this campground is densely covered in vibrant wildflower blooms, making for a bright, one-of-a-kind camping trip!
Caples Lake Campground
About 30 miles outside of the Tahoe Basin is Caples Lake Campground. At an elevation of 7,800 feet, this large alpine lake has over five miles of shoreline and is open to its guests for summer lake activities such as fishing, swimming, and small watercrafts that go 5 MPH or under. Right across the street from the shores of Caples Lake is Caples Lake campground, and there are two other nearby campgrounds for visitors to enjoy. With just 34 sites for both tents and RVs/trailers, this campground offers an intimate mountain setting for its campers and is at the hub of Northern California's forest.
While this campground is rather small, there are two adjacent campgrounds nearby so visitors can still soak up the views and activities that Caples Lake has to offer. Both Kirkwood Lake and Woods Lake Campgrounds are about ¼ mile away from the shores of Caples Lake and provide a great camping experience for visitors to enjoy.
While all these campgrounds offer inclusive amenities, it's vital to the Lake Tahoe Basin and surrounding areas that visitors are mindful of their camping. Each of these campgrounds has their own individual set of rules in place for visitors to follow, and camping-etiquette is essential to be successful.
What are the rules for camping in Lake Tahoe?
Common campers-etiquette rules are:
Pack in what you pack out. Don't leave any food waste, trash, or other items when you leave the campsite, hiking trails, lakes, or beaches you visit on your camping trip.
Follow specific campground rules. Each campground typically has a set of rules for its guests to follow, such as quiet hours for visitors.
Watch fire restrictions. In California and Nevada, fire restrictions are essential to watch ahead of your camping trip. Remember that NO residential charcoal barbecues/grills are allowed on Lake Tahoe's beaches, and fires are only allowed in provided fire-rings at each campsite, if fire restrictions allow for campfires at any given time.
It's important to note that while many people frequently visit Lake Tahoe, there is a large amount of wildlife in the area as well. Don't feed any wildlife, specifically the bears, and always stow away your food in the provided bear boxes.
Lastly, prep for success! Many of these listed campsites require reservations in advance, and others are first come, first serve. Do your research before your camping trip and check the weather in the area to pack accordingly for your Tahoe vacation!
It's important to note that while these campgrounds offer wonderful camping experiences, summer in Tahoe is always busy, and most of these sites require reservations. Here are some tips to secure your dream campsite for summer:
Campsites book up fast in California! A great rule of thumb when planning your Lake Tahoe vacation is to think about your camping trip ahead of time in the winter season preceding summer, roughly 4-6 months in advance.
There are many useful websites and apps that can help secure a campsite for you such as The Dyrt, reservecalifornia.com, hipcamp.com, and you can always reserve your campsite ahead of time by searching any of these campgrounds by name online and booking directly through their website.
If you're looking for a spur of the moment, last minute camping trip; always keep an eye on reservations online! Most campgrounds in the Lake Tahoe National Forest will list campsites on their website if the pre-existing reservation falls through, and the campsite will be available to book very last minute. Finding campsite reservations through social media channels is also a useful way to pick up a reservation for a quick trip.
Is there Dispersed Camping near Lake Tahoe?
YES! Aside from these ten campgrounds, there are still endless options to set up camp more "off the beaten path." National Forest dispersed camping, also known as open camping, is for those that are looking to camp at sites that don't require reservations. These campsites are scattered throughout the Tahoe National Forest and surrounding areas, but it's important to also do your research on the areas that you intend to camp in. Many of these areas around the Tahoe Basin require a desolation wilderness permit and campfire permit. These permits are available online at: fs.usda.gov or can be purchased in person at Forest Service offices in the basin.