Winter Activities that don't require a lift ticket
What is there to do in Winter instead of skiing?
Lake Tahoe is famously known as the home to west coast skiing and snowboarding. With large mountains and steep terrain, over the years Tahoe ski resorts have been coined some of the best in the world for the action-filled sport. However, the mountain can be incredibly intimidating to many that vacation here, so much so that it's completely avoided. Then what?
Rest assured, there's a wide array of activities in the Basin that don't necessarily require a lift ticket! Instead of standing in the rental lines for ski poles and a helmet, step aside and try one of the many activities that Tahoe towns can offer for a more unique, winter experience.  And many of these are cheap or even Free.
Is there Ice Skating in Lake Tahoe? Ice Skating Options
Really, is there a better way to embrace the chilly winter weather than with a cup of hot cocoa and ice skating? While not as intimidating as a day on the slopes, ice skating can still offer some much-needed thrill and fun for everyone in the family! There are a handful of skating rinks throughout local Tahoe towns for visitors to enjoy, as well as some secret ice skating lakes and ponds that are accessible for a more unique skating experience.
Heavenly Village Ice Rink
Nestled in the lively Heavenly Village is a fun ice-skating rink for everyone in the family! With twinkling lights hanging above and familiar holiday tunes flooding the area, the ice skating at the Heavenly Village Rink is a great way to embrace winter with the whole family. The rink is at the center of shops, restaurants, and bars; so dad and mom can grab a cocktail while the kids have some hot cocoa too!
Northstar California Ice Rink
In the heart of the Northstar Resort Village is the ice-skating rink. This rink is the center attraction for those that aren't spending the day on the slopes and is the perfect way to indulge in winter fun. This skating rink is surrounded by gas firepits and cozy booths, allowing families to gather around and make smores too! Northstar's Village also offers an array of coffee, shopping, restaurants, and even 'The Rink Bar' just a few steps away from the skating rink for warm cocktails, brews, and other spirits.
Truckee Outdoor Ice Rink & Tahoe City Winter Sports Park
Two communities that also offer a great options (including rentals) for getting on the ice include Truckee's Outdoor Ice Rink as well as the Tahoe City Winter Sports Park.
Mountain Lakes & Ponds | Backcountry Ice Skating in the Sierra
While Lake Tahoe does not freeze, there are numerous alpine lakes that when the conditions are right become an option for the more experienced and daring.   Some seasons the conditions never materialize (too much snow, too warm etc) and in others you will find community rinks on small ponds and lakes from Truckee to the Carson Pass.   NOTE: Backcountry Ice Skating can be dangerous so it is extremely important to take the necessary precautions and be prepared.  It is a unique experience (example below) yet like anything else in the backcountry safety precautions and knowledge are key.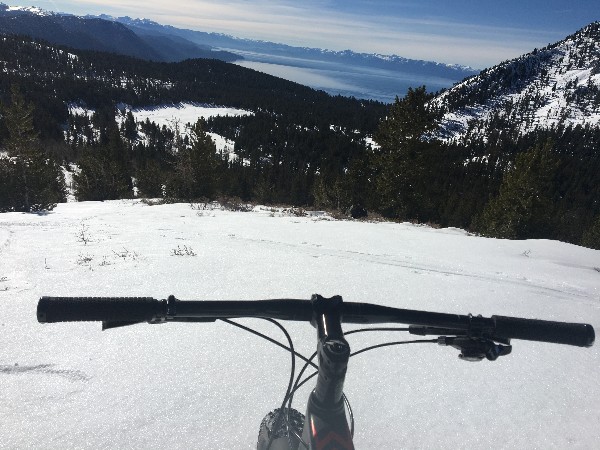 Snowshoeing in Lake Tahoe
Enjoying the beauty of the High Sierra during the winter season is a must-do during your next Tahoe vacation! There are many snowshoeing options that exist in the Lake Tahoe Basin, and it's a unique way to get into the mountains! Whether you're looking for a leisurely ascent with your family, or a fully immersive, intense winter workout – there's something for everyone when it comes to snowshoeing.
Although snowshoeing is assumed as generally a low-impact sport, there are many components that must be evaluated prior to making your alpine trek. The first step to any snowshoe adventure is to identify where you want to hike, and who you want to hike with. All around the Tahoe Basin, there are guided snowshoe tours available, as well as rental companies that will simply provide you with gear, and you do the rest. It is also important to choose your snowshoe destination wisely. There are hundreds of hiking trails around Lake Tahoe, however many aren't accessible during the winter months. Remember to talk with your group, as well as your snowshoe touring company for local recommendations and favorite spots. Hiking trails are dependent on your skill level, and the Tahoe area offers trails fit to anyone's skillset.
Of course, it's also important that you dress and pack accordingly for your snowshoe trek. Whether you're heading out on a 2-hour hike to Chickadee Ridge, or an overnight starry snowshoe hike in South Shore, it's vital to pack essentials for any situation that may arise. Many of these hikes take you into desolation wilderness, where there is no phone reception, and no one else around. It's important to communicate with your group, as well as someone else, so they know where you are and when they can expect you to return. Another tip when heading into the wilderness that many Tahoe locals have adapted is if your phone is running low on battery, set your voicemail to specify where you are, your coordinates (if possible), and what you are doing. That way, when people call you, they know where you are if something happens.
Hiking through the winter backcountry can present different situations, and it's always important to be prepared. Checking the backcountry report for snow conditions and weather forecasts is incredibly important. Remember to communicate with your group on your comfortability with trails and how you're preforming. Snowshoe touring companies are there to help with any questions, concerns, or issues you might have as well.
Depending on where your winter vacation takes you around the lake, there are various snowshoe tours, rental companies, and events that occur in all areas of Lake Tahoe. While pricing, availability, and tours differ, these snowshoe companies offer the simple rental essentials all the way to immersive historic tours guided by professionals.
Cross Country Skiing
Don't let the word skiing fool you – cross country skiing is a unique way to embrace the mountains without having to get onto a single chairlift! Cross country skiing is a great activity that can really connect you with the true winter sparkle that Lake Tahoe has to offer. The cross-country trails that are around the Basin cater to favoring nature and allowing those who are immersing themselves in the sport to be captivated by the tall pines, frozen ponds, and quiet atmosphere. The best part? Some of these trails are even inside of the major Tahoe ski resorts' boundaries, allowing for dual fun for everyone; whichever way you want to play on the mountain!
Whether you're trying cross-country skiing for your first time, or are looking for a treacherous trail, there's really something for every skill level in Lake Tahoe.
For more information on the best cross-country skiing destinations in the Lake Tahoe Basin, visit: https://www.tahoereport.com/en/lake-tahoe-cross-country-ski-guide-xc/
Is there Snowmobiling in Lake Tahoe?
If you're group is looking for an adrenaline rush but doesn't necessarily want to find themselves lapping the lift lines, snowmobiling is the way to go. Snowmobiles have been used as a form of transportation for many that reside in mountain towns during big snowstorms, however they are also frequently used as a recreational activity. Just imagine: speeding past snow-kissed pine trees with the winter wind whipping you and light, fluffy snow billowing in your tracks – really, is there a better way to tap into your adrenaline fix?
All around the Tahoe Basin, there are many snowmobile rentals, touring companies, and well-known trails for those that already have the gear and equipment and are ready to roll. Snowmobiles can be used to get deeper into desolation wilderness and finding fresh snow trails to ride, to even lapping a groomed, icy track. Wherever your snowmobiling adventure takes you, it's the perfect, exciting winter activity.
Sledding 
While many of these activities require strengths or other expertise, sledding is really the perfect activity for any group or family traveling to Lake Tahoe. What gets you more in the winter spirit than hiking up to the top of a hill, and sliding down the slick, icy path while everyone watches from below? The greatest part about sledding is that it brings everyone in the family the joy, adrenaline, and fun that one desires when tapping into their winter vacation!
There are many well-known sledding and tubing hills that are available to visitors around the lake, as well as quieter, more local spots that don't necessarily require a day pass. In fact, some of the best sledding hills are tucked away gems. For more information on some of the free sledding hills in Lake Tahoe, visit: https://www.tahoereport.com/en/four-fantastic-free-sledding-hills-in-lake-tahoe/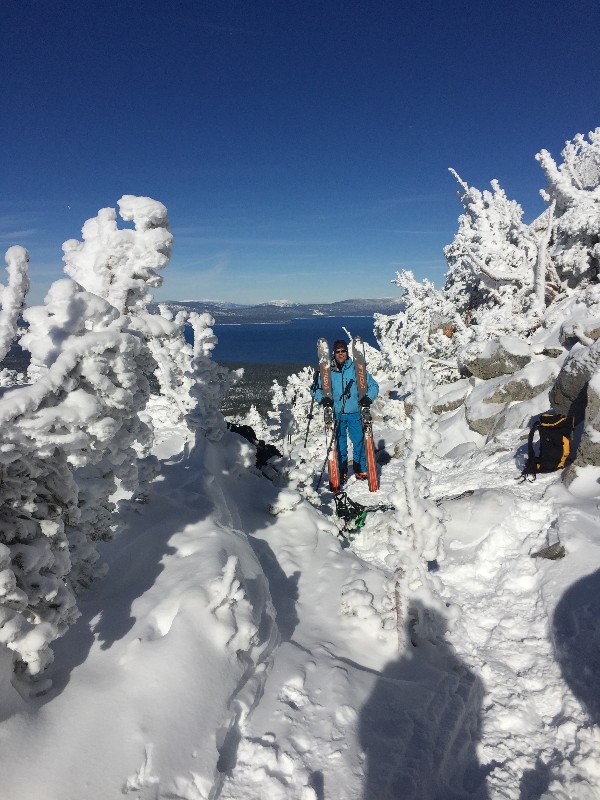 Backcountry Skiing & Snowboarding
Lake Tahoe is famously known to have some of the best backcountry skiing and riding in North America. With resorts around the lake hosting groomed runs, a different approach to getting onto the mountain is through backcountry riding. Speeding down a mountain through fresh, untouched snow will really make anyone feel like they're on top of the world, and really satisfy your adrenaline craving.
While backcountry skiing and riding provides excitement and a new way to explore the High Sierra, it's incredibly important to embody the "know before you go" mentality. Being in the backcountry can present its own challenges, and it's vital that those that are there to understand the do's and don'ts. While there are many ways to prepare, some common tips and tricks are:
Never go alone. You should always go into the backcountry with a friend or group so someone can keep watch for you and know where you are.
Pack, dress, and ride accordingly. Depending on the weather, snow conditions, and other external factors, it's important to be prepared for any conditions that may arise. It's also vital to have the right gear that'll give you the best results. So, a reverse-camber snowboard might not be the best choice when it comes to riding in the backcountry.
The cardinal rule before exploring the backcountry on your skis or snowboard is to know you're good enough to ride back there. The backcountry can present conditions that only professionals are ready for such as avalanches and deep snow. Talk to a professional group or expert prior to heading out to be safe.
For more information on how to stay safe and aware when heading into the backcountry, visit: https://www.tahoereport.com/en/winter-of-backcountry-ski-snowboard/
Winter Biking | Fat Tire Biking
What better way to get your family out into the mountains than with a relaxing, alpine bike ride? Biking is normally assumed as a summer activity in Lake Tahoe that many locals and visitors frequent. However fat tire biking is a modern method to getting around in snowy, winter conditions. With larger tires on a bicycle, the fat tires allow riders to float on top of the snow, while also providing the traction and stability that one needs when trekking through the winter conditions.
Many of the summer bike rental companies offer winter fat tire bike rentals by the hour, half-day, or even full-day pricing. There are a multitude of bike rental companies around Lake Tahoe that provide guided tours, gear rentals, and even maps for visitors to ride the snow-covered paths throughout the Basin.
Can you Kayak or SUP Lake Tahoe in Winter?
While the snow cascades and collects on the mountains, the big blue Lake Tahoe sits as an epicenter that many assume lies quiet during winter months. With almost-freezing water temperatures year-round, many locals and visitors alike tend to not frequent the lake during winter. However similarly to summer, there are many activities on the lake that are still possible, and arguably even more relaxing during winter.
Stand-Up Paddle Boarding, better known at SUP, is a year-round Tahoe activity. Considering that many towns in the Basin are within a mile or two from the shores of the icy waters, getting onto your board and paddling out is an incredibly meditative and unique way to see Tahoe during winter months. The best part of stand-up paddle boarding is practically having what's normally the busy, bustling Lake Tahoe all to yourself.
Another lake activity that many would assume is a summer-only experience is not. Kayaking or canoeing is a great way to see Lake Tahoe during winter. Getting out into the water via kayak or canoe is a fun, activity that can be accomplished solo or even in tandem, giving you an unforgettable winter workout while also soaking in the mountain views.
With Lake Tahoe being a mecca for winter sports during the colder season, these non-traditional snow sports provide a unique and unconventional Lake Tahoe vacation experience while also getting on the mountain to enjoy what the High Sierra has to offer.
For more information on any of these winter activities, visit tahoereport.com.