Four Fantastic Free Sledding Hills in Lake Tahoe
Four Fantastic Free Sledding Hills in Lake Tahoe
Since mother nature has brought to the Lake Tahoe area at least one snowstorm every week during November, lots of people are already enjoying at snow parks and sledding hills in different activities, and what caught my attention last week was the number of places available to sled for free in Tahoe, either in town, up the hills, or on the way to or from home; so I decided to grab a couple sleds and brought my kids to try some of these spots.
Here is a list of the places that I liked the most for being safe areas, away from the road, and with family friendly slopes.
Mt. Rose Sledding Hill
Take Mt. Rose Hwy (Highway 431) towards Reno and you will find a huge public sledding spot right next to the road at Tahoe Meadows. Park along the road where everybody else does. Mt. Rose Sledding hill always has plenty of snow and too much fun for the whole family, including your four-legged friend. Pick up your dog's waste and take it with you since this place doesn't have any garbage bin. Dog's waste creates big problems with water clarity.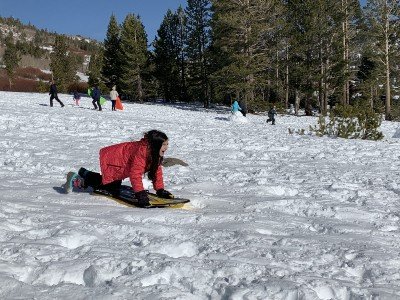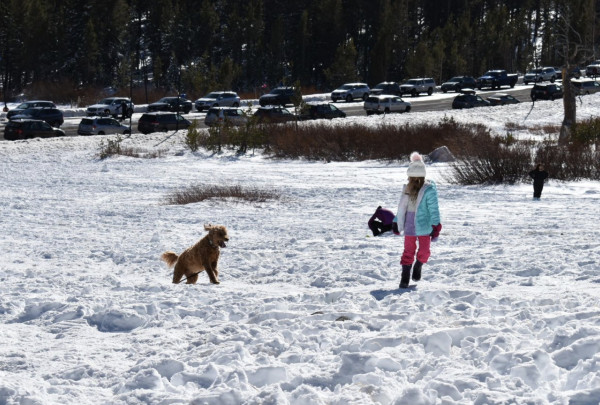 Spooner Summit Public Sledding
In front of Spooner Lake, on NV-28 and Lincoln Hwy there is a very nice public sledding place with different slopes, where you choose how risky you want to be. It is lots of fun for all ages. I recommend you arrive early since the parking lot is limited. Be responsible with the food and drinks you bring and do not leave trash or broken sleds.
North Tahoe Regional Park
Located on 6600 Donner Rd, in Tahoe Vista, NV, about 3/4 of a mile from North Lake Boulevard. We had a blast at this park which offers a small hill for little kids, and a bigger one for more adventure. This is a big park with different fields for sports. There is a $5 fee for parking, and there are restrooms. You can't bring snowboards or anything metallic to the play area. Dogs are welcome at this park and they have their own play area.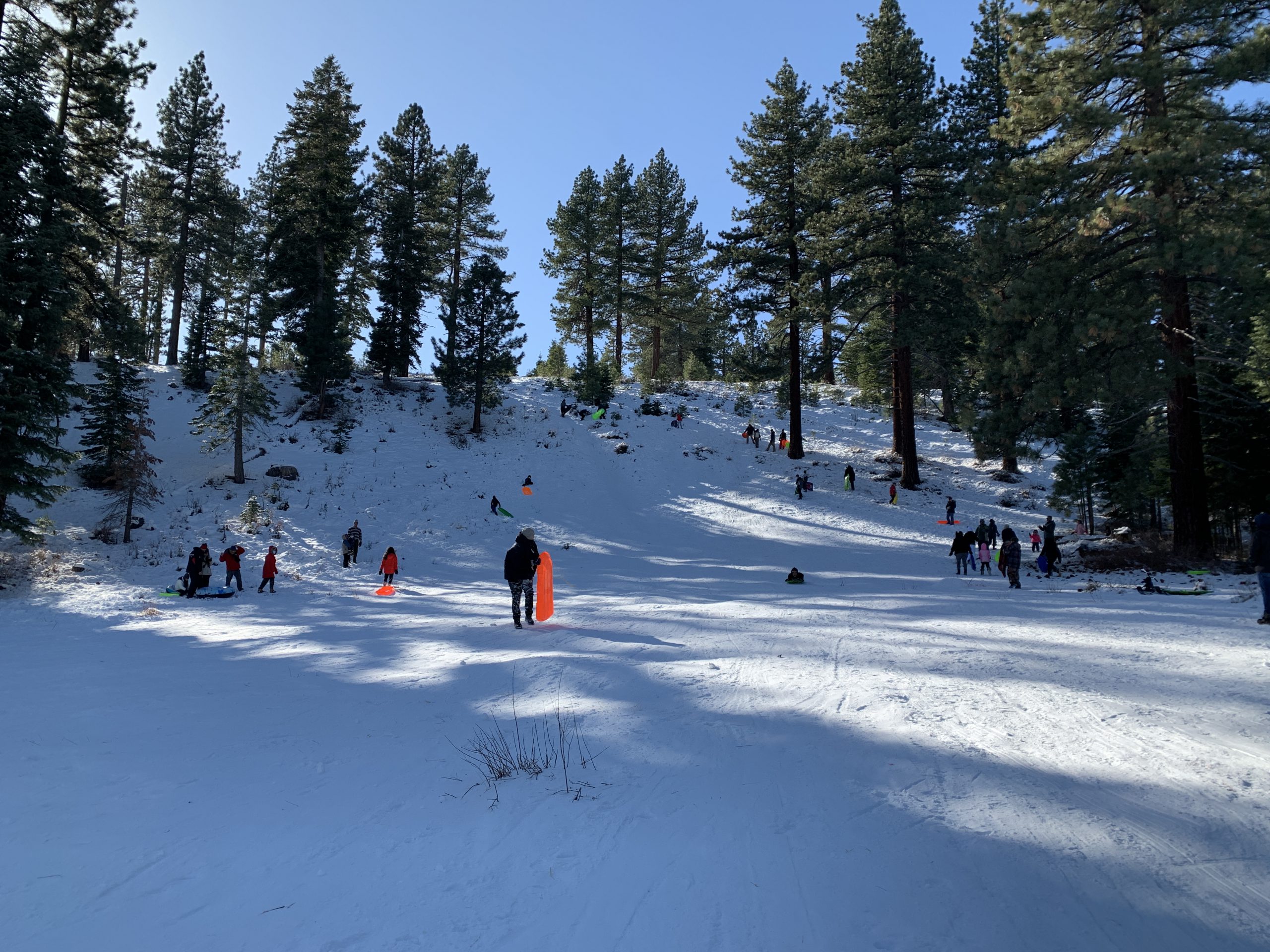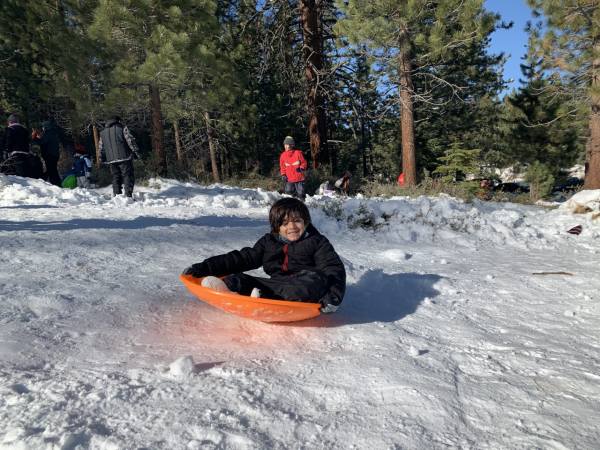 Donner Summit California State Sno-park
Located 10 miles west from Truckee, on the south side of I-80, at the Castle Peak exit, Donner Summit Sno-park is big enough to get your own spot and not wait on others to slide, and has several slopes. The park has a restroom and has a trash bin. The parking lot fills up quickly, but if you get there early you won't have any issues.
Of course, there are many other great snow parks where you can go sledding in Lake Tahoe, such as Granlibakken and Tahoe City Winter Sports Park in the North area, or Hansen's Resort and Adventure Mountain in the South. You may have to pay a ticket to use the slopes, or for parking, but most of them are worth the cost. Wearing a mouth cover is always a good idea since these places are usually very crowded, especially on weekends.
Map of California Sno-Parks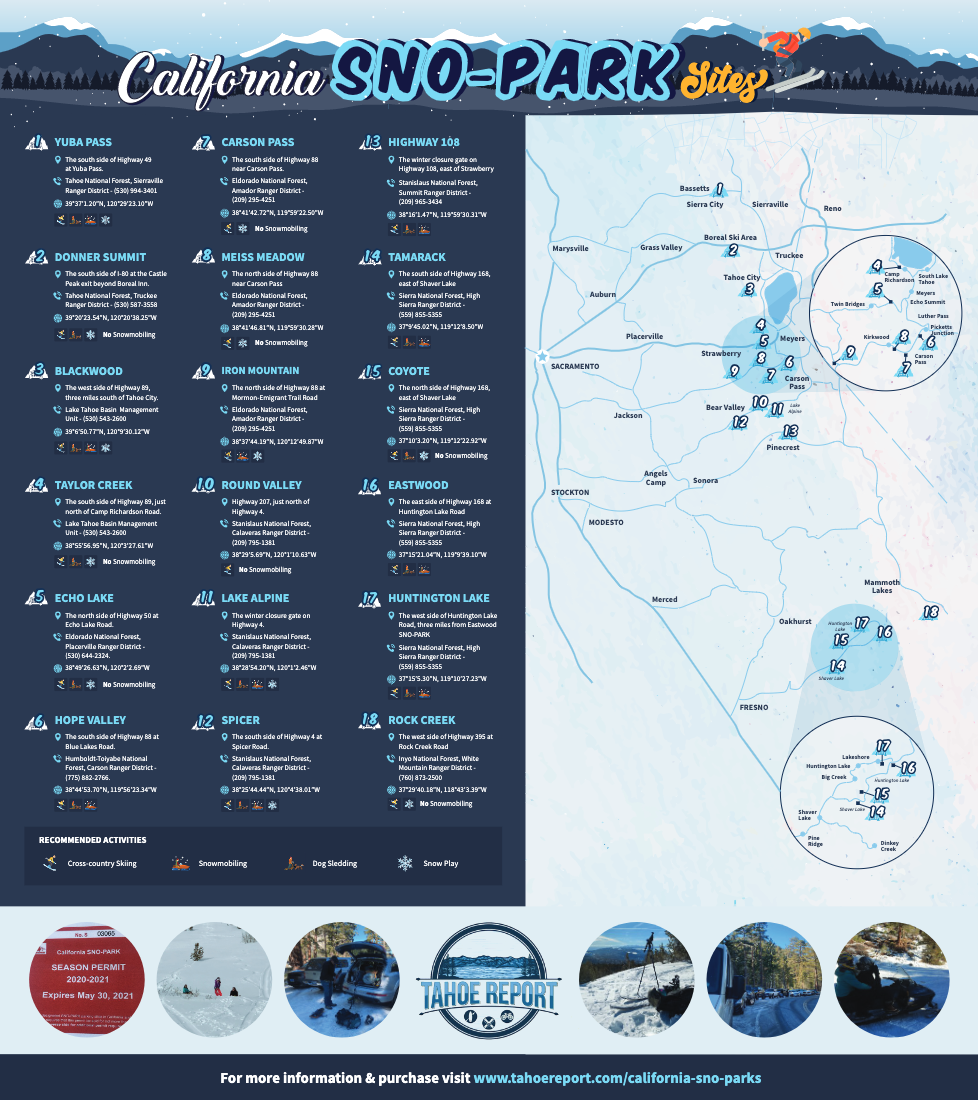 Ski Resorts in Lake Tahoe, Augmented Reality Travel Guide
If this is your very first time using Augmented Reality, check the following video as a quick reference.
Ski Resorts in Lake Tahoe, Augmented Reality Travel Guide
This is 3D model. You can drag or tap it to move in any direction.
1. If you are seeing the image:

click on it.
2. When a new image appears, click on: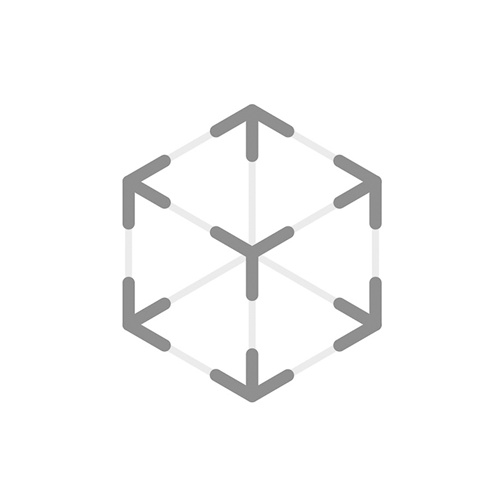 AR powered by Virtualmerse
Now, try your self this amazing Augmented Reality experience:
1. Find a flat and clean surface (table, desktop) ideally without objects on it.
2. Open the current page in your
iPhone

or

iPad

.
3. Alternatively, scan the QR Code with your mobile device camera.
4. Enjoy it!
Scan the QR Code to see the model in your iPhone or iPad only