Article Quick Links - Post Table of Contents
Top 5 Lake Tahoe beaches to avoid the crowds
Top 5 Lake Tahoe beaches to avoid the crowds.  
With its icy blue waters, cascading pine trees, and mildly warm temperatures – Lake Tahoe has been frequented by travelers far and wide for decades as a summer vacation destination. With sun-soaked beach days soaking in the alpine air, there's not too much that can ruin one's Lake Tahoe vacation; except one thing: busy crowds.
Since the Tahoe Basin is the hub of many peoples travels, planning can become overwhelming when seeking out the perfect beach day away from the hustle and bustle of the summer season. Here are the top five Lake Tahoe beaches to avoid busier crowds.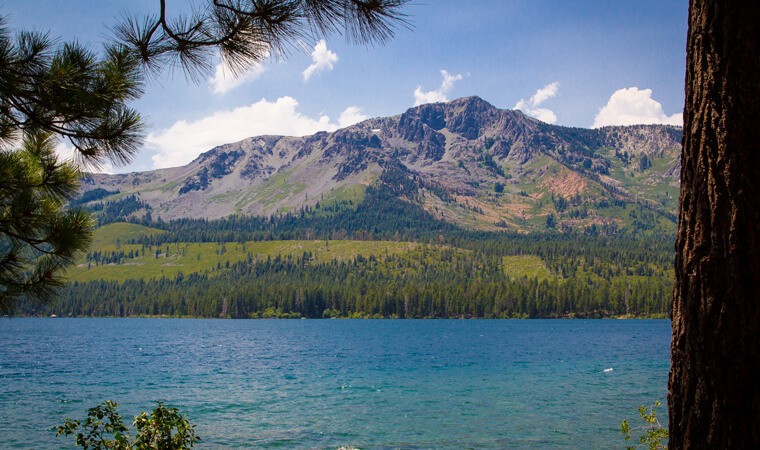 Skunk Harbor
Only accessible by hiking or biking, Skunk Harbor is one of North Lake Tahoe's best hidden spots for a day spent in the sunshine. This 1.6-mile trail is easily accessible off highway 28 and is a mild to moderate hike for those looking for a quick way to work your steps in on your beach day. The path winds through tall pine trees and views of Lake Tahoe are visible through the entire trail, providing an enjoyable and short scenic walk through the Tahoe National Forest. This trail hosts some of North Lake Tahoe's rich history, and once you reach the bottom, you can see the remnants of the gray stone building that was built by a prominent San Francisco family in the 1920's, who used it as a secluded picnic spot and to host lavish parties right on the shores of the lake. While Skunk Harbor is secluded to walk-in and bike-in visitors only, it's important to be mindful that this leisurely trail is all downhill to get to the hidden cove, making it uphill much of the way back up – so pack your beach gear lightly and wear good, comfortable walking shoes if planning to visit this spot!
Bliss Beach – D.L. Bliss State Park
Between the south and west shores of Lake Tahoe is D.L. Bliss State Park, a beautiful park right on the shores of the lake that hosts some of Tahoe's fan-favorite destinations. D.L. Bliss is the focal point for many avid hikers, bikers, swimmers, and more; being at the forefront of many popular trailheads, swim spots, and bike trails. While this state park regularly has a large influx of traffic, what many don't know is that the park is also home to Bliss Beach. Bliss Beach has two parts: the north part being known as Lester Beach, and the southern portion known as Calloway Cove. Both Lester Beach and Calloway Cove host quiet, serene views of some of the calmest and bluest views of the lake, and when the sun is hitting the water, it looks as if it's drenched in sparkles. This beach is great for those looking for a bit more adventure, as it's right at the entrance to the Rubicon Wall, one of Lake Tahoe's deepest points. There are accessible cliffs to jump off into the water, and it's normal to see other adventure seekers in the area actively paddle boarding, scuba diving/snorkeling, and kayaking. It's important to note that while the views and intimate setting of this beach are truly one-of-a-kind, the beach overall is very small and does not have a designated swim section, so swim at your own risk and it is advised to get there early if you want a parking spot.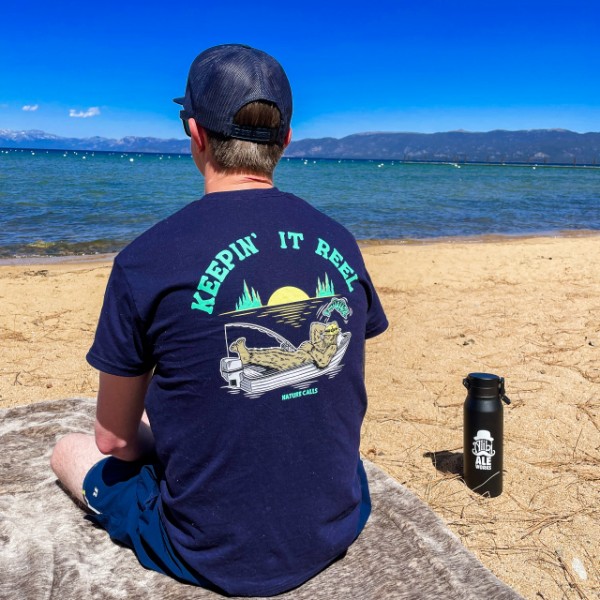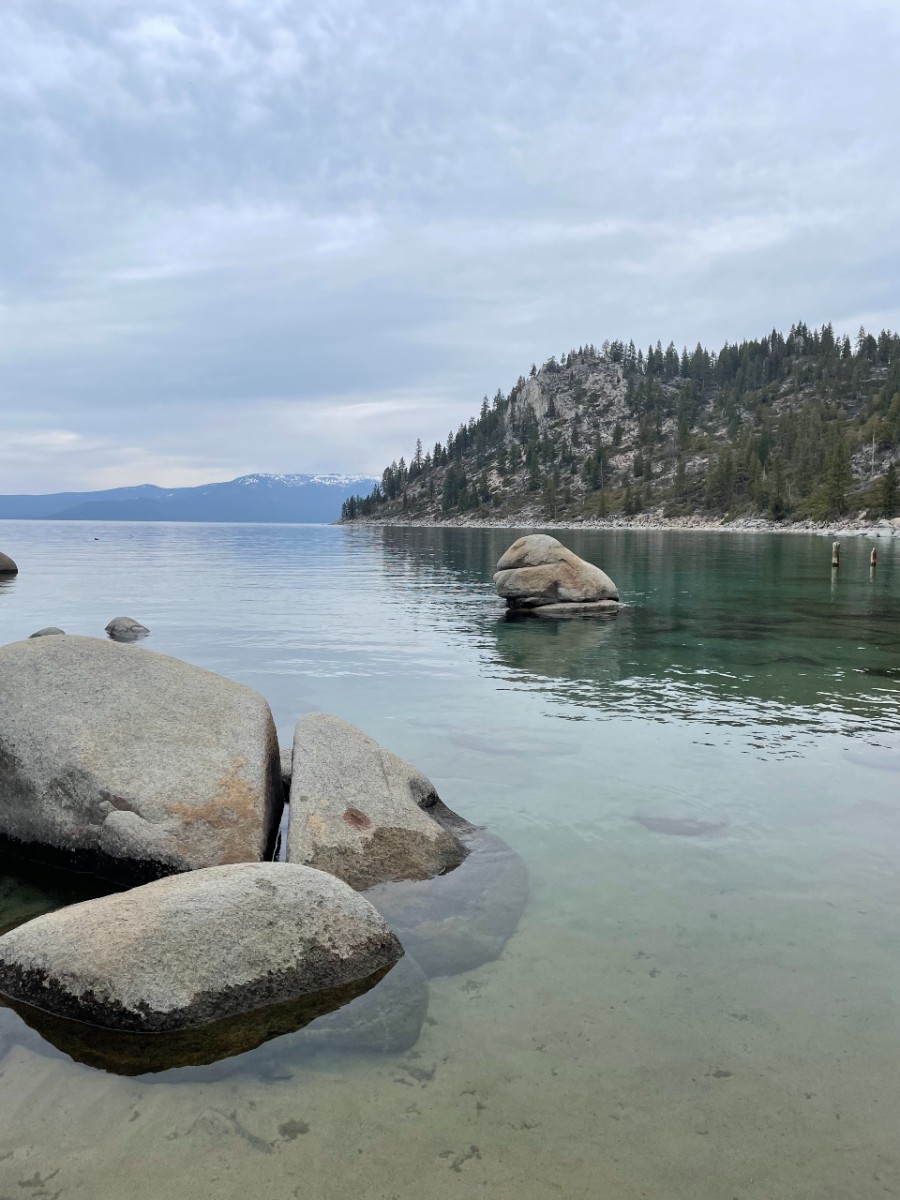 Chimney Beach
If you're looking for the picturesque views of North Lake Tahoe on a small, secluded lakefront, Chimney Beach is your go-to spot. Located just two miles south of Sand Harbor, Chimney Beach is a hike-in only quiet spot off highway 28. Named after the stone chimney that remains on the lakeshore as a remnant of a caretaker's cabin, this small sandy beach regularly provides its visitors with a quaint, intimate experience. The half-mile hike from the road to the beach can be difficult for those who aren't used to regularly hiking or Tahoe's high elevation, so it can filter out those who don't want to make the trek, ultimately making the beach far less crowded and much more enjoyable. Once you arrive, you are welcomed by multiple sandy, secluded spots among large boulders that lie on the lakeshore. It's worth mentioning that while this beach is beautiful, be mindful of how far your veer from the Chimney Beach area, as there's a chance you can encounter some nude sunbathers from time to time from the nearby nudist beach. Chimney Beach is a great, quiet beach that provides similar views as Sand Harbor, without the crowds!
Fallen Leaf Lake
While not technically a beach, Fallen Leaf Lake still deserves a spot on the list of one of the Tahoe Basin's quietest spots during summertime. Right off highway 89 in the hub of South Lake Tahoe, Fallen Leaf Lake is home to a woodsy campground, daily hikes, equestrian riding, and swimming. Upon parking in one of the lots in the area, visitors can walk the mild path to enjoy the shores of this alpine lake. This lake offers all the same amenities as its big neighbor, Lake Tahoe, but a bit more of a unique beach day experience. Visitors can swim, kayak, and paddleboard at Fallen Leaf Lake, or if you're looking to soak up some alpine sunshine away from the beach crowds, this is your spot. While Fallen Leaf hosts some beautiful views, this beach experience does slightly differ; as the beach is covered in small rocks, stones, and minerals and not sand – so it's recommended to bring good shoes while enjoying the unique, ever-changing shoreline. Since this lake is tucked away from the crowds that Lake Tahoe brings, this area has very active wildlife, so be mindful of your surroundings!
Trout Creek, South Lake Tahoe
With panoramic mountain views and Lake Tahoe in the distance, Trout Creek is a great way to spend your summer day truly away from the lakefront crowds. Located in midtown South Lake Tahoe, Trout Creek is one of 63 streams that regularly flows into Lake Tahoe. This calm river continuously varies in its deepness, but the trail is several miles long, making for plenty of room to find the perfect, riverfront spot. The trail to Trout Creek is short and flat, making it a great hidden gem in the middle of town and perfect for families or those looking for a quiet day on the water. Next time you're in South Lake Tahoe, bring your floaties and tie up to the shore and spend the day basking in the alpine sunshine away from the busy, Tahoe crowds!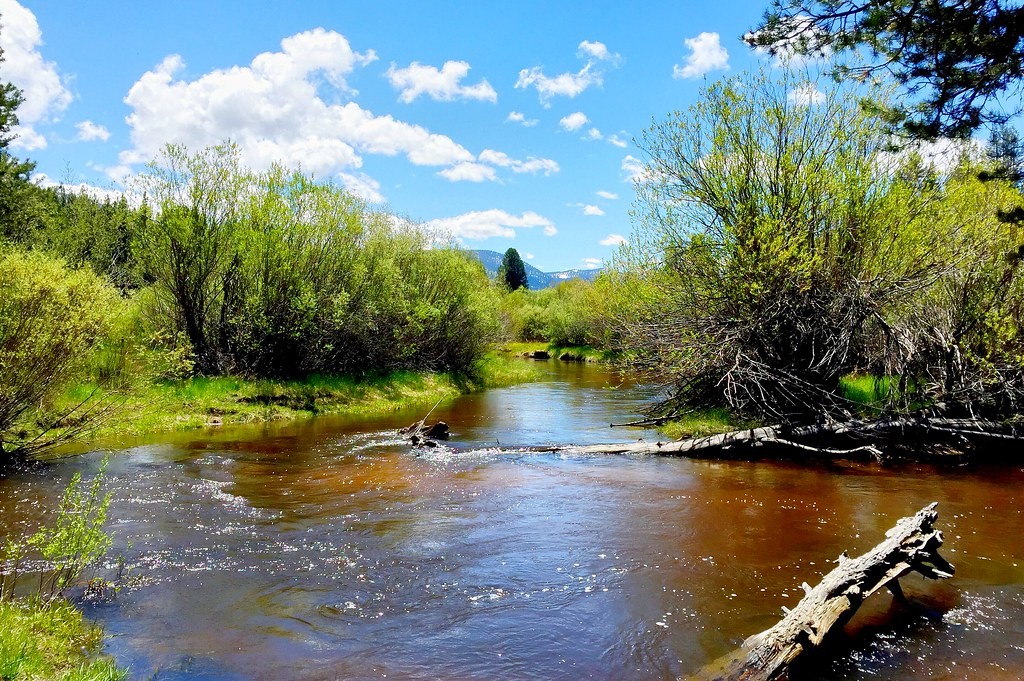 Lake Tahoe Beach Tips
With Lake Tahoe having over 72 total miles of shoreline, the beaches throughout the Tahoe Basin are arguably one of Northern California/Northern Nevada's most prized possessions. These mountain beaches are not the "typical" beach, and it's important to be mindful of how to take care of Tahoe's beaches and summer spots.
Pack in what you pack out
"Keep Tahoe Blue" is a famous slogan for a reason, and it's important that locals and visitors both actively work to keep Tahoe's water pure and clean. To be a sustainable beachgoer, it's vital to pack in everything you pack out when heading out for a summer day on the lake. If it's a broken sand toy or a deflated pool floatie, pack in every item, big or small, that you bring to continue to contribute to Tahoe's purity. If you see a trash can that's completely full, don't add your garbage on top, but rather find another way to dispose of your trash elsewhere properly. Lake Tahoe thanks you!
Don't feed/interact with any wildlife
Bears, coyotes, geese, and ducks are some of the many wildlife species that exist in Lake Tahoe. Many visitors on their vacation will come across various wildlife, but it's vital to not interact with them. Tahoe's wildlife has lived in the basin much longer than humans have, and they aren't out to hurt humans. It's important to not feed the bears no matter what, and to avoid confrontation and feeding with beach birds like geese and ducks; it's bad for all-natural wildlife to interact with visitors and eat human garbage and/or human food. Hence why it's essential to pack in everything you pack out to the beach – including your leftover food. Most beaches will have designated, bear-proof dumpsters, so always properly dispose of all things edible to contribute to the health of Tahoe's wildlife!
Be mindful of surroundings
It goes without saying, but being a good beachgoer is important, especially in Lake Tahoe. Be mindful of your space, your language, your surroundings, and of course – yourself! Lake Tahoe summer's pack a punch and sometimes it's inevitable to get away from Tahoe's tourism crowds, even at these secret spots; so be as respectful of yourself and others as possible. Tips to be mindful of are many of Tahoe's beaches don't allow animals, so do your research beforehand before planning your summer day in the sun. Also, be mindful that while Tahoe's summer temperatures are overall mild, most lakefront spots in the basin are over 6,000 feet in elevation, making for a nasty sunburn if not properly tended to. Always bring your sunscreen and you'll be set for success!
Happy beaching!