Article Quick Links - Post Table of Contents
Historic Mansions of Lake Tahoe: A Glimpse of the Past That Shaped Tahoe's Future
Historic Mansions of Lake Tahoe: A Glimpse of the Past That Shaped Tahoe's Future
Since the late 19th century, Lake Tahoe has been attracting wealthy families to its scenic shores. They built opulent summer estates at prime locations along the water, some of which are still standing today. Maintained by federal, state, and non-profit organizations, these historic mansions are open for tours to the public during portions of the year.
Beyond giving a glimpse into the lifestyles of yesteryear's rich and famous, these iconic mansions are also a reflection of some of the best, and even visionary, design and craftsmanship of the time. Their owners also helped shape the Tahoe we see today, from preserving old-growth trees to entire portions of the landscape from development.   
Here are four historic mansions to visit on your next trip to Lake Tahoe. All four are listed on the National Register of Historic Places.
Here are four historic mansions to visit on your next trip to Lake Tahoe
Thunderbird Lodge
Situated on Tahoe's largely undeveloped east shore, Thunderbird Lodge is one of Tahoe's most famous estates. It was the summer home of eccentric millionaire George Whittell, Jr. A larger than life character, Captain as he was known, is a big reason Tahoe's east shore looks the way it does.
The scion of a wealthy San Francisco family, Whittell lived a fast and wild life. He ran away to join the circus, had highly publicized love affairs and enjoyed fast cars, planes and boats. Whittell never did join the family real estate business, though he did manage to liquidate $50 million in stock holdings before the 1929 crash and became one of California's wealthiest men as a result. Like many wealthy Californians before him (and since then), he moved his residency to Nevada for tax reasons, and ended up purchasing more than 40,000 acres, including 27 miles of lakefront, on Lake Tahoe's east shore, paying just $6 per shorefront acre and $3 per mountainside acre. Whittell originally had grand development plans, including a massive hotel, ski resort, casino and housing developments, but decided later on that he valued his privacy more and left the property virtually untouched.   
Whittell hired famed architect Frederic J. DeLongchamps to design his "Castle in the Sky," a chateau in the Tudor Revival style. Completed in 1939, it features a main lodge surrounded by three cottages, along with a card house, elephant house, lighthouse, gatehouse, garages and a boathouse, which housed the 55-foot, John Hacker designed Thunderbird, one of the world's most famous, and arguably valuable, wooden boats—with dual aircraft engines, it was also the fastest boat on Lake Tahoe. A 600-foot underground tunnel cut into the rock connects the main lodge to an opium den, card house and the boathouse, and allowed Whittell to access different parts of his property without being seen.
Famous Guests of the Thunderbird
Guests included the likes of Ty Cobbs, Jack Dempsey and Howard Hughes, with nocturnal visits by showgirls from the Cal-Neva casino and elsewhere. Whittell enjoyed gambling and the stakes were often large. According to one tale, Joe King won the money he used to purchase Kings Beach from one such high-stakes game.
From his time in the circus, Whittell developed a love for animals and he frequently had his pet lion, Bill, and elephant, Mingo, with him at Thunderbird Lodge. Bill would ride in Whittell's Duesenbergs (he had six), and may have terrorized at least one inebriated guest who ended up in the den off the underground tunnel where Bill retreated to cool off from the summer heat.
Perched on a rocky point, Thunderbird Lodge very much looks like a castle in the sky. Around the estate are waterfalls, fountains, lagoons and elegant gardens, in addition to breathtaking views of the lake and mountains.
How to Visit: The Thunderbird Lodge Lake Tahoe
Thunderbird Lodge can only be visited on a guided tour or private event, with numerous options available over the summer and fall. Cruise Tahoe offers 5-hour guided tours on their 1950s classic woody, Tahoe, Tuesdays through Saturdays. Leaving from Round Hill Pines, enjoy snacks and a cash bar onboard, and glimpses of other lavish lakeside estates and attractions on the ride up, and a picnic lunch on the estate grounds. A more active option is to paddle 1.5 miles from Sand Harbor on guided kayak tours with the Tahoe Adventure Company on Tuesdays. Guided tours by land leave from the Incline Village Crystal Bay Visitor Center on Tuesdays and Friday mornings. Afternoon tours offer more time on the grounds and include a wine and cheese reception. Private and group tours are also available.
Private cruises on the Thunderbird are also available, and is the best way to experience the one-of-a-kind masterpiece. Private dinners are available for Thunderbird members and the estate is also open for private events.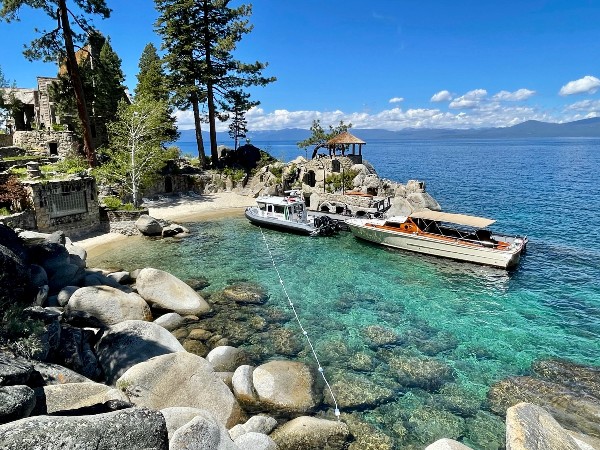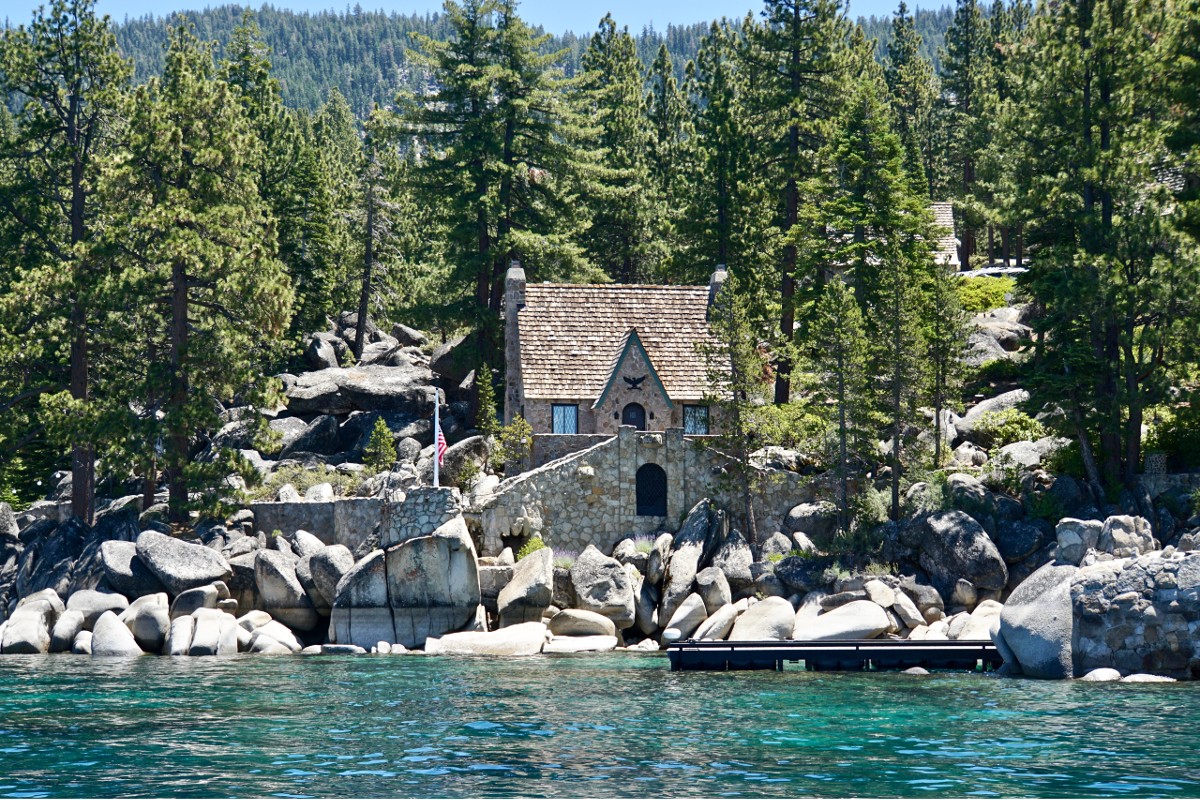 Vikingsholm
Emerald Bay is known for its stunning vistas, and is one of the most visited spots around Lake Tahoe. It's also home to one of the finest examples of Scandinavian architecture in the United States: Vikingsholm.
Lora J. Knight was a wealthy widow and divorcee who initially moved to Reno to get her divorce. For years, she had a summer home at what would become Dollar Point, but where she really wanted to be was Emerald Bay. In 1928, she was able to convince the Armstrong Family to sell 239 acres at the head of Emerald Bay to her for $250,000.
Emerald Bay had reminded Mrs. Knight of the fjords of Scandinavia and she wanted her summer home to reflect that. And so she commissioned her nephew-in-law, Swedish architect, Lennart Palme, to build her a grand Scandinavian castle, and they went to Scandinavia to conduct detailed research. She hired 200 local workers to build the castle, which took just five months (and $125,000) to complete in 1929, with materials sourced from the Tahoe Basin. Mrs. Knight insisted that no trees be cut down in Emerald Bay, so lumber was brought in from the North Shore, while granite was quarried from Emerald Bay.
The 38-room mansion spans three floors around a courtyard, and includes a mix of Scandinavian building styles, including the stone and timber construction from castles, carvings from medieval churches and the sod roof found on farmhouses. The interior featured six Nordic fireplaces, two carved dragon beams in the living room and intricate paintings on the ceilings and walls. Furnishings also carried the Scandinavian motif. Where antiques and originals could not be purchased, Mrs. Knight had them reproduced in detail, flaws and all. All of the metal fixtures were hand forged.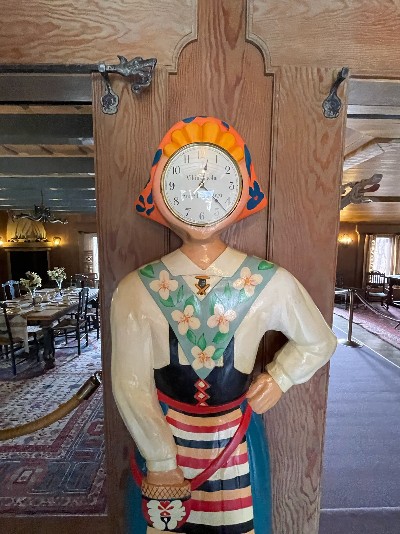 Mrs. Knight also had a stone teahouse constructed on Fannette Island, the only island in all of Lake Tahoe. She and her guest would occasionally enjoy tea out at the island, perhaps once or twice a summer. Mrs. Knight spent 15 summers at Vikingsholm, and often had guests stay with her, sometimes all summer.
After Mrs. Knight's death (in Vikingsholm, in 1945), the estate was sold to Nevada rancher Lawrence Holland, who then sold it to California lumberman Harvey West. West turned down offers from a large hotel chain and instead sold the land and estate to the State of California in 1953, preserving the historic estate for future generations. Today, around 90% of the interior is original furnishing dating from the 1930s.
HOW TO VISIT: Vikingsholm
Tours of Vikingsholm are available daily over the summer and fall, from 11 am to 4pm. Tours last 30 minutes. The grounds are free to explore year-round. Vikingsholm is accessible via a steep (400 feet) 1-mile trail from the (paid) parking area on Highway 89, or a less steep 1.5-mile trail from Eagle Point Campground. ADA assistance, private tours, and special events are also available. 
A fun (and easy) way to visit Vikingsholm is by boat. Cruise Tahoe offers an Emerald Bay Cruise and Vikingsholm Tour from Round Hill Pines from Sunday to Wednesday afternoons. Actions Water Sports also offers an Emerald Bay Cruise and Vikingsholm Tour from Camp Richardson daily in the morning and afternoon. Tours do not include Fannette Island, but you can rent a kayak from the beach and paddle over to the island.
Tallac Historic Site / Pope-Baldwin-Heller
Spanning 74 acres, the Tallac Historic Site on Tahoe's south shore was once home to the "Grandest Resort in the World," as well as the summer estates for three wealthy and socially prominent San Francisco families: Baldwin, Pope and Heller. Today, around 20 historic structures remain on the site, spanning family homes, servants quarters, boathouses and more.
Baldwin Estate
Elias Jackson "Lucky" Baldwin was known for his luck when it came to real estate investments. On a visit to Lake Tahoe, he decided to purchase 2,000 acres of land with one mile of lakefront after walking through one of the last remaining stands of old-growth forest. His reasoning was simple, "My land acquisition will save this vast forest from the beauty-destroying ax of the woodsman so that the magnificent pines and cedars may be admired for generations to come." When Baldwin sold lots of land to friends, he included restrictions in the title that no trees were to be cut down, preserving the beauty of the area for generations to come.
Baldwin then began building "The Grandest Resort in the World," which included two hotels and a waterfront casino. He built a modest, one-story cottage for himself around two old-growth pines (and where the trees grew through the roof, literally). Baldwin's daughter, Anita, shut down the resort in 1919 and had the buildings demolished due to environmental concerns. In 1922, Anita's daughter, Dextra Baldwin, built a cedar-log home. Designed in the rustic style popular at the time, it's a large u-shaped building, with rooms around a stone courtyard and wishing well. The 5,000-square-foot house had three bedrooms, three bathrooms, a living room, kitchen and butler's pantry, and featured hand-hewn walls and exposed rafters. Also on-site are the cabins that Anita and Dextra lived in while their larger summer home was being built.
Pope House
Lucky Baldwin initially sold a lot of land near his Tallac Hotel to a friend, banker George Tallant, who built a house in 1893. It was later acquired by banker Lloyd Tevis and eventually by shipping magnate George Pope for $100,000. In a play on his surname, Pope named the estate "Vatican Lodge."
It featured a main building and numerous cabins and outbuildings behind it. The grounds included a waterfall and trout pond, which was originally fed by water that had been diverted from Taylor Creek (named for Pope's wife, Edith Taylor Pope).
Rudolph Valentino was a friend of the family and frequent guest at the estate and had his own cabin—the Pope family's boat (which was later donated to the Navy during WWII for coastal California patrol) was named The Sheik after one of Valentino's movies. After Pope's death in 1942, his son would hold weekend polo matches on the estate with ponies trucked in from the Bay Area.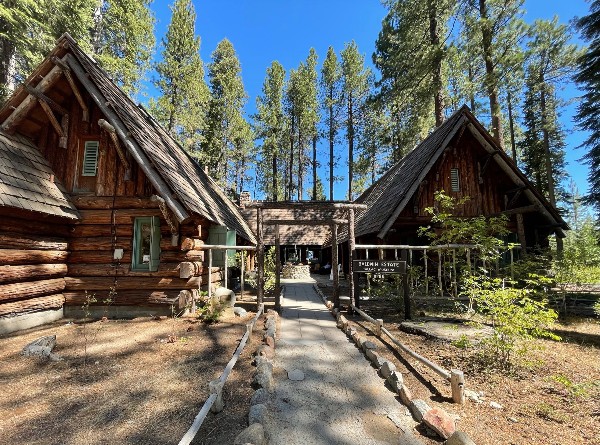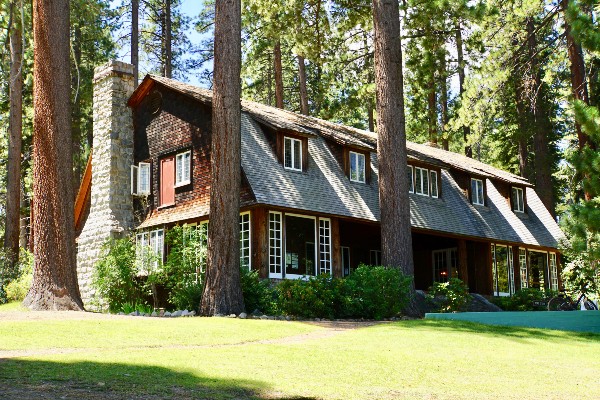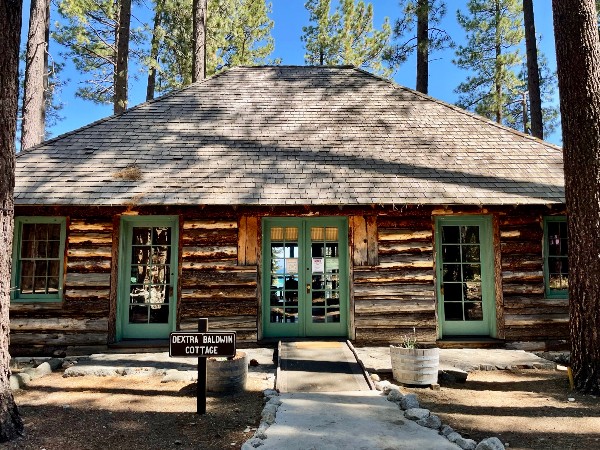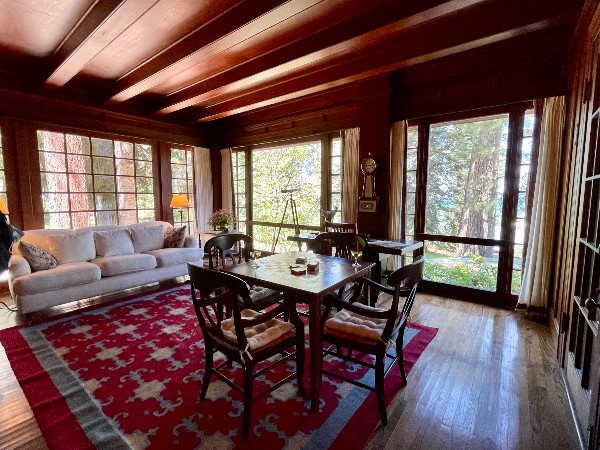 Valhalla
Walter Heller and his family were frequent visitors to Tallac House. When it closed down, Heller purchased land and built a 4,000-square-foot "summer cabin" where his family would spend the entire summer. Valhalla was constructed in 1923 for Claire Heller and her husband (and when they divorced in 1936, they would use the house on alternate weekends until it was sold in 1955).
The grand hall features vaulted ceilings, a horseshoe balcony and a massive arched 20-foot stone fireplace made from river rock on the great room's east wall. French doors opened to a wraparound porch, and a lawn that leads to a boathouse.
HOW TO VISIT: Valhalla
The Baldwin Estate now houses the Tallac Museum, featuring historical exhibits of the resort and the Washoe Tribe. Open Thursdays to Sundays over the summer, the museum is free of charge.
The Pope House is open for guided tours Thursdays to Sundays over the summer. The 1-hour tour starts at the Baldwin House courtyard and takes you through the gardens on the Baldwin Estate, Arboretum and pond, and through the Pope House, including main room, dining room, servants kitchen and butler's pantry, as well as through the landscaped grounds and outbuildings. An extended Estates Tour lasts 2.5 hours. Visitors can also take a self-guided interpretive walk or on their mobile device. The grounds are open year-round and free to wander.
Valhalla Grand Hall and the Boathouse Theatre hosts concerts, live performances and art exhibits over the summer. It's also home to the Cultural Arts Gift Store and the site of the Valhalla Art, Music and Theatre Festival over the summer.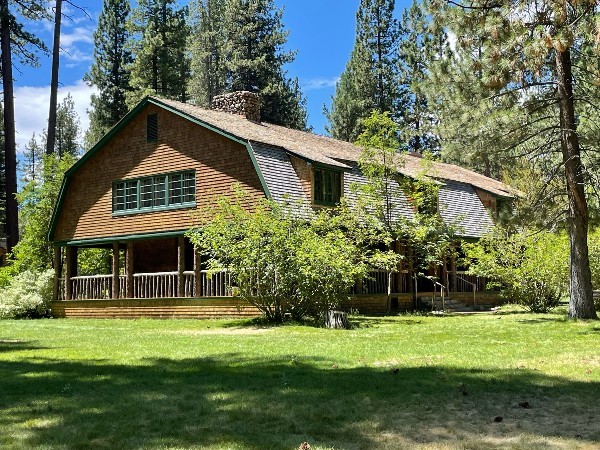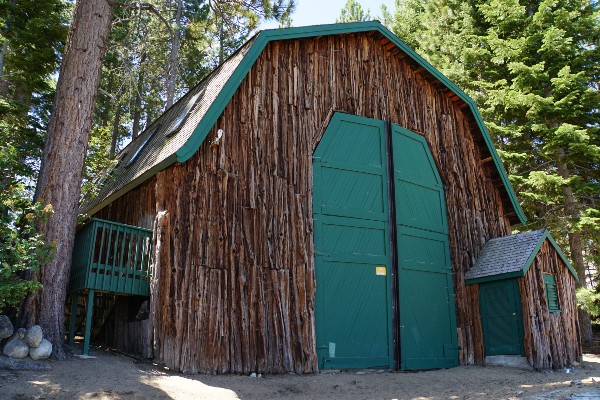 Hellman-Ehrman Mansion / Pine Lodge
Located in Ed Z'berg Sugar Pine Point State Park, the Hellman-Ehrman Mansion, also known as Pine Lodge, was the family summer estate of Isaias W. Hellman, a German immigrant who made his fortune in banking, eventually becoming the President of Wells Fargo Bank. In 1897, Hellman started purchasing land at Sugar Pine Point on the west shore, eventually acquiring nearly 2,000 acres and nearly 2 miles of lake front by 1913. Hellman hired Walter Danforth Bliss (who also designed the Tahoe Tavern in Tahoe City) to design the house. Most of the building materials were local, including granite from Meeks Bay and lumber from Hobart Mills, north of Truckee, and brought in by boat, since a road that went around Lake Tahoe did not yet exist.
Spanning 11,703 square feet over three floors, the Queen Anne-style home was built in 1903 and includes eight bedrooms and seven bathrooms (not including the third floor staff quarters). Additional buildings include a caretaker's cabin, the children's house, maids' quarters, butler's cabin, ice house, coach house, power house, pump house, two boat houses (for boats Comet and Cherokee) and boatman's cabin.
The house and estate featured modern utility systems ahead of its time, including electric lights and indoor plumbing, which made the estate self-sufficient in the early years. A steam generator provided power until 1927, when commercial power became available. Water came from either General Creek or Lake Tahoe. Ice from the creek was used in the icehouse.
The mansion is largely decorated with period furniture, though the chandeliers, leaded glass cabinets and hardwood floors are original. Uniquely, the dining room walls are covered in strips of woven redwood and woven grass, which gives it a natural and warm look. Decorations included ornate Navajo rugs and Indian baskets. The kitchen included wood stoves and icebox until 1945 (when a refrigerator and commercial gas range was installed).
Upon Hellman's death in 1920, the house passed to his youngest daughter, Florence Ehrman. After Ehrman's death in 1964, her daughter Esther Ehrman Lazard sold the estate to California State Parks in 1965.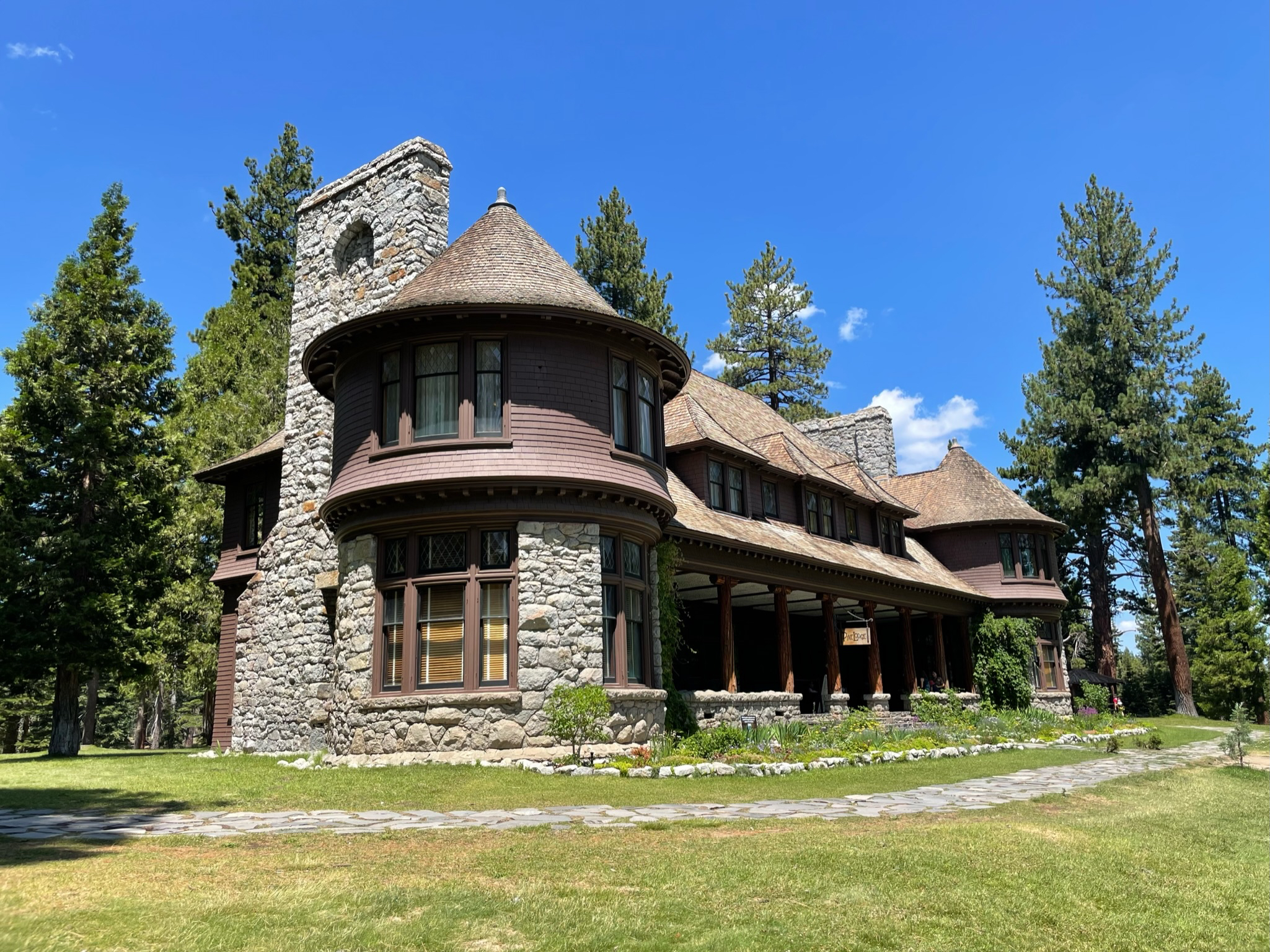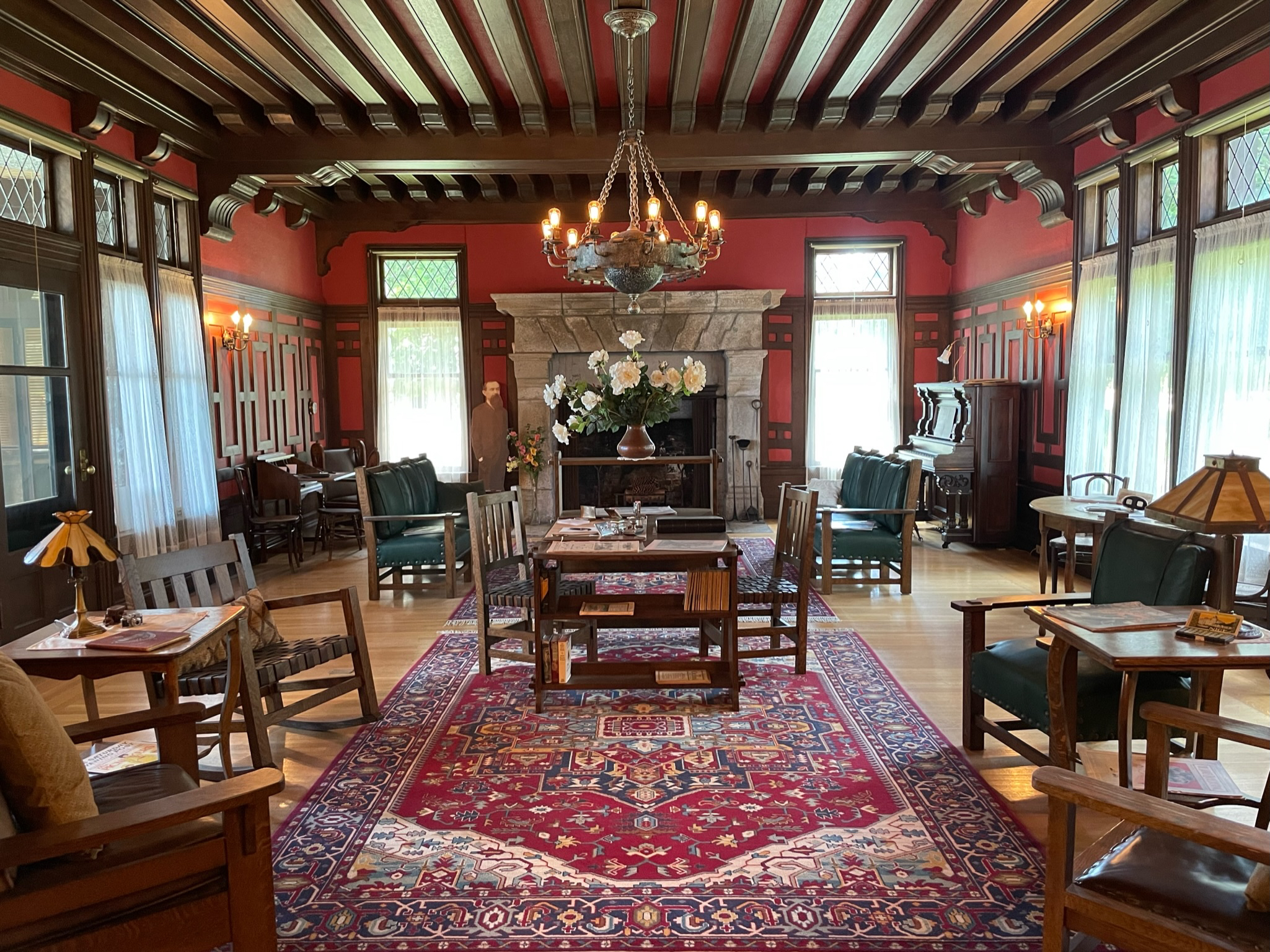 HOW TO VISIT:  Hellman-Ehrman Mansion / Pine Lodge
Tours are available over the summer through the Sierra State Parks Foundations. Tours run Tuesdays through Saturdays, from 10:30 am to 3:30 pm, on the half hour, and last 45 minutes.
Special events are held throughout summer and private experiences are also available, including Breakfast on the Porch (a continental breakfast for four plus a private tour) and Dinner in the Mansion (for eight). Contact [email protected] for more information.
Guests can also walk around the grounds. Enjoy a picnic on the grassy area or relax on the small beach and dock area.