Lake Tahoe Cross Country Ski Guide
Lake Tahoe Cross Country Ski Guide
A Quick Guide About Lake Tahoe's Best Cross Country Ski Centers
At a time when mask wearing and social distancing is key to staying healthy and safe, access to the great outdoors has never been so important. Activities that provide space and exercise- like golf, tennis, and snow skiing- have now been more popular than ever during the pandemic. However, to comply with local and state everchanging "stay-at-home" orders, most alpine ski resorts have limited their capacity to 25 percent, closed their indoor dining establishments, and now require skiers and riders to wear facemasks in lift lines, parking lots, and wherever six feet of social distancing from strangers is not possible.
Fortunately, Nordic ski centers don't see the kinds of crowds that traditional ski resorts do, making them even more attractive in a time like this. Although most cross-country centers still ask that you stay home if you're sick, wear your facemask over your nose and mouth while on property, and book your daily tickets/lessons/rentals in advance, it's still better than sitting on the couch engrossed in another Netflix binge. Lake Tahoe cross-country centers are doing their best to stay open while providing incredible Tahoe cross-country skiing experiences meant to take your mind away from what's going on in the rest of the world, and appeal to people of all ages and abilities.
Here are some basic stats about Lake Tahoe's most legit snowshoe and cross-country centers, however, keep in mind that it's best to check each resort's website for updated COVID-19 protocols and information: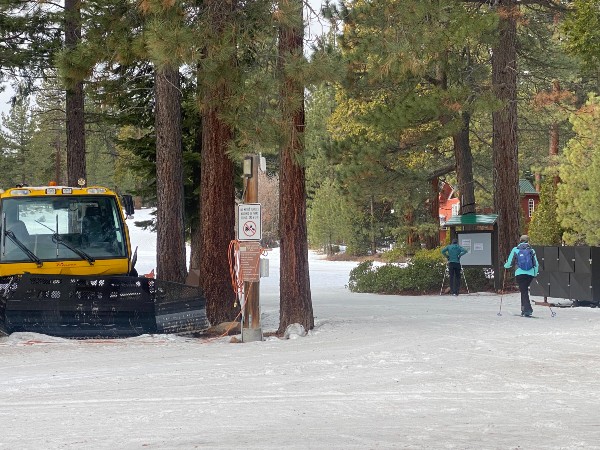 Tahoe XC | Tahoe Cross Country | Tahoe City
Address: 925 Country Club Drive, Tahoe City, CA 96145
Website: https://www.tahoexc.org/
Hours of operation: 8:30am-5pm daily
Cost: $36/adults ages 19-69, free/seniors 70-plus and youth ages 18 & younger, $7/dogs
Activities allowed: Snowshoeing, Nordic skiing
Number of acres: 50 kilometers of groomed track
Number of trails: 8 beginner runs, 8 intermediate runs, 12 expert runs
Summary: Comprised of 21 ski trails and a snowshoe trail, this human-powered ski resort winds through trees and meadows up behind Carnelian Bay and Dollar Hill, its highest point rewarding skiers and snowshoers with incredible views of Lake Tahoe. Tahoe XC offers a variety of trails for all skill levels along with three warming huts that serve hot cocoa and tea. There are also nine kilometers of dog-friendly trails, allowed in certain areas on certain times. To read up on Dog Trail Rules, click here.
Tahoe XC also rents out classic Nordic ski packages, skate ski packages, and snowshoes; one-hour long private lessons are also available. Unfortunately, fat bikes are not allowed since it ruins the quality of the groomed trails, but mountain bikes are welcome in the summer months.
Tahoe Donner Cross Country Ski Center | Truckee
Address: 15275 Alder Creek Rd., Truckee, CA 96161
Website: https://www.tahoedonner.com/amenities/amenities/cross-country/
Hours of operation: 8:30am-5pm daily
Cost: $41-$51/adults, $15/ages 12 & under, $31-$41 ages 13-17 and 60-plus
Activities allowed: cross-country skiing, snowshoeing
Number of acres: 2800+
Number of trails: 79
Summary: Voted the sixth best cross-country ski area in North America by USA Today, Tahoe Donner has more than 100 kilometers of ski trails that wind through the nicest untouched areas this side of Truckee, taking skiers on a climb up to the crest of the Sierra Nevada range. Covid-19 has changed operations for the 2020/21 ski season, but Alder Creek Café & Trailside Bar at the base of the ski area is still open from 9am-4pm with grab-n-go options. Unfortunately, doggy day passes are unavailable (as of January 2021) and season passes for pups are sold out. However, Tahoe Donner still offers private lessons and ski rental gear if you purchase it online in advance. Keep in mind that fat biking or hiking is not permitted on these trails.
Royal Gorge Cross-Country Resort | Soda Springs, CA
Address: 9411 Pahatsi Rd., Soda Springs, CA 95728
Website: https://www.royalgorge.com
Hours of operation: 8:30am-4pm daily
Cost: $39-$43/adults, $20/ages 13-22, $34-$39/ages 65-74, $10/ages 12 & younger & 75-plus, $5/dog pass
Activities allowed: skate skiing, XC skiing, snowshoeing, dog trails
Number of acres: 6000
Number of trails: 137
Summary: Considered one of the largest cross-country ski areas in the U.S. (if not THE largest), Royal Gorge offers winter aficionados more than 140 kilometers of groomed, tracked ski trails with eight different warming huts scattered throughout the property that provide some respite from potentially harsh winter elements. Located right off I-80 close to Sugar Bowl, Royal Gorge provides skiers with pristine backcountry conditions with the opportunity to stride through snowy meadows or trek up to a few of the most stunning vistas. What's also great about Royal Gorge is that pups are totally welcome, and the resort offers lessons, clinics, and rentals. See what conditions are like or click around Royal Gorge's interactive map here.

Resort at Squaw Creek Nordic Center | Olympic Valley, CA
Address: 400 Squaw Creek Rd., Olympic Valley, CA 96146
Website: www.destinationhotels.com/squawcreek
Hours of operation: 9am-5pm daily
Cost: Call 530-412-7034 for details
Activities allowed: Snowshoeing, cross-country skiing
Number of acres: 18 kilometers of groomed track
Number of trails: 11
Summary: Not only does the Resort at Squaw Creek have its own ski lift that accesses the rest of Squaw Valley, but Squaw Creek also provides its guests with their own heated swimming pools, ice skating rink, and more. In the wintertime, the Resort at Squaw Creek transforms its golf course into a Nordic ski/snowshoe wonderland touting "kilometers of groomed trails for beginners or expert Nordic skiers". However, since the Resort at Squaw Creek has been closed for a while due to Covid-19, it's best to call before you go over there to see if its hours of operation have changed.
Northstar California | Truckee, CA
Address: 100 Northstar Dr., Truckee, CA 96161
Website: https://www.northstarcalifornia.com/
Hours of operation: 9am-4pm daily
Cost: $55/adults, $42/children 5-12, free/kids 4 & under
Activities allowed: cross country skiing, snowshoeing, fat tire biking, telemarking
Number of acres: 35 kilometers of trails
Number of trails: At least 23
Summary: Northstar California is known for its alpine skiing, shopping, dining, and ice-skating rink, but few people know that it has 35 kilometers of trails that are ideal for cross country skiing, fat tire biking, and more for all ages and abilities. This is also the perfect place to go to get away from the hustle and bustle in and around the Village, and these types of activities are easy enough to do with the whole family. Northstar is also one of the only places in North Lake Tahoe that allows fat tire biking and provides free access to Epic season passholders.
Nevada Nordic Old Mount Rose | Reno, NV
Address: 5 Miles East of the Incline Village Hwy 431/Hwy 28 Roundabout on Hwy 431, Reno, NV
Website: https://nevadanordic.org/
Facebook Link (latest grooming information)
Hours of operation: Anytime
Cost: Free, but feel free to donate to keep trails groomed at nevadanordic.org
Activities allowed: cross country skiing, snowshoeing, fat tire biking, telemarking
Number of acres: unknown
Number of trails: 1 trail with 2 loops in the Tahoe Meadows/1 trail at Spooner Lake
Summary: Back in 2015, a group of passionate Incline Village residents got together and started working with Nevada State Parks to establish some Nordic trails in the Spooner backcountry. Formerly known as Incline Meadows XC, the group is relying on community support to keep its trails groomed and work towards its long-term vision of expanding and offering accessible winter recreation to everyone. The group currently grooms a trail that runs parallel to the Mt. Rose Highway and another at Spooner Lake.
Kirkwood Cross Country & Snowshoe Center | Kirkwood, CA
Address: 1501 Kirkwood Meadows Dr., Kirkwood, CA 95646
Website: https://www.kirkwood.com/explore-the-resort/activities-and-events/cross-country.aspx
Hours of operation: 9am-4pm
Cost: $70/adults, $48/juniors, $36/child includes introductory lesson or snowshoe tour
Activities allowed: cross country skiing, snowshoeing, fat tire biking
Number of acres: 60 kilometers of trails
Number of trails: Three interconnected trail systems called Meadow, Caples Creek, and Schneider.
Summary: In the peaceful, quiet, and snowy Alpine Valley about a fourth of a mile east of Kirkwood Mountain Resort, there are three interconnected trail systems to cross country ski, skate, or snowshoe in and around the Cross Country & Snowshoe Center. The Meadow System is more than two miles long while Caples Creek runs along beaver ponds where skiers can spot birds and small critters. Schneider is the most intense…climbing up to 9,000 feet where one can then view the Sierra Crest, Desolation Wilderness, and other incredible landscapes. Dogs are welcome (day passes are $25 per pup) and lessons/ski tours are available. Call 209-258-7248 for more information.
Other Places to Cross Country Ski near South Lake Tahoe
Outside of the main strip of casinos in South Lake Tahoe, there are a few other public parks, beaches, meadows, and more that aren't necessarily official XC ski centers, but people like to ski around on when the area is covered in snow. On the southwest side of the lake near Emerald Bay and off Highway 89, cross country skiers can be seen sliding around Camp Richardson (although fees are required to access the groomed trails), the Tallac Historic Site, and Fallen Leaf Lake Campground. Stay on Highway 89 past the Y and find a couple of skiable loops at Washoe Meadows State Park. Or veer onto Highway 50 heading towards the casinos and stop off at Bijou Park or Lake Tahoe Community College to get some turns in. On the southeast side of Lake Tahoe right after crossing over Stateline, Rabe Meadow is a nice flat beginner/intermediate loop that takes you to the water's edge.
Frequently Asked Questions | Cross Country Ski Tips
Ski Resorts in Lake Tahoe, Augmented Reality Travel Guide
If this is your very first time using Augmented Reality, check the following video as a quick reference.
Ski Resorts in Lake Tahoe, Augmented Reality Travel Guide
This is 3D model. You can drag or tap it to move in any direction.
1. If you are seeing the image:

click on it.
2. When a new image appears, click on: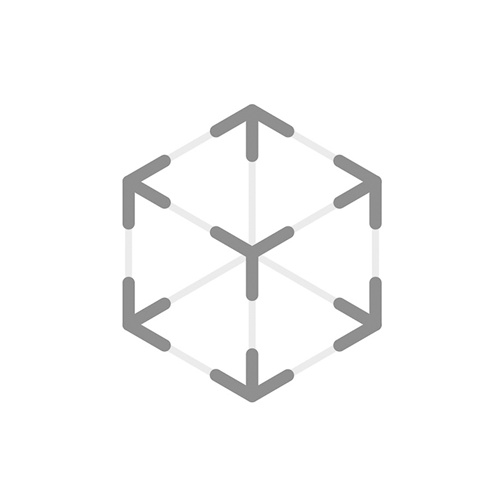 AR powered by Virtualmerse
Now, try your self this amazing Augmented Reality experience:
1. Find a flat and clean surface (table, desktop) ideally without objects on it.
2. Open the current page in your
iPhone

or

iPad

.
3. Alternatively, scan the QR Code with your mobile device camera.
4. Enjoy it!
Scan the QR Code to see the model in your iPhone or iPad only