Ski Resort Openings + Health & Safety Protocols
Ski Resort Openings + Health & Safety Protocols
Covid-19 Guidance for Nevada and California are fluid so it is important to check the ski resort health updates as well as those from the state governments. Here are the links to the Public Health pages for California and Nevada.
Covid-19 Health and Travel Guidance for Nevada can be found at the Nevada Department of Health Nevada Health Response website. 
Lake Tahoe received its first snowfall of the 2020-21 season in the beginning of November and is busy getting ready to welcome back skiers and snowboarders. However, since we are still amid the coronavirus pandemic, many of Tahoe's ski resorts are implementing new health and safety protocols. At most resorts, walking up and buying a daily lift ticket is a thing of the past as many of them have started a reservation system to help control 50 percent capacity. The good news is that skiing and snowboarding is a naturally social distancing sport (like golf or tennis) and with less people on the slopes there will be more room to roam.
Since ski resorts are about to resume operations as temperatures continue to stay cool, this what you need to know before trying to ski or ride at one of Tahoe's main ski resorts this winter: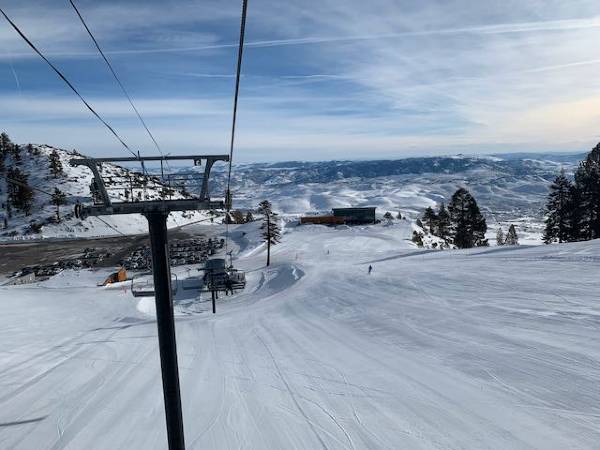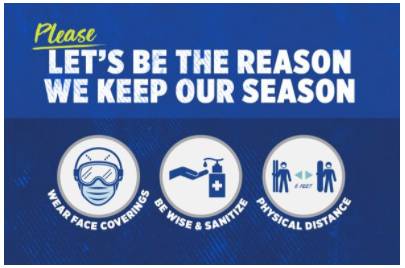 Mt. Rose: Opening November 20 
Mt. Rose has been busy making snow yet it has not announced its opening date because management wants to make sure they have enough of a snow base to open top to bottom to allow for more distance between skiers. In accordance with local, state, and National Ski Areas Association guidelines/best practices, Mt. Rose is limiting season pass and daily lift ticket sales, it has enhanced its rental equipment cleaning protocols, and will require skiers and snowboarders to wear a mask in lift lines and on the chairlifts. www.skirose.com
Diamond Peak: Projected Opening Date December 10
Over on the northeast shore of Lake Tahoe, Diamond Peak is known for its incredible views of Big Blue and family-friendly feel. New this year, however, all daily lift tickets must be purchased online, and sales will be limited based on volume and to allow for proper physical distancing. Reservations are now required to secure a table in the base lodge and there will be no indoor seating at its mid-mountain Snowflake Lodge. Face coverings are required on premises and passholders are free to show up as they please. www.diamondpeak.com
Northstar, Kirkwood and Heavenly: Opening Date November 20
The Tahoe Vail resorts started making snow on October 25 and their snow bases have graciously been augmented by Mother Nature since then to help with a pre-Thanksgiving opening. However, anyone who wants to ski or snowboard at any of the Tahoe resorts must reserve their spot online with Epic passholders being given priority access through December 7. If you don't have your Epic pass, you can only purchase a date-specific lift ticket online starting December 8. www.vailresorts.com
Squaw Valley/Alpine Meadows: Opening November 25
Squaw-Alpine just invested $1 million to increase sanitizing efforts such as installing touchless faucets, soap dispensers and hand sanitizing stations. Management also expanded outdoor seating at most of its onsite restaurants. Unlike the Tahoe-based Vail Resorts, Squaw-Alpine is not requiring Ikon season passholders to make a reservation if they want to access the mountains. However, walk-up daily lift ticket purchases at the resort will initially be unavailable. As of mid-November, one can't buy a daily lift ticket online until after January 4. Whether you're a season passholder or daily visitor, it's a good idea to check online for updates before you plan your trip to either resort. www.squawalpine.com
Homewood: Opening December 11
Just like Diamond Peak offers amazing views of Lake Tahoe from the East Shore, Homewood has those same spectacular views from the West Shore as well as similar Covid-19 policies in place. All daily lift ticket sales will be done online (and are limited) and one-time guests will have to reserve their parking spot. Fortunately, season passholders do not have to reserve their space but must register their vehicle when they get their season pass mailed to them. Homewood will need that information by November 20 but awards passholders with five discounted Buddy Tickets in return. www.skihomewood.com
Sierra-at-Tahoe: Opening TBA
When it comes to opening this South Shore ski resort this winter, Sierra-at-Tahoe lives by the notion that giving respect gets respect…and keeps the mountain open all season long. It warns that their new Covid-19 safety protocol is dynamic and subject to change, but some of the main points of it ask skiers and riders to wear face coverings indoors and wherever social distancing cannot be achieved; follow the six feet of physical distancing recommendation; and note that its restaurants have grab n go options with limited seating available. Also, unlike Vail, season passholders will not have to make a reservation to ski or ride at the resort. www.sierraattahoe.com
Sugar Bowl: Tentative Opening November 27
If Sugar Bowl can open on November 27 weather conditions permitting, then it will sell daily lift tickets only online through December 18 and then the next batch of tickets will go on sale in the first week of December. Lift tickets sold are limited as well as date specific, non-refundable, and non-transferable. Equipment rentals and private ski and snowboard lessons are also available to buy online. www.sugarbowl.com
Mammoth: Now Open!
Even though Mammoth isn't technically in Tahoe, it does tend to get the same natural snowfall that Lake Tahoe does and since it's only three hours away in Eastern Sierra many Ikon passholders like to visit Mammoth on their way to or from their Tahoe trip. And the best part is that Mammoth is currently open! Like Squaw/Alpine, Mammoth has invested $1 million in upgrading their sanitation procedures in the wake of Covid-19 and Ikon passholders don't need to reserve their spot on the slopes in advance. Walk-up ticket sales are not available anymore so that the mountain can control capacity and people planning their winter ski vacation to Mammoth are highly encouraged to check its website for updates since things are always changing. www.mammothmountain.com
The Good News is That Winter is Here
Fortunately for skiers and snowboarders, the temperatures in Tahoe have significantly dropped and there have been one or two snowstorms a week since early November. All the resorts I've talked to are excited to open and welcome people back, and I can't think of a better way to reduce stress and anxiety than to alleviate it with some fresh air and powder runs.
For a general video on 10 trends Affecting Snowboarding and Skiing for 2020-2021 Season check out this video from Chris Eyres.
Ski Resorts in Lake Tahoe, Augmented Reality Travel Guide
If this is your very first time using Augmented Reality, check the following video as a quick reference.
Ski Resorts in Lake Tahoe, Augmented Reality Travel Guide
This is 3D model. You can drag or tap it to move in any direction.
1. If you are seeing the image:

click on it.
2. When a new image appears, click on: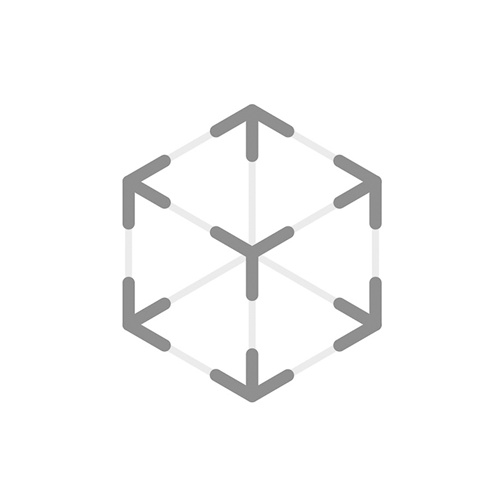 AR powered by Virtualmerse
Now, try your self this amazing Augmented Reality experience:
1. Find a flat and clean surface (table, desktop) ideally without objects on it.
2. Open the current page in your
iPhone

or

iPad

.
3. Alternatively, scan the QR Code with your mobile device camera.
4. Enjoy it!
Scan the QR Code to see the model in your iPhone or iPad only