Article Quick Links - Post Table of Contents
Guide to Paddling Lake Tahoe in Any Season
Tips to Paddling Lake Tahoe Any Time of Year
A lot of people visit or move to Lake Tahoe for access to the expansive forest that surrounds one of the clearest, bluest, most photogenic alpine bodies of water in the United States. It leaves a lasting impression on everyone, especially if you can get out on the water.
Paddleboarding, kayaking, or doing any type of human-powered activity for however much time you have on Big Blue can give you an amazing workout, but it's good to know when the best time of the year to paddle is and how to stay safe out on the water.
​
Lake Tahoe's Paddling Seasons
Paddling Tips for Spring
Paddling Tips for Spring: My favorite times of the year to paddle in Lake Tahoe are in the shoulder seasons of spring and fall because most of the time you have the lake to yourself. In the months of March, April, May, and early June, the air temperature tends to warm up, but the water is still shockingly cold. That's why it's important to go on a nice calm and sunny day and know when a freak snowstorm is expected to blow in. Always check Windfinder to see what the weather is going to be like before your session, always paddle with a buddy, and dress in warm, dry-fit layers.
Tahoe Winter Paddling Tips
Paddling Tips for Winter: Many of the kayak and SUP rental operations close after Labor Day in September as the weather shifts and people start to dust off their skis and snowboards and think about season passes. However, there can be the occasional dry spells in December and January that get people thinking about the warmer months and if you are an intermediate/expert waterman (or woman) who is used to swimming in near freezing 42-degree Fahrenheit water, then paddling Lake Tahoe in the winter may not be an issue for you. For these hearty mermaids (and mermen), Waterman's Landing café and rental shop in Carnelian Bay is open year-round. People are welcome to lease out kayaks or SUPs if they have experience, the air temperature is warm enough, they know how to swim, and the lake is expected to remain calm. Resident Tahoe Waterman and owner Jay Wild makes the call daily on whether it's safe to go out.
Paddling Tips for Summer
Paddling Tips for Summer: No matter what kind of winter ski season it has been, when the snow melts wildlife reappears and then residents and second homeowners begin emerging with their boats and heading towards the water. Early in the morning before the winds pick up is the best time to go out, but again it's always best to check Windfinder to see what the weather is going to do. Since there tends to be more activity with motorized boats and jet skis on the water, it's best to stay within 200 feet of the shoreline and watch out for the subsequent waves. Most paddle board and kayak rental shops around Lake Tahoe open Memorial Day Weekend and close Labor Day, late May to early September.
Fall Paddling Tips 
Paddling Tips for Fall: My favorite time to paddle is in the September/October months when the water is still the warmest it is going to be for that year. It does get a little chillier and the days start getting shorter, but as kids go back to school there tends to be less motorized boats on the lake. In these months when you're likely to be the only vessel on Lake Tahoe, it's good to be extra cautious by taking a buddy with you or letting someone know where you're going to paddle and how long you expect to be gone.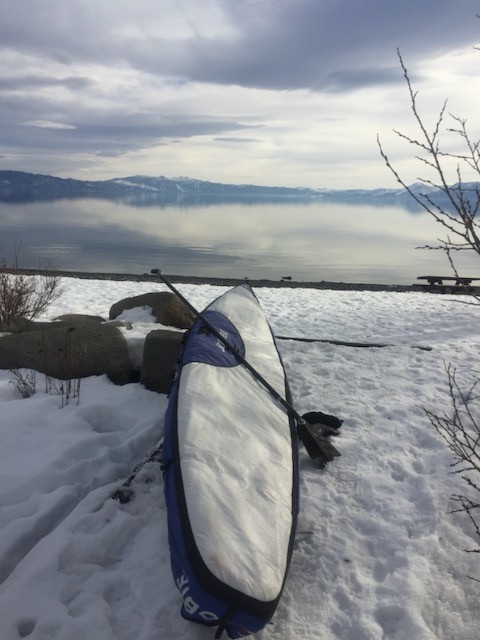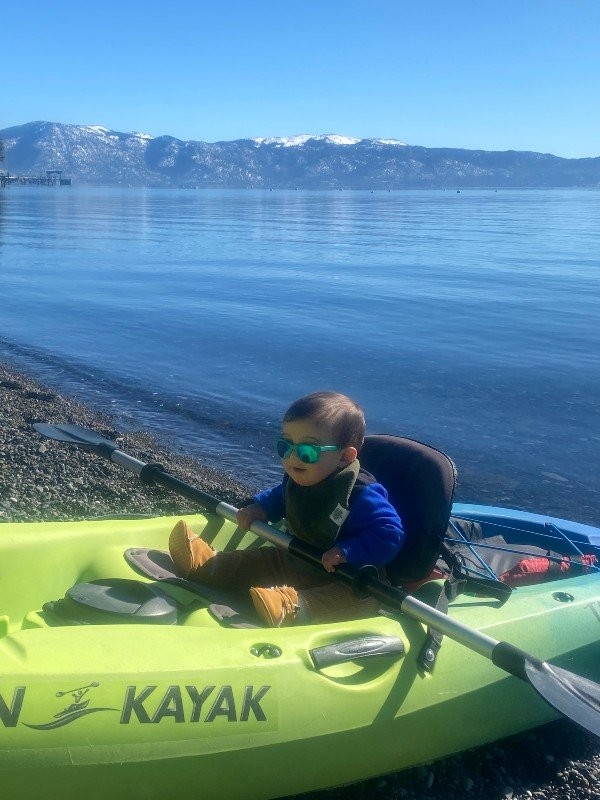 Water Safety Tips and Regulations for Paddling Lake Tahoe
Lake Tahoe is a big, cold body of water surrounded by mountains and the weather can change drastically even within an hour. That's why it's always good to be prepared by reading the forecast before you go and aware of your surroundings (and the wind line) while in the water. While paddleboarding in Lake Tahoe, you're required to have both a PFD (Personal Flotation Device, aka a life jacket) and a leash on your board. If you're an adequate swimmer then you don't have to wear the life jacket, but you must always have the leash attached.
It's also a good idea to bring a dry bag to keep your phone, wallet, keys, and any clothing layers that you end up shedding (I always prepare myself for ending up in the water at some point). Remember to stay hydrated, too… while the lake water is clean, I always bring a water bottle/pouch because it's still the freshest- and easier to drink out of.
To learn more about the lake itself, check out Lake Tahoe Statistics | About Lake Tahoe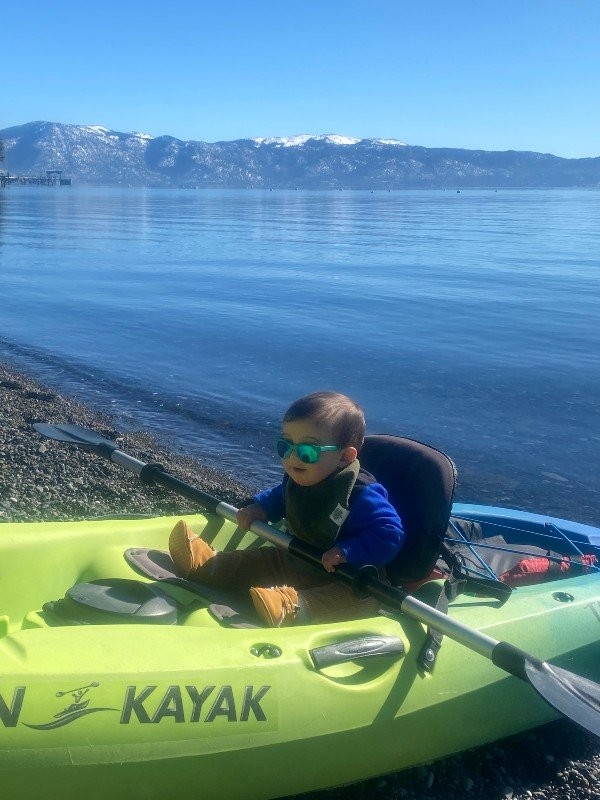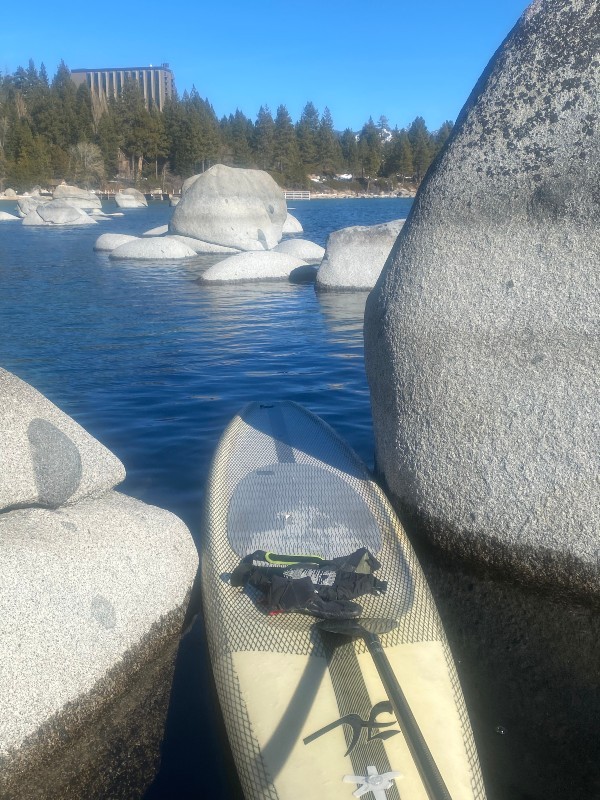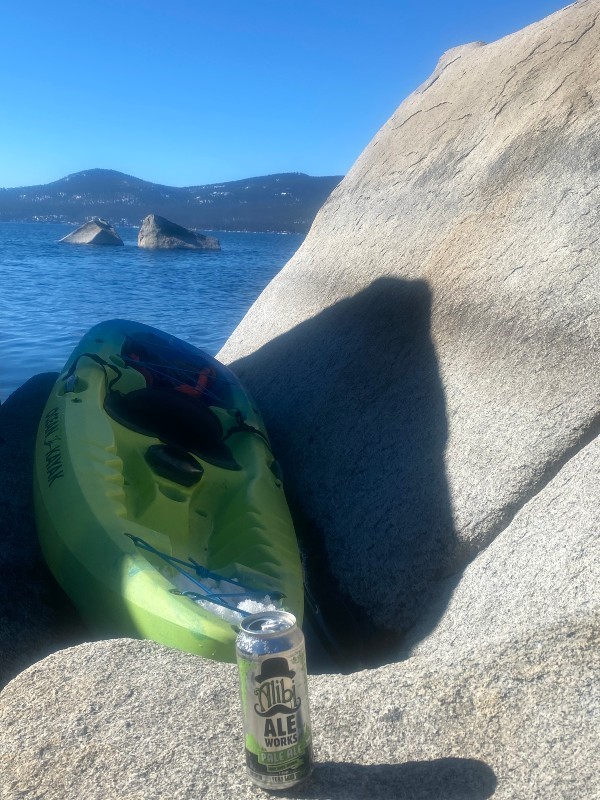 Where to Rent a Kayak or Stand Up Paddle board (SUP)
At 24 miles long and 12 miles wide, Lake Tahoe is bigger than it looks, and it can take the average paddler 7-12 hours (or longer) to paddle from the North Shore directly to the South Shore (but it's not that safe to be caught in the middle of the lake in case something goes wrong or the weather changes and you're miles from the shoreline). Fortunately, due to its sheer size, there are a lot of places likely close to where you are staying that rent paddleboards, kayaks, surf skis, and outriggers. Apart from Waterman's Landing that is open year-round, check out some other options for kayak, stand up paddleboard (SUP) rentals or even lessons and tours HERE.
Additional Paddling Resources
Summertime is the best season to paddleboard or kayak in Lake Tahoe because it's when the warmest and most comfortable if you happen to fall in the water. But even then, the weather can still be unpredictable. Download the Windfinder app or check the weather report on NOAA (National Oceanic and Atmospheric Administration) for the most accurate forecasts of what the water temperature, air temperature, wind, and climate is going to be like on any given day in the part of the lake you want to paddle.
If you're looking for routes to paddle, check out the Lake Tahoe Water Trail guide. It features out-and-back paddles from a particular beach, point-to-point paddles, 7-day trips, 1-day trips, and more, all around the 72-mile circumference of Big Blue. Campgrounds, beaches, landing sites, and additional safety tips are also included.
Lessons, Events, and Tours
Along with human-powered watercraft rentals, some places like Waterman's Landing also offer lessons, women-specific clinics, on-the-water yoga classes, and all kinds of other unique adventures. Clearly Tahoe in South Lake Tahoe does daytime, stargazing, and ecological tours in their translucent kayaks so that you get a full 360-degree view of the what's going on above and below the water's surface. In North Lake Tahoe, the Tahoe Adventure Company takes visitors on full moon and sunset tours out of the Tahoe Vista Recreation Area.
If you're a more serious paddler, keep the Tahoe Paddle Racing series (formerly known as the Tahoe Cup) in mind. There are usually 3-4 racing events in any given summer complete with 3–6-mile races, a downwinder race, and ending the season with the highly-anticipated Tahoe Cup Lake Crossing. Races are usually held in June, July, and September, and participating in a Tahoe paddle race is a great way to make new friends, test your ability, and have fun on the water.
Tahoe Safety Reminder
Lake Tahoe is a great place to paddle but be sure that you're fully prepared to have the best experience. And once you get into it, you'll find that paddling any kind of craft provides a great low impact workout that gives you a new appreciation of this unique environment.
Lake Tahoe Kayak & SUP Rental Locations