Article Quick Links - Post Table of Contents
Lake Tahoe Casinos – Historic Mountain Staples
Lake Tahoe casinos are a historic mountain-town staple
The Lake Tahoe basin is brimming with historic landmarks and it's arguable that the rich, blue waters tell stories of the past. Amongst the tales of settlers and memoirs of Tahoe's original pioneers, one of the most prominent Tahoe locations is still constantly bustling with crowds and filled with bright lights and 'big city' energy – casinos. Like other landmarks in the area, Tahoe's casinos have embedded roots and tell tales of the past, making them a desired destination on one's trip through the mountain towns that surround the lake.
While California and Nevada split the territory of Tahoe towns, once crossing over the Nevada state border, one can expect the warm welcome of buildings filled with slot machines, endless cocktails, and 24-hour gaming – all just a short walk away from the sandy beaches that brim Lake Tahoe. Each Tahoe casino holds its own bit of extra magic that one can only experience when stepping foot inside.
Crystal Bay Club & Casino
In the late 1930's, North Lake Tahoe was a busy place filled with new construction and new business. Taking advantage of the emergence of new opportunity, casino owner Jim McKay received small-scale casino licensing through the state of Nevada to allow gaming at the establishment. At the time, the casino was licensed for roulette, craps, 21 and 9, and slot machines and by the mid 1940's, the Crystal Bay area was alive with gaming.
Several owners later and by the early 2000's, the casino undertook a major renovation, bringing it to the modern-day Crystal Bay Club & Casino. Upon entering the casino, visitors are welcomed with natural, brown hues, rock accents, and dark, moody lighting; reflecting the environment that the casino is located in. Now, the casino offers brand new guest rooms, world-class entertainment options, and a 5-star dining Steak & Lobster House.
Along with CBC's rich history, one of the casino's most famous features is their evolving, year-round entertainment schedule. The club hosts world-class entertainment in the intimate 'Red Room', and the famous 'Crown Room.' There's a reason why the casino is coined as the "Epicenter of Lake Tahoe Entertainment," and CBC prides itself on catering to all music genres.
Jim Kelley's Tahoe Nugget Casino
If a smaller, more intimate gaming experience is more up your alley, the Tahoe Nugget Casino should be your number one stop. One of the oldest family-owned casinos in Nevada, the Tahoe Nugget prides itself on providing delicious food and great cocktails at an affordable price, making for a loyal, local clientele.
Although this casino is small, this gaming destination still hosts over 100 slot machines, 14 video-poker machines, live poker games, a pool table, and a burger shack outside with patio seating, where guests can order the Nugget's famous "Awful Awful" burger that's been served for over 50 years – known to be "awfully big and awfully good!"
Hyatt Regency Lake Tahoe Resort, Spa and Casino
In Incline Village, set amongst the pine trees the Hyatt Regency Lake Tahoe.  offers a different experience than most Lake Tahoe casinos.
While a stay at the resort offers access to the private beach and the ability to enjoy all of the amenities, a shorter visit is worthwhile.  Make a lunch reservation on the edge of Lake Tahoe at the Lone Eagle Grille, place your bet at the sportsbook and then watch the game at Cutthroat's Saloon, or try your luck at the numerous casino gaming tables and slots.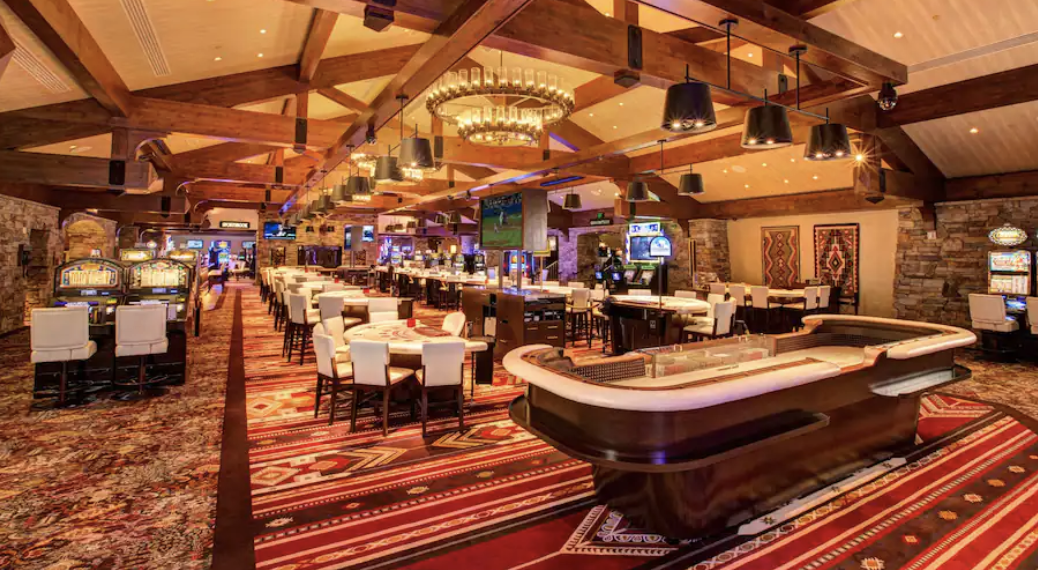 South Lake Tahoe Casinos
MontBleu Resort, Casino & Spa
Formerly known as Park Tahoe and then Caesars Tahoe Palace, MontBleu Resort, Casino & Spa is one of the largest casinos in the Tahoe basin. This establishment has over a 48,000 square feet casino, and directly above hosts a 438-room hotel on a 21-acre property.
The property first opened in the late-1970's, known as Park Tahoe. Within 12 months of the initial opening, Caesars offered to take over the casino and finish construction on the property. Over the years when Caesars Entertainment owned the establishment, the casino was well-known for its top entertainment offerings, hosting famous musical artists such as Dean Martin, Cher, Jimmy Buffett, and Tony Bennett.
In 2006, Caesars sold the hotel and shortly thereafter it was rebranded as MontBleu Resort, Casino & Spa. Now, the large property hosts seven different bars and restaurants, up-to-date slot machines and table gaming, and four different floorplans of guest rooms and suites for guests to choose from.
One of the famous amenities at MontBleu is the spa and pool. Services such as hair, nail, facials, and massage are all offered at this resort, where guests can indulge in a relaxing treatment then afterwards go for a dip in the resort's large, indoor pool.
The resort also still offers a strong entertainment calendar, hosting comedians, boxing events, and musicians. For those that are into Tahoe's nightlife, inside MontBleu is Opal Night Club, where guests can enjoy in late nights full of DJs, cocktails, and dancing.
Hard Rock Hotel & Casino
The Hard Rock Hotel & Casino is another pillar in the South Shore region of Lake Tahoe gaming. Originally opened in 1965 as Sahara Tahoe, this casino has undergone many name changes, theming updates, and renovations over the years, making it full of rich history and guaranteed fun for guests to this day.
Now, the Hard Rock offers a 25,000 square foot casino floor, a Sportsbook, and limits that match whatever mood you may be in. The casino also hosts several different restaurants, lounges, and bars; offering a variety of options for guests to choose from. Another feature inside this establishment's doors are interactive and unique entertainment options, such as a magic show and "Rock Hard Burlesque" series.
For guests that choose to reside, a stay at the Hard Rock includes modern amenities, picturesque views of Lake Tahoe, and clean, updated rooms. Due to the hotel's rich history, guests can even request to stay in Elvis Presley's very own hotel suite when booking.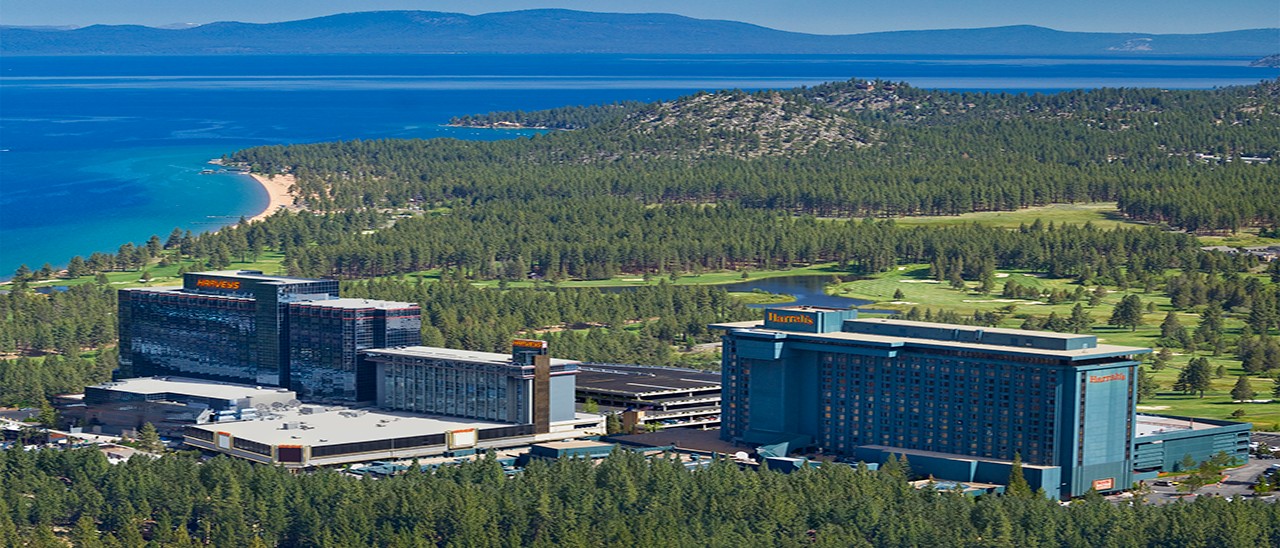 Harrah's Lake Tahoe
The 18-story tower and 65,000 square foot casino floor make Harrah's a much-desired destination for many visitors to the south shores of Lake Tahoe. In the early-1970's, under the ownership of William F. Harrah, the hotel and casino was built to be top of the line. Each guest room was furnished with a fully stocked bar, bay windows, two bathrooms, televisions, and telephones. This unique design allowed for Harrah's to win the first-ever five-star diamond rating in casino history.
Now, the casino hosts a large food court with various dining options, five-star dining at Friday Station with panoramic views of Lake Tahoe, updated hotel suites, over 1,300 slot machines, table games, and even a nightclub.
Harrah's even offers weekly entertainment options for all casino guests, including interactive musical hosts such as 'Arty the Party' and 'Tuesday Night Blues,' guaranteeing for a unique, fun, and interactive stay for all casino visitors. Guests can take an escalator downstairs to visit Harrah's "brother" casino, Harvey's.
Harvey's Lake Tahoe
An underground tunnel and directly across the street from Harrah's Lake Tahoe is Harvey's Lake Tahoe. Harvey's hosts over 700 hotel rooms, and an expansive casino floor for guests to enjoy during their stay. Originally owned in the mid-1940's by Sacramento Meat Wholesaler Harvey Gross, the hotel opened its first high-rise tower by 1963.
Years later, and Harvey's Lake Tahoe is well-known for its historic roots. The casino offers over 900 slot machines, various dining options, and a large arcade for children to have some fun as well. One of the sought-out events that happens at Harvey's Lake Tahoe is their summer concert series. Located directly behind the casino is the concert venue, hosting famous acts all summer long.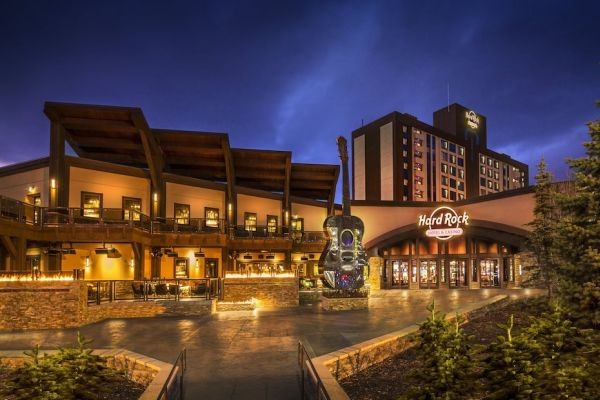 Historic Casinos that are Closed (Re-Opening TBD)
Tahoe Biltmore Casino
When walking into the Tahoe Biltmore you feel as if you stepped back into another decade. This true "historic Tahoe" experience shined with its impressive architecture and vintage interiors. Classic elegance meets rustic charm when one steps into the Biltmore, being welcomed with gold finishes and pale pink accents.
The Biltmore building dates to its original establishment in the mid-1940's. After undergoing several name changes, the casino had been preserved with mostly original décor and prided itself on being a historical landmark that has hosted many over the years.
Among the amenities that this site offered, the casino space hosts over 200 slot machines, traditional table gaming, and a full-service Sportsbook. The Biltmore also offered unique guest rooms that are full of nostalgia, reminding guests of the rich history of the North Tahoe shores that surround you. The casino offered several different rooms from standard guest rooms to deluxe cottages, to even a motel for guests that would like to stay longer.
In true casino fashion, The Biltmore hosted a "goodbye party" on April 23, 2022, giving the community and visitors a chance to have one last hurrah at this North Lake Tahoe establishment. However, under new ownership demolition has begun on the Tahoe Biltmore, and it is projected that the casino will reopen in the next four to five years with a brand-new hotel and 10,000 square foot casino.
Cal-Neva Casino
Originally constructed in 1926 and straddling the border between California and Nevada state lines, Cal-Neva Resort & Casino sits vacant. This casino has incredibly rich history, being owned in the 1960's by famous singers Frank Sinatra, Dean Martin, and Chicago mobster Sam Giancana.
After its heyday in the 1960's – 70's, the casino property passed through a series of investment companies, and finally the casino shut its doors in 2013 "for renovations," however hasn't reopened since. In 2016, the property owners of the Cal-Neva Casino filed for bankruptcy, and the resort property was then purchased out of bankruptcy by Larry Ellison, former CEO of Oracle Corporation, later in 2018.
Under the casino's new ownership, Ellison had released the "Cal Neva Revitalization Project," a project planning the reopening a similar lodge and casino, with significant improvements to water quality, scenic, and energy efficiency. In recent years, the revegetation process on the property has begun per TRPA requirements. While not much movement has happened at the Cal-Neva Resort & Casino, slight work on the property is something, and the local community casino-goers and Tahoe history buffs patiently wait for the hopeful return of this glitzy, glamourous Tahoe staple.
Whether still actively open, or closed; rich, casino history is deeply rooted into each of these eight establishments that hug the shores of Lake Tahoe. Though each of these casinos offer similar gaming options, each one of these establishments has a unique energy inside that one can only experience upon visiting. When analyzing the significance of the Lake Tahoe basin, casinos have made and continue to make a huge impact on the Lake Tahoe region.
For more information on Crystal Bay Casino, visit: http://www.crystalbaycasino.com/
For more information on Jim Kelley's Tahoe Nugget Casino, visit: https://www.gotahoenorth.com/listing/jim-kelleys-tahoe-nugget-casino/
For more information on MontBleu Resort, Casino & Spa, visit: https://ballyslaketahoe.com/
For more information on Hard Rock Hotel & Casino, visit: https://hardrockcasinolaketahoe.com/
For more information on Harrah's Lake Tahoe, visit: https://www.caesars.com/harrahs-tahoe
For more information on Harvey's Lake Tahoe, visit: https://www.caesars.com/harveys-tahoe