Article Quick Links - Post Table of Contents
Lake Tahoe Wine Bars | Recommendations
The Wine Bars of Lake Tahoe: Here are some Top Wine Spots to warm up on a chilly evening.
Any time of the year is a wonderful time to visit Lake Tahoe, but as autumn starts to creep in and businesses start to open back up there's no better time to catch up with friends in a cozy, comfortable establishment (especially on days when the weather gets a little hairy). But one may ask when planning their vacation, are there wine bars in Lake Tahoe? And the answer is a resounding YES. From the casual to the elegant, slope side to Tahoe's sandy shores, there are all kinds of Lake Tahoe wine bars where one can go to relax and enjoy a glass (or a bottle) of vino. These are some of the best places to buy wine in Lake Tahoe:
What are the best wine bars in South Lake Tahoe?
If you're a wine aficionado planning your trip to South Shore, you may find yourself googling, 'What are the best wine bars in South Lake Tahoe?' There are plenty to choose from, but here a few of our favorites:
The Idle Hour – South Lake Tahoe
Owned by the same couple that runs the Safari Rose, The Idle Hour is right on the shores of South Lake Tahoe overlooking the emerald, blue waters bound by the Sierra Nevada. Not only does The Idle Hour have a huge wine selection, but every room of it also has its own distinct personality. When you walk in, a floor-to-ceiling wine rack is tucked in the corner next to a grand piano; in the next room you'll find more wine, gifts, and you can order from a menu that features flights of wines, chocolates, charcuterie boards, or some other combination of tasty delights.
And next to that, the Green Room has a soothing motif under an aspen tree painted lightbox and leads outdoors where you can sit under heat lamps out at panoramic views of Tahoe as you sip on house made mulled wine (or a summertime specialty when visiting in the hotter months). Another nook with plush purple velvet seats juts out towards the lake, giving one a better view of snowcapped Mt. Tallac. The Idle Hour even has a downstairs lakeside area that it rents out for private events.
Revive Coffee & Wine – South Lake Tahoe
Within walking distance to El Dorado Beach and Lakeview Commons, this inviting cabin/coffee and wine bar invites everyone to come in and try a one-of-a-kind latte, small bite, and/or a glass of a locally produced varietal. Pair your wine with a panini, breakfast item, or dessert, and sit at a beautifully polished live edge wooden table wine bar (or out back in the garden if it's not too chilly). Revive also recently opened its barrel room for private events/weddings and is known to have live music to complement a special occasion. Revive recently celebrated its fifth anniversary and has won a slew of "Best of Tahoe" awards since its opening.
It is also located next to the South Tahoe Standup Paddle shop and close to the Tahoe Bike Company, making it ideal to grab a drink before a warm weather/summer day adventure.
For addresses and links – check out the list of Lake Tahoe Area Wine Bars below.
What are the best wine bars in North Lake Tahoe?
Here are some of our picks for Wine bars in the North Lake Tahoe Area (Tahoe City, Truckee, Incline Village)
Glasses Wine Bar – Incline Village, NV
Next to the post office, Pak Mail, and Pet Network thrift store in Incline Village, Glasses Wine Bar is owned and managed by former schoolteacher Kathleen Martens and her husband Rob. They named their new venture "Glasses" after both wine glasses and reading glasses, as this is a suitable place to go to relax and dive into any of the books or games on hand.
Walking in, a U-shaped bar is in the center of the room, and couches/tables are nestled up against the wall amongst bookshelves and its wall of wine dispensers. You are welcome to order a wine by glass or bottle at the bar or walk over to one of the dispensers to pour your own.
When the Martens opened this place a few years ago, they were the first and only wine bar in North Lake Tahoe that had at least 24 different wines on tap and a card system that allowed patrons to help themselves to specific varietals. Glasses also offers live music, hosts special events, and will bring in food trucks during holidays.
Petra Restaurant & Wine Bar at Northstar – Truckee
In the heart of the Village at Northstar off Highway 267, Petra Restaurant & Wine Bar is the perfect place to go for an après glass of wine after spending the day on the slopes. As part of the Uncorked Tahoe brand (with wine bars at The Village at Palisades Tahoe, Cobblestone Center in Tahoe City, and in Truckee, too), Petra is more than just a wine bar- it serves winter and wine enthusiasts salads, sharable bites, pastas, stews, steaks, and more to go along with its selection of impressive wines from around the world.
Uncorked Tahoe also provides a personalized wine consultation service designed to review and recommend producers, varietals, and appellations that are most suitable for the consumer.
Additional Uncorked Tahoe Locations include Uncorked Truckee, Uncorked Palisades Tahoe, and Uncorked Tahoe City.
The Pour House – Truckee
Offering more than 350 distinct kinds of wine, The Pour House in Historic Downtown Truckee practically guarantees that they have a wine for every taste, budget, and occasion. Its cozy deck is perfect for sharing a bottle with family and friends. And along with its wide selection of wine, The Pour House has an equally wide selection of seasonal, scrumptious local and international cheeses to pair with it (as well as olives, nuts, salami, spreads, chocolate, honey, and more). So, whether you need to get some holiday shopping done or want to treat yourself to something different, this is your one-stop shop for all things wine-related and one of the best places to buy wine in Lake Tahoe. Plus, it's been around forever (ok, since 2009), and it's locally owned so you can feel good about supporting small business.
Raley's O-N-E Market – Truckee
Truckee's newest wine tasting room is in a grocery store, located at the new Soaring Ranch shopping center in Truckee next to the airport. What makes this O-N-E Market different from a standard Raley's store is that it carries high-quality, organic, and sustainable products carefully curated to be free from its list of banned ingredients (you won't find plastic bottled water or antibiotic/hormone-ridden in here).
Its traditional deli model has been converted to supply hearth-baked pizzas, organic juices, and farm-style sandwiches; its adjacent café serves locally roasted beans and espresso drinks from Drink Coffee Do Stuff. After taking in the gourmet selection of groceries, head upstairs to the McKinney Loft (named after Truckee's famous skier Tamara McKinney) to relax for a second in front of large flatscreen TVs that also serves beer and bar bites.
Truckee River Winery – Truckee
Thirty-three years ago, two local Truckee snow skiers decided to try their hand at making wine, and their friends enjoyed their pinot noir and chardonnay so much that the Jones's eventually expanded and moved their operations over to a two-story barn on the Truckee River so they could produce more cases. Then in 2009, they opened a tasting room on Brockway Road, which became a popular spot for snowshoeing, special events, and bocce ball.
Unfortunately, the tasting room closed in 2020, but the Truckee River Winery still goes on. It is continuing to make its award-winning wines in Downtown Truckee on South River Street while looking for a new tasting room location. It still maintains its members wine club, and wine tastings and tours are available at the red barn by appointment only. Or you can buy a bottle or two online and schedule a curbside pickup; its Symphony and Pink Barn Sangiovese Rose make great gifts for the holidays.
What is a good wine bar in South Reno?
The Lodge Coffee & Wine –  Mount Rose Hwy., Reno
Down at the base of the Mount Rose Highway near Montreux, The Lodge Coffee & Wine is back open for business and even expanding. This former restaurant turned into a ski rental shop and coffee/wine bar three years ago and has plans to use the remaining space to bring in a medical practice.
The coffee and wine bar is quaint, comfortable, and caters to skiers, its Galena neighbors, and those who need a break when driving the Mount Rose Highway between Reno and Incline Village. The Lodge features a bar, a few spacious wooden tables that seat up to eight, and plush leather couches in front of wine racks that hold interesting and unique wines. The people who run this place are friendly, offer delectable paninis and pizzas, and their flight of three red wines is well worth the fifteen dollars. The best time to go is on Wednesdays when they have live music, or when the weather's nice and you can sit on the patio overlooking the Reno foothills.
Notable Mentions | Other fun spots to find wine in Lake Tahoe
While the above mentioned are designed to serve primarily wine, there are dozens of other restaurants, cafes, and breweries around the lake that are also known for their incredible wine selections and comfortable atmospheres. For instance, Le Bistro in Incline Village (120 Country Club Ste. 29, Incline Village, NV 89451) has a full blown wine list with Bordeaux and burgundies that pair nicely with its contemporary French fusion cuisine, and Spindleshanks in Kings Beach (400 Brassie Ave. Ste. B, Tahoe Vista, CA 96148) is a log cabin looking restaurant that's right on the Old Brockway golf course; it has more than two dozen types of wines by the glass on its list as well as four different flight options and mimosas.
There are even movie theaters and hotels that have wine bars, too. The Tahoe Art Haus & Cinema (475 N. Lake Blvd., Tahoe City, CA 96145) in Tahoe City's Cobblestone Center sells wine by the glass or bottle, as well as kombucha and beer on tap. If you're going to see a 3-hour movie with a friend (like the new James Bond flick), I suggest buying a bottle to share (and the rose is particularly good). Cedar House Sport Hotel (10918 Brockway Rd., Truckee, CA 96161) in Truckee also has a restaurant called Stella that boasts fresh, wholesome, flavorful meals, desserts, and petite selection of wines (four red and four white) including a Truckee River Winery malbec.
What are the best Wine Bars at Lake Tahoe Ski Resorts?
If you're looking for a nice cold (or room temperature) après glass of wine after slaying the powder all day- or taking a break from the groomers- at your favorite Tahoe ski resort, then it's likely that you'll find within the vicinity of Tahoe's snow-covered trails. We've already mentioned Petra at the Village at Northstar being a viable choice, but here are a few other ski in/ski out lodges to grab wine, beer, or a cocktail:
Mt. Rose Ski-Tahoe's Winters Creek Lodge (22222 Mount Rose Hwy., Reno, NV 89511): Located at the base of the Blazing Zephyr chair on the Slide Mountain side of Mt. Rose, the Winters Creek Lodge has sweeping panoramic views of the ski trails on one side and Washoe Valley on the other thanks to its abundance of floor-to-ceiling windows. Head over to the Sky Bar within Winters Creek Lodge on your ski break to grab a glass of wine or one of its fancy craft beers on tap and take in the views.
The Loft in Heavenly Village (1001 Heavenly Village Way, South Lake Tahoe, CA 96150): Over in the heart of South Shore, there are a variety of bars and restaurants at the base of the gondola. If you're there for wine, check out The Loft, which features American tapas, craft cocktails, and wine, as well as nightly family-friendly magic shows.
Across from the California Lodge at the top of Ski Run Boulevard, the Himmel Haus (3819 Saddle Rd., South Lake Tahoe, CA 96150) is a German restaurant that features a variety of biers, wines, and a Bavarian-inspired food menu.
If you are looking for more of an après ski in/ski out experience, the Tamarack Lodge at the top of the Heavenly gondola offers a food court and bar for those taking a break from the slopes, but keep in mind that due to COVID-19 you must have a reservation and show proof of your vaccination card in order to enter.
Diamond Peak's Loft Bar (1210 Ski Way, Incline Village, NV 89451): Located on the second floor of the base lodge, the Loft Bar is a full service 21-and-older establishment that provides beer, cocktails, and wine to thirsty patrons. Happy Hour drink specials are offered 4pm-5:45pm daily. Want a better view of Lake Tahoe and have a pair of skis or a snowboard with you? Take the Lakeview lift to Diamond Peak's mid-mountain Snowflake Lodge to enjoy a drink on the deck with the panoramic view of Lake Tahoe. Its signature Last Tracks wine tasting events sell out quickly, but if you're in the area on a winter weekend then it's an event not to miss.
Alpine Meadows mid-mountain The Chalet (2600 Alpine Meadows Rd., Alpine Meadows, CA 96146): While it's not clear if they offer wine, The Chalet is a Bavarian-style beer garden that definitely has pressed sandwiches and Bavarian-style beer on tap, as well as hot chocolate for the kiddos. You just have to ski or snowboard to get there.
The West Shore Café (5160 Westlake Blvd., Homewood, CA 96141) across from Homewood Mountain Resort: When you take that Last Run down towards Lake Tahoe at the end of the day, consider loading up your skis or board and then walking across the street to the West Shore Café for a nice easy glass of wine. Located right on the water with its own private pier, this upscale lodge/restaurant will provide a view and ambiance that makes all those difficult ski runs worth it.
Wildflower Walk & Wine at Kirkwood Mountain Resort (1501 Kirkwood Meadows Dr., Kirkwood, CA 95646): As a fellow Tahoe Vail resort, Kirkwood provides indoor dining and a bar for COVID-19 vaccinated folks with reservations. However, if you aren't much of a skier but you love wine and being in a natural outdoor mountainous environment then it may be worth putting the summertime Wildflower Walk & Wine event on your calendar. Held the second week in August, the Wildflower Walk & Wine is a five-hour event that includes a guided wildflower walk with Laird Blackwell followed by dinner paired with Amador County wines and live acoustic music. Click here to see the menu.
When are Lake Tahoe Wine Festivals?
Speaking of Tahoe Wine Festivals…The Best Wine Festivals and Wine Walks in Reno/Tahoe/Truckee
Wine is a popular theme at any time of the year in Lake Tahoe and surrounding areas; and these Tahoe wine events are worth checking out if you happen to be in the area (especially during the autumn months):
Early October- Truckee Wine Walk and Shop: What better way to find gifts for loved ones than to have a glass of wine in your hand while you shop! The Truckee Wine, Walk & Shop allows attendees to sip wine and sample local foods while cruising through Downtown Truckee.
Every Third Saturday of the Month from 2pm-5pm- Wine Walk the Reno Riverwalk District: Join fellow wine lovers on the promenade along the Truckee River in downtown Reno on Saturdays to sample wines provided by a dozen or so Reno businesses in the Riverwalk District. Visit the Reno Riverwalk Merchants Association website for details about how to get in on this fun reoccurring event.
Early September- Tahoe Chocolate & Wine Festival: Held at the Hyatt Regency Lake Tahoe Resort in Incline Village, this event showcases local vendors that are more than happy to share their favorite curated varietals, chocolates, and food samplings all while raising money for the Sierra Community House through additional silent and live auctions. Due to COVID-19, the last event was held on its lovely Cottage Green but in normal years the Chocolate & Wine Festival is held in early November.
Early September- Autumn Food & Wine Festival: Northstar California also gets in on the wine and food showcase in early September when it offers a full weekend of wine and food tastings, cooking demonstrations, mixology sessions, culinary competitions, and more. This annual event has been going on for more than 30 years and was voted one of the Top 10 food festivals in America by USA Today.
Mid-September- Sample the Sierra Festival: Held in South Lake Tahoe, Sample the Sierra brings together locals, visitors, neighbors, farmers, vendors, and small business to celebrate everything wine, beer, food, music, and more. This is one of South Lake Tahoe's biggest events, topped off with a Makers Market and Sierra Chef Challenge.
Just Remember- Don't Drink and Drive
It's exciting that Tahoe's wine scene is thriving once again, but it's important to stay safe. Call an Uber or a Lyft if you need to, but there are also other options. If you're wine bar hopping around South Shore, check out the Tahoe Transit or flag down a taxi to get to and from places; or if you're in North Lake Tahoe, consider taking the TART or the even more convenient TART Connect. Enjoy the wine but take it easy so you can go back and have another memorable experience at your new favorite Tahoe wine bar again.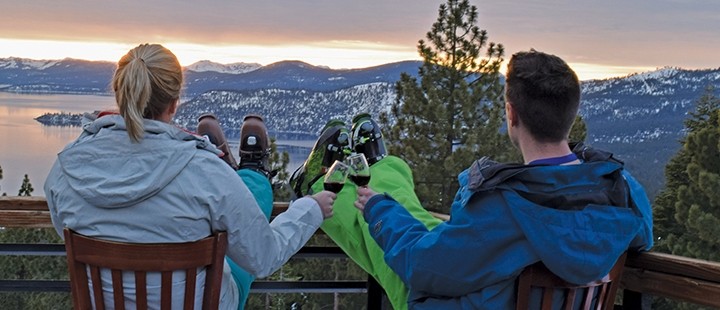 Lake Tahoe Area Wine Bars | Top Wine Spots