Off Road Adventures in Lake Tahoe
Tap into your adrenaline craving with ATV, OHV, UTV trail riding in Lake Tahoe's Sierra Nevada
Exploring the Sierra Nevada Mountain range is an ever-changing activity. Each visit can be tailored to provide a one-of-a-kind experience that'll be sure to remind you of the magic that happens in the area. The mountainous landscape provides four seasons of year-round fun, and the mountains are full of action sports that cater to anyone. If you're looking for a unique, untraditional summertime activity, embrace your adrenaline craving and try Tahoe ATV trail riding or OHV trail riding.
All-terrain vehicle riding or off-highway vehicle riding, better known as ATV/OHV riding, is guaranteed to spark a thrill inside of you. From four-wheeling quads to 4-person vehicles, this adventurous sport will showcase areas of the Tahoe region that only are accessible by off-roading – providing you with a memorable experience that'll last a lifetime.
If you're unfamiliar with 4×4 riding but are tempted to try it, several businesses around the Lake Tahoe area provide rentals and tours for those who want to give the buzzing motorsport a shot.
Lake Tahoe Adventures, a local business in the South Lake Tahoe area, provides various guided tours around the area that each cater to specific skill levels and each tour individually showcases high-desert off-roading through different areas of the Northern California/Northern Nevada region.
If riding 4-wheelers isn't up your alley, Full Access Tahoe is another local business that offers rentals in 2-4 seat off-roading vehicles as well as guided tours throughout the unique, mountainous landscape in the South Tahoe surrounding area.
If you're wanting to branch away from the crowd and go on your own tour, then Battle Born Powersports is the answer. The business prides itself on wanting everyone to be able to experience the outdoors to see the Sierra Nevada mountains and beautiful Carson Valley in a safe, memorable way. Each of these tours aren't guided by professionals; however, each vehicle that guests can rent out comes equipped with an interactive GPS system to always keep guests on the trail and safe. Battle Born Powersports offers OHV rentals that can seat two, four, or six guests and have tours available to fit every budget.
Information & Links
If you're already familiar with the action sport and don't necessarily want to follow the guided trails that potentially have more restrictions, there are still several options available that'll provide you with the heavy-duty equipment to curb your adrenaline fix.
Adrenaline Connection is a local action sports rental company in the Tahoe-Truckee area that specializes in off road rentals. The company offers dirt bike and 4-wheel quads for guests to tap into their action sports craving and explore the North Lake Tahoe mountainous areas. With each off-road rental, Adrenaline Connection will provide goggles and a fitted helmet, and the company also offers boots, knee pads, elbow pads, and gloves free of charge for all rental guests.
If you'd rather take the whole family out on an adventurous excursion together, try Tahoe UTV. Tahoe UTV is another local business in the Truckee-Tahoe area that specializes in Ultra-Terrain Vehicle rentals, better known as UTV rentals. Upon rental, guests will have the flexibility to explore areas such as Crystal Mountain, local hot springs, view sunsets over Lake Tahoe and other alpine lakes, and embrace the surrounding spectacular scenery that the region offers. Tahoe UTV prides itself on offering a completely customizable experience to their guests, making no trip the same. Whether you're looking for a couple hours of scenic beauty or would rather spend a full day exploring the area; Tahoe UTV has got you and your family covered.
If you're looking for an overnight backpacking adventure out in the Tahoe wilderness, try renting a Jeep vehicle through Tahoe Jeep Rentals. Tahoe Jeep Rentals specializes in Jeep Wrangler and Jeep Wrangler Overland rentals and each vehicle comes equipped with 35" tires, 3-person rooftop tent with annex privacy entrance, fridge and freezer, camp table and chairs, dual burner stove, and cookware. Vehicles can be rented daily, weekly, and even monthly through Tahoe Jeep Rentals, providing guests with a one-of-a-kind Tahoe off-roading experience.
Though each of these businesses geographically showcase certain areas of the Northern California/Nevada mountainous region, there are endless areas to explore in the Lake Tahoe basin. Some of the well-known OHV areas are the McKinney-Rubicon Trail, Rubicon Trail, and Fordyce Trail. Each of these areas highlight different landscape, alpine lakes, mud pits, natural rock slabs, and other landscape. It's advised to do research prior to choosing which trail you will embark on, as each trail can bring different terrain.
Let's face it: we all need to indulge in some excitement every now and again. Next time you're in the Tahoe basin, step off the beaten path and try seeing a different side of Tahoe with ATV, UTV, or OHV rentals.
For more information on Lake Tahoe Adventures, visit: https://www.laketahoeadventures.com/ or call: 800-490-3995. Lake Tahoe Adventures is located at 3071 US-50 South Lake Tahoe, CA 96150
For more information on Full Access Tahoe, visit: https://fullaccesstahoe.com/ or call: 530-318-6538. Full Access Tahoe is in South Lake Tahoe, CA.
For more information on Battle Born Powersports, visit: https://www.battlebornpowersports.com/ or call: 775-721-4620. Battle Born Powersports is located at Johnson Lane OHV in Minden, NV.
For more information on Adrenaline Connection, visit: Adrenaline Connection.NET or call: 530-386-8389. Adrenaline Connection is located at 10117 E River Street Truckee, CA 96161.
For more information on Tahoe UTV, visit: tahoeutv.com or call: 530-390-6200. Tahoe UTV is in Tahoe City, CA.
For more information on Tahoe Jeep Rentals, visit: https://www.tahoejeeprental.com/ or call 530-324-5850. Tahoe Jeep Rentals is located at 2980 N Lake Tahoe Blvd., Tahoe City, CA 96145
Lastly, for more information on OHV areas and trail areas in the Tahoe basin and surrounding areas, visit: http://www.ohranger.com/lake-tahoe-basin-management-unit/poi/road-vehicles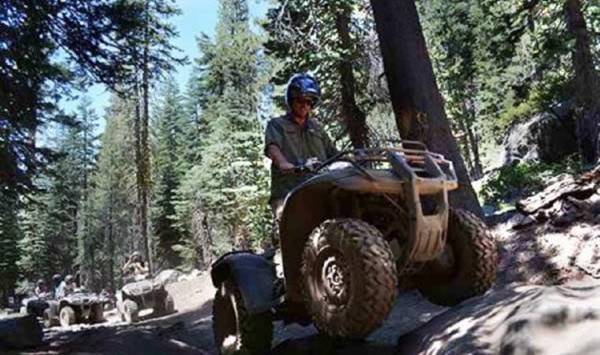 List of tours available through Lake Tahoe Adventures:
List of tours available through Full Access Tahoe:
List of tours available through Battle Born Powersports: