Article Quick Links - Post Table of Contents
Guide to Planning Your Lake Tahoe Trip
Beautiful Lake Tahoe is the jewel of the Sierra, with crystal clear waters surrounded by snow-capped mountains and expansive pine forests. Tahoe also offers wealth of fun activities and adventures for the whole family, year-round.
We created this Lake Tahoe vacation guide to help travelers who are planning a Lake Tahoe trip make informed decisions. You'll find useful information, such as how to get here, where to stay and what to do while you're here.
How to Get to Lake Tahoe?
Lake Tahoe is located around 60 miles south of Reno, Nevada and 200 miles northeast of San Francisco, California. The lake straddles the border of the two states, and sits at an elevation of 6,224 feet.
Lake Tahoe is around a 3.5-hour drive from San Francisco, on either I-80 (to the north shore) or I-80 to US-50 (to the south shore). Otherwise, the easiest option is to fly into Reno-Tahoe International Airport, which is around 40 minutes from the north shore and 75 minutes from the south shore. From the airport, you can book a rental car, take a ride share or a shuttle bus to the north shore and the south shore.  Amtrak also has a train that stops in Truckeeamt and bus stops in South Lake Tahoe.
TRAVEL TIP – If you plan to travel to Lake Tahoe from the Bay area on Fridays and returning on Sundays, leave before 10 am or after 7 pm. Otherwise, you will spend several extra hours sitting in traffic.
How to Get Around?
Having a car is the easiest way to get around and make the most of your Lake Tahoe trip. Although public transportation is available in certain areas, such as TART around the north shore and TTD Transit around the south shore, its range and availability is somewhat limited. Taxis and rideshares are also available, but they are not always available and can be expensive.
WINTER DRIVING TIP – When it snows, you will need a vehicle with four-wheel drive, all-wheel drive, snow tires or chains. Chain control will be in effect on many roads, especially mountain passes, during and after a snowstorm. Always be careful and don't speed when driving in snow.
When to Visit?
There's really no bad time to visit Lake Tahoe, as there is something for every season. The best season to visit will largely depend on what activities you are interested in.
Summer is the most popular time to visit Lake Tahoe. Expect plenty of sunny days and temperatures that range from the high 70s and 80s during the day to 40s and 50s at night. This is the time to enjoy the trails, beaches and water. It's also the peak tourist season, with large crowds and higher prices. Book your accommodations well in advance.
Fall is a great time to visit to escape the crowds and high prices. The weather is still warm and pleasant during the day, though the occasional snow shower is possible. Most trails will still be open, and water is still enjoyable through October. Several areas also offer spectacular fall colors. Most area ski resorts also kick off the season in late November.
Winter is the second most popular time to visit Lake Tahoe. Once the snow falls, the area turns into a magical winter wonderland, with plenty of bluebird days where you can enjoy the sunshine and incredible views while playing in fresh powder. Plan ahead if you want to visit over Christmas and New Years. Weekends after a snowstorm are also popular times.
Spring also sees smaller crowds and lower prices. Most ski resorts will still be open through April, and sometimes May. Trails are starting to open, particularly those at lower elevations. This is the time to chase waterfalls and start looking for wildflower.
TIP – Bring layers, even in the summer. Tahoe weather can be unpredictable. Temperatures also drop significantly once the sun goes down.
Where to Stay?
One of your first decisions will be whether to stay on the north shore or the south shore. Given the size of the lake—20 miles long by 12 miles wide—which side you stay on is an important decision, as it takes at least an hour to get from one side to the other.
The north shore is generally less crowded and has a more laid-back vibe. It offers fewer hotels but more luxurious vacation rentals. The main towns include Tahoe City, Truckee, King's Beach and Incline Village.
The south shore offers a wide range of hotels for all budgets in addition to vacation rentals. It also offers a livelier experience, with more shops, restaurants, bars, clubs and casinos. The two main areas include South Lake Tahoe, the biggest town around the lake, and Stateline, right across the Nevada border.
Lodging Options
Hotels
Lake Tahoe offers hotels to suit every budget, and includes budget-friendly chains, small, independent boutique hotels, casinos and luxury lakeside or slope-side resorts. You can book with resale websites such as hotels.com and Expedia. But sometimes you can get better rates by contacting the hotels directly, either through their website or on the phone.
Vacation Rentals
You'll also find a wide variation on Lake Tahoe vacation rentals, whether you're looking for a convenient ski-in-ski-out condo, a cabin in the woods or a luxurious lakefront estate. Vacation rentals generally offer a better option for groups and families, and can come with amenities such as hot tubs and back yards or dock access. You can find listings on Airbnb, VRBO and Vacasa, in addition to local options such as Tahoe Vacation Rentals, Tahoe Getaways and Lake Tahoe Accommodations.
Campsites
Many of the parks around the lake offer campsites. There are also several private campsites, which may also offer amenities such as restaurants and rental shops. Campsites are typically open from May to October and can range from tent-only primitive sites to RV sites with full hookups. Some campsites offer first-come-first-serve sites. Others can be reserved up to six months in advance and they go quick. Book online at Reserve California, recreation.gov, Reserve America, Hipcamp, Camp Richardson, Zephyr Cove, or Meeks Bay.
TIP – Book your accommodations early, especially over the summer, holiday weekends or around Christmas and New Years. Time your stay for the off-season or midweek to save money.
What to Do?
Lake Tahoe is an outdoor and adventure lover's playground, with so many different ways to play in all seasons. Here are some of the most popular things to do.
Hit the trails
Hiking is the most popular activity in Tahoe, with hundreds of miles of trails to choose from here, suitable to all ability levels. With so many mountain ranges, national forests, wildernesses, parks, and more than 100 small alpine lakes in the area, you're bound to find a hike to suit. Popular options include the Rubicon Trail from DL Bliss State Park to Emerald Bay, Eagle Falls and Eagle Lake and Mount Tallac. The Tahoe Rim Trail covers 165 miles in a loop around the lake. The Pacific Crest Trail also cuts through the area.
If you'd rather explore on two wheels, there are also hundreds of miles of world-class mountain biking trails. An absolute classic is the Flume Trail, which offers stunning lake views as you ride along a ridge high above the lake. Half of the Tahoe Rim Trail is also accessible to mountain bikes.
TIMING TIP – Hit the trails early, especially in the summer. You'll have better luck getting a parking spot and beating the crowds, and avoid exposure during the hottest part of the day.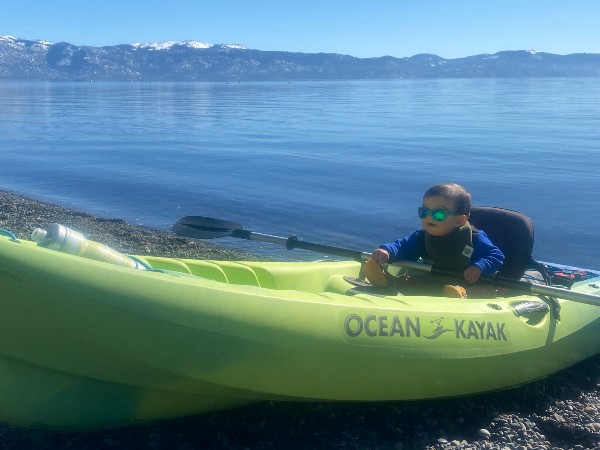 Skiing and Snowboarding
With hundreds of inches and annual snowfall and 15 resorts around the lake, skiing and snowboarding are easily the most popular winter activities in Tahoe. Heavenly, Kirkwood and Northstar are all owned by Vail Resorts, and accessible with one pass. Squaw Valley and Alpine Meadows are also accessible with a single pass. Several smaller resorts, such as Soda Springs, Diamond and Donner Ski Ranch offer a good value.
TIP – Book your lift ticket in advance for extra savings. Multi-day tickets also offer a better value. It's worth getting a season pass if you plan to ski or ride more than 4 days.
There are also other ways to play in the snow that don't require a resort and ski lifts including cross-country skiing, tubing and sledding and snow shoeing. For more of an adrenaline rush, try getting pulled on a dogsled, or zipping around on a snowmobile
Enjoy the beaches
You'll have plenty of choice in Tahoe, with more than 40 beaches and 72 miles of shoreline. Sand Harbor is one of the most popular, and prettiest, beaches in Tahoe, with crystal clear waters, long stretches of sand and giant boulders. It also offers plenty of amenities and watersport rentals. Some beaches, such as Lakeview Commons in South Lake Tahoe and Commons Beach in Tahoe City, offer live music, while others, such as Zephyr Cove and Round Hills, offer lively beach bars. For those willing to hike or paddle in, beaches such as Chimney Beach and Skunk Harbor offer a scenic escape from the crowds.
TIP – For Sand Harbor, park in Incline Village and take the East Shore Express, or park near the Tunnel Creek Café and walk or bike the 3 miles to Sand Harbor. Along the way you will pass by 16 vista points and 11 beach access points.
Get out on the water
Going for a boat cruise is a great way to take in the sights and truly appreciate the grandeur of Lake Tahoe. A popular option is the M.S. Dixie II paddle wheeler, which offers both a daytime sightseeing cruise to Emerald Bay and a sunset dinner cruise. Other options include the Sierra Cloud, the Woodwind II and the Safari Rose. Or rent your own boat and cruise around the lake.
To get even closer to the water, get out on a stand-up paddleboard or kayak.  SUP and kayak rentals can be found near most of the beaches around the lake and there are plenty of easy launch points. Paddling is also a great way to access many of the hidden coves and beaches around the lake.
Drive around the lake
The drive around Lake Tahoe is one of the most scenic drives in America, with numerous points of interests along the way, including vista points, parks, beaches and cute mountain towns. Although you can complete the drive in 2.5 hours without stops, plan to take most of the day to give yourself plenty of time to make stops.