Article Quick Links - Post Table of Contents
Which Hot Springs are Near Lake Tahoe?
Are there Hot Springs near Lake Tahoe?  YES!!
After a day hitting the slopes or one of the many hiking and biking trails around Lake Tahoe, there's nothing better than soaking your tired muscles in the therapeutic healing waters of a natural hot spring. Luckily, the region is home to a number of easily accessible hot springs with spring-fed mineral-rich waters. From full-service hot spring resorts offering spa and other pampering treatments along with on-site restaurants and lodging to all-natural pools formed by nature with a view of forests or snow-capped peaks, here are seven hot springs within a two-hour drive of Lake Tahoe.
Carson Hot Springs
Located in Carson City, this historic resort has long since been a hot spring destination. Originally used by the Native Americans for its healing qualities, the resort was initially built in 1849 as a hotel and bathhouse and became Carson Hot Springs in 1910. The water, which contains more than ten minerals and elements, flows out at 121 degrees from 35,000 feet below the Earth, and requires no additional city water or added chemicals. Visitors can choose from a large outdoor pool and nine private spa rooms, where the temperature can be adjusted between 95°F and 110°F. The pools are drained and filled daily. Hourly and day passes are available. Also on-site is a full restaurant, and rental apartments available on a monthly basis.
Address: 1500 Old Hot Springs Rd, Carson City, NV 89706
David Walley's Resort
Located in Carson Valley east of Lake Tahoe, David Walley's Resort offers a luxurious hot springs experience. Founded in 1862 just south of Genoa, the oldest settlement in Nevada, the family-friendly resort features five heated mineral pools and a large, heated swimming pool. All the pools are located outdoors, so you can soak in the scenic foothill views in addition to the geothermal mineral waters. Additional amenities and services include a steam room, sauna, fitness room, massages, facials, wraps, scrubs, exfoliation, Reiki, a full-service restaurant, and bar. Visitors can purchase day-passes to access the resort's amenities, or stay overnight in one of the on-site luxury villas and condos with balconies and fireplaces.
Address: 2001 Foothill Rd, Gardnerville, NV 89460,
Steamboat Hot Springs Healing Center & Spa
Near the Mount Rose Highway just south of Reno, Steamboat Hot Springs has been attracting visitors for a long time. A national historic landmark established in 1861, both Native Americans and early settlers would stop here to take advantage of the healing and hot waters, which once featured a 60-foot geyser surrounded by natural hot spring pools. Today, it's a popular healing center and spa. Mineral-rich water is pumped out at nearly 200°F, cooled, and then fed to an outdoor pool and seven private, indoor pools. The resort also offers a steam room, sauna, and a wide range of spa and therapeutic treatments, including massages, facials, mud wraps, aromatherapy, light therapy, sound therapy, and energetic healing. A three-bedroom house, events space, and retail store completes the complex.
Address: 16010 S Virginia St, Reno, NV 89521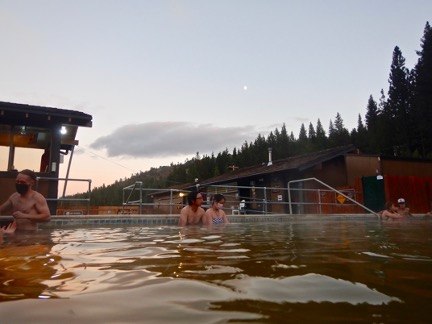 Are there Hot Springs near Truckee?
Sierra Hot Springs and Retreat Center
About an hour north of Truckee, the Sierra Hot Springs Resort and Retreat Center can be found in the small town of Sierraville. Several soaking options are available. Inside the Temple Dome Hot Pool, a circular pool with a sandy bottom has room for 20 people. The pool is kept between 105°F and110°F and is accompanied by two small plunge pools. Outside, two larger pools offers water between 105°F and 110°F and mountain views. A sauna can also be found outdoors. Both indoor and outdoor areas are clothing optional and the dressing room is also coed. An on-site café serves food Wednesdays through Sundays. Camping and overnight lodging is also available. Access is by fees plus membership, which can be purchased on-site by one member of your party. Monthly, annual, and lifetime memberships are available.
Address: 521 Campbell Hot Springs Rd, Sierraville, CA 96126
Which Hot Springs are along 395 in the Eastern Sierras?
Travertine Hot Springs
Located on BLM land south of Bridgeport, Travertine Hot Springs is a popular all natural soaking destination with incredible views of the Eastern Sierra mountains. Named for the deposits that form into terraces from mineral hot springs, Travertine offers five different pools. The closest pool can be found right by the parking area, and is enclosed in concrete, while additional rock- and travertine-enclosed pools with muddy bottoms can be found within a short walk. The pools are all different temperatures so it's best to test before you dip. The pools here are also clothing optional. A pit toilet is available near the parking lot and can be used for changing. There are no other facilities. Camping is not allowed right by the pool area, but limited spaces can be found on the road leading to the hot springs.
Directions: Take US-395 south past Bridgeport 0.5 miles and turn left at Jack Sawyer Road, just before the Ranger Station. Follow the dirt road uphill for 1 mile.
Buckeye Hot Springs
Located on forest service land just north of Bridgeport, Buckeye Hot Springs is another popular natural hot spring attraction. Natural hot mineral spring water comes up from geothermal vents before pouring down waterfall-like into two rock-walled pools right next to Buckeye Creek. Visitor can enjoy the sound of falling water while they soak, then cool off with a quick dip in the creek if the pools get too hot. In the spring, snowmelt can cause the pool temperatures to drop somewhat significantly. Camping is available at a nearby large, and popular seasonal campground. A short but steep hike is required to access the main hot spring pools. Two smaller pools can be found near the parking area. There are no facilities so visitors must pack in and pack out, and bring their own water.
Directions: Head north on US-395 past Bridgeport. At the junction with Twin Lakes Road, turn left and drive 7 miles to Buckeye Road. Turn right and follow the dirt road for 3.5 miles to an unmarked and downhill sloping parking lot above the pools.