Winter Job Opportunities in Lake Tahoe
Winter Job Opportunities in Lake Tahoe
Despite the coronavirus pandemic throwing a wrench in business operations this year, Tahoe ski resorts are still gearing up for winter and looking to hire employees for a myriad of jobs. Many resorts also provide food and beverage discounts, season pass and lift ticket perks, resources on housing, and opportunities to move up in the ski industry. Therefore, if you're desperate to get away and spend a season working on the slopes enjoying the famed Lake Tahoe skiing, now is the time to apply. Here's who is hiring: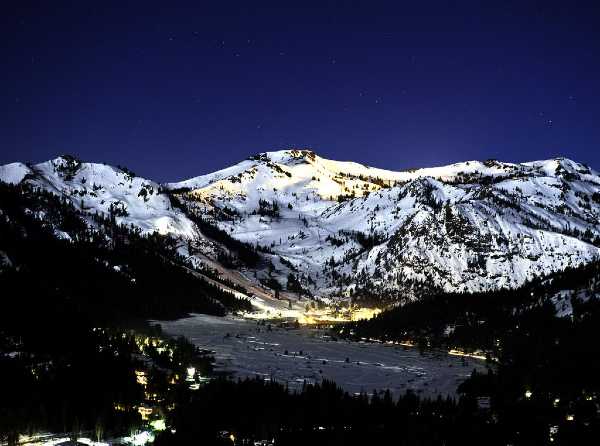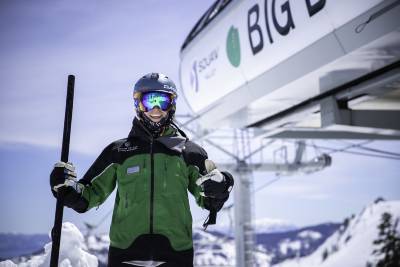 Vail Resorts Jobs in Tahoe (Northstar Jobs, Kirkwood, Heavenly Jobs)
Located in South Lake Tahoe, Heavenly touts the opportunity for fresh tracks and adventure coupled with breathtaking views of the lake and world famous après ski parties. Heavenly needs a lot of employees to provide the best customer service at all venues, from its restaurants to guest services and outdoor operations. Some room and board options are available at the hiring department's discretion and as of late October, it had 73 jobs available: Heavenly Ski Resort Jobs
Kirkwood is also a big mountain tucked deep into the Sierra Nevada about a half hour outside of South Lake Tahoe that seemingly has its own little snow cloud over it all winter long. Its featured jobs include ski lift operators and restaurant servers. Like Northstar, it doesn't offer employee housing but plenty of other perks. As of October 23, it had 42 open positions. Kirkwood Resort Jobs
In North Lake Tahoe, Northstar is hiring lift operators, ticket scanners, trail groomers, ski patrollers, ski and snowboard instructors, guest service representatives, food and beverage staff, retail shop employees, and more. They don't offer employee housing, but Northstar helps its seasonal employees find places to live. As of October 23, there were 105 jobs available. Northstar Tahoe Jobs
Squaw Valley Jobs and Alpine Meadows
Acting as the site for the 1960 Olympics, Squaw Valley and Alpine Meadows is known for its legendary terrain that draws some of the best skiers and snowboarders. Currently owned by the Alterra Mountain Company, Squaw Valley and Alpine Meadows are also on the IKON Pass which means its employees can ski or ride at 14 other mountains. Squaw Alpine does not provide housing but provides local resources via its "Squaw Alpine Jobs" Facebook group once hired. For more information on what's available, visit https://squawalpine.com/more/squaw-valley-alpine-meadows-employment.
Diamond Peak Ski Resort
Over on the northeast shore of the lake, Diamond Peak is 655-acre mountain with incredible views of Big Blue. It's a fun place to ski and ride as well as facilitates a family-like atmosphere that extends to its employees. Diamond Peak already hosted a job fair but has another one planned for November 14 where "masked smiles and air-fives are encouraged". People can also fill out an application online and be interviewed for a position prior to its next hiring event. https://www.diamondpeak.com/events/details/winter-job-fair
Homewood Mountain Resort
Promoting "a vacation with every lunch break", this laidback West Shore resort offers some of the best views of Lake Tahoe. Perks for employees include free transportation to and from work on the TART bus, 50 percent off food and drink discounts, and some housing is available. The resort also owns the West Shore Inn & Café as well as Homewood High & Dry Marina, so there's always opportunity. Jobs at Homewood Resort
Sugar Bowl Resort/Royal Gorge XC
Located right off the I-80 corridor coming into Tahoe, the area's oldest ski resort continues to offer snow aficionados an exceptional skiing and riding experience. More than 60 full and part-time positions are available, as HR searches for everything from bartenders to gondola operators. Along with that, Sugar Bowl does provide some dorm-style housing. Jobs at Sugar Bowl Resort
Sierra-at-Tahoe
For those who like to work hard and play harder, Sierra-at-Tahoe is the place to be. This place has a cool vibe, fantastic tree skiing, and terrain parks that have acted as training grounds to Olympians such as Elena Hight and Jamie Anderson. Voted the "Best Place to Work" and Best Tahoe Ski Resort by readers of the Tahoe Daily Tribune, Sierra-at-Tahoe gives its employees a free season pass, lift tickets for friends, food/equipment/retail discounts, and facilitates memorable employee parties. Sierra at Tahoe Jobs
Mt. Rose- Ski Tahoe
Located halfway between Incline Village and Reno, Mt. Rose is a 1200-acre mountain that has two sides to it- the Main side and the Slide Bowl. And between the sides lies the Chutes- 200 acres of advanced and expert terrain comparable to Squaw's KT-22. Along with hiring ski patrollers looking to improve their avalanche mitigation skills, Mt. Rose is in search of food and beverage workers, rental equipment techs, ski, and snowboard instructors, lift operators, and more. Employees get great perks, staying in line with its motto- "At an elevation of 8260', friends become family". Ski Jobs at Mt. Rose Tahoe
Boreal, Tahoe Donner, and Donner Ski Ranch
Other smaller resorts that are along Interstate 80 are just as fun as the above mentioned and offer the same kind of friendly, moved-here-to-be-a-ski-bum vibe. Boreal Mountain Resort is currently hiring for terrain park crew and tubing attendants at its partner resort Soda Springs (and it also provides housing up to 149 employees). Donner Ski Ranch is hiring for ski patrollers, snow groomers, and ski/snowboard instructors. Tahoe Donner manages a ski resort for its members much like Diamond Peak does, and is looking for ticket scanners, boot fitters, snowmakers, parking attendants, and more.
Apply Today!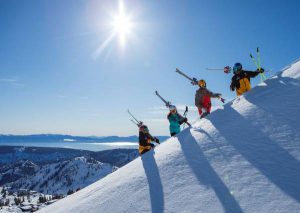 As you can see, there are endless possibilities for what you can do in Lake Tahoe in the winter. Fourteen years ago, I took a break from my writing career to move to North Lake Tahoe and become a ski bum (I worked at Diamond Peak as a lift operator). I ended up rising in the ranks in the ski industry and never left. So, figure out which part of the lake you want to live (and your best chances for finding housing), and apply today!
And if you are interested more in the summer months, the Summer Tahoe Jobs article may help you start planning for next Summer.