Article Quick Links - Post Table of Contents
Lake Tahoe & Sierra Nevada Brewery Guide
Lake Tahoe & Sierra Nevada Brewery Guide
Throughout the mountain towns that surround the 72-mile-long Lake Tahoe there are local dive bars, mom-and-pop restaurants, and fine dining choices; but there's one establishment that's making its mark throughout Tahoe towns: local breweries. After a long day spent exploring what the Tahoe area has to offer, there is no better way to  take a break than than to visit one of the many Lake Tahoe area breweries and enjoy  a cold, frothy brew?
From South to North Lake Tahoe, there's plenty of delicious choices to explore the one-of-a-kind brews that embody the magical Sierra Nevada mountains and crystal-clear waters of Lake Tahoe. Check out this Lake Tahoe brewery guide to find the best places to visit on your next trip.
Recommended South Lake Tahoe area Breweries & Taprooms
The Hangar Taproom & Bottle Shop – South Lake Tahoe, CA
From sours to stouts, the Hangar Taproom & Bottle Shop offers brews for everyone. With an ever-rotating tap list, this place offers choices for the avid beer lover to someone who isn't even really a 'beer drinker'. The taproom prides itself on having a fun, interactive space for friends and family to gather and enjoy the mountain scenery. The taproom itself is just that – a small, studio space filled with 30 taps, a small seating area, and fresh merchandise. But don't let the small space fool you, right outside there's over 17,000 square feet of space to spread out and enjoy. The Hangar also offers customized beer flights, where guests will be handed a paper coaster and pen and can choose which beers they'd like to sample. This taproom is constantly sourcing over the top, unique blends such as a Strawberry Lemonade Smoothie Sour and even a Wild Barrel Cherry Pie blend. Plus, the establishment even has a standalone pizza truck, called the Tahoe Hot Box, and on select days a local Mexican restaurant, Sombreros, comes out to cater the fun venue. A gigantic lawn, live music, live art painting, delicious food, and of course – the perfect beer for everyone, really, what could be better?
Sidellis Lake Tahoe – South Lake Tahoe, CA
If you're looking for not just a family-friendly, but fido-friendly destination to enjoy some small-batch, in-house brews; Sidellis is the answer. Located in midtown South Lake Tahoe behind the DMV is the small microbrewery Sidellis. Upon walking inside, guests are greeted with floor-to-ceiling light wood paneling, perfectly encapsulating that Lake Tahoe magic in a modern, sophisticated way. The brewery has five solid beers they've been brewing for years and are constantly on the menu, but also offer seasonal blends and even barrel-aged brews, for the real beer-lovers. The brewery also has an American-inspired food menu, ranging from light bites to hearty sandwiches. After ordering, guests can sit inside to enjoy the ambiance, or can make way to the backyard of the establishment. Out back, there's complimentary cornhole, picnic tables, and a beautiful garden that even grows some of the herbs for their beer! Steps away from some of South Lake's beaches, make Sidellis your next summer afternoon stop.
South of the North Brewing –South Lake Tahoe, CA
If you're staying towards Stateline in South Lake Tahoe, be sure to make South of the North brewing one of your "must go" spots. Located inside the Basecamp Hotel behind Harveys Hotel & Casino, this open-concept brewery offers an incredibly fun, unique atmosphere that stands out in comparison to the typical, casino scene nearby. Similar to other local stops, the brewery is located inside a small studio space, complimented with dim, industrial hanging lights and moody décor. The rotating tap list offers extravagant beer blends that cater to the seasoned beer drinker, to even the newbie. South of the North also offers small bites, healthy bowls, and other unique food options to snack on while visiting. After ordering, guests can make their way to the open patio. This patio is surrounded by the Basecamp Hotel, and has complimentary cornhole, horseshoes, a ping-pong table, picnic tables, and even hosts music in front of the classic Airstream trailer on select days. This location is constantly alive and buzzing with hotel guests, tourists, and beer connoisseurs, making it the perfect spot for your next brew.
North Lake Tahoe area Brewery & Taproom Recommendations
Alibi Ale Works – Incline Village, NV
Many Lake Tahoe locals would argue that Alibi Ale Works could be in their own standalone category when it comes to local breweries. Originally located in the industrial area of Incline Village, Alibi was the first brewery in the basin to begin the brewing process using only Lake Tahoe water. Years later, and the small brewhouse has exploded, offering three different locations throughout the North Lake Tahoe region. Each of Alibi's locations carry their core tap list, but also offer unique, rotating taps, and an ever-rotating, modern food menu. The brewery prides itself on brewing their beers uniquely to limit the gluten, making their blends inclusive to almost all guests. Each location offers a different vibe, however each one captures that Alibi Ale Works magic that many know and love. The Incline Public House is located right on the main drag through Incline Village, and the Truckee Public House is located in the heart of town. Alibi excitedly hosts events for locals such as ski video premieres in the winter, and even hosts trivia nights. Be sure to make one of these three locations a must-stop next time you're driving through North Lake Tahoe!
Fifty Fifty Brewery – Truckee, CA
If you're looking for that local charm brewery a bit outside of the typical Tahoe hustle and bustle, Fifty Fifty Brewery is the answer. Located right outside of old town Truckee, this spot offers excellent ambiance and unforgettable brews. Guests are instantly greeted when walking in to the warm, fun environment with a large bar and menu and a view inside of the 'behind the scenes' brewery tanks in action. Aside from the brewery's core beer list, they also offer seasonal rotating blends as well as their small-batch, Eclipse Beer, a barrel-aged Imperial Stout that is only available on pre-order and sells out fast! After picking up your favorite beer of choice, guests can dine outside, being welcomed by the string lights and even live music on select nights. Fifty Fifty also has an extensive American-style food menu, offering yummy meals that cater to everyone in your party. For the family that's visiting, make Fifty Fifty Brewery your next stop while on your Lake Tahoe vacation.
Bear Belly Brewing Company – Kings Beach, CA
Bear Belly Brewing Company is a brand new nano brewery located in Kings Beach. Located inside what once was a small studio office, this brewery offers an intimate taproom with several brews to choose from. After ordering, guests are welcome to the outdoor beer garden, where individuals can enjoy the large Connect-4 board, foosball, Jenga, and even cornhole. Alike to the brewery's space, the brews are very small-batch, which makes for an ever-rotating tap list with delicious, unique blends that cater to most guests. From their Blueberry Milkshake IPA to their White Room Weizen – this brewery really embodies the definition of small yet mighty. Just steps away from the lake, what could be better than enjoying a small-batch brew after a summer day spent on Lake Tahoe?
Tahoe National Brewing Co. – Tahoe City, Calif.
Tahoe National Brewing Company is Tahoe City's only brewery, and it packs a punch. From light Kolsch's to New England IPA's, Tahoe National Brewing offers a beer blend for anyone looking for their perfect brew. While this brewery is small on the inside, the outside speaks for itself. With a large patio and event space offering panoramic views of Lake Tahoe, there truly is no better destination to enjoy a cold beer and soak in the one-of-a-kind views of Tahoe's turquoise waters. Tahoe National Brewing is a very "hands on" brewery, providing limited information online, but don't be fooled – it's highly encouraged to visit this brewery in person to experience it's true magic.
Brewery Recommendations Near but Outside of the Lake Tahoe Basin
The Brewing Lair – Blairsden, CA
About an hour drive from North Lake Tahoe, The Brewing Lair is located on 15 acres of forested land in the Northern Sierra Nevada mountains. Offering an ever-changing tap list and a café food truck on site, this brewery will guaranteed provide mountain magic to all of its guests. The Brewing Lair is proud to be constantly mixing their tap list up, so for those guests that really want to experience all that the brewery has to offer, they advise guests to try "The Trail of Tastes." This self-guided tour of the brewery will provide guests the opportunity to learn all about the brewing process from start to finish. At the end of this tour, each person will receive five 4-ounce tasting samples of beers, all customizable to each person's individual preferences! The Brewing Lair also offers non-traditional outdoor activities for the whole family to enjoy such as a 9-hole disc golf course, a slack line, and corn hole.
Lead Dog Brewing Co. – Reno, NV
If you're looking for a day away in the small gambling city of Reno, stop for a unique beer at Lead Dog Brewing Company. Founded in 2016, Lead Dog offers two different locations in the Reno-Sparks area that cater to the true beer-lover. Upon entering either location, guests are instantly welcomed with the pungent, hoppy smell that really signifies delicious beers are being made. Not only does the in-person experience at Lead Dog stand out, but so do their beers. From fan favorites such as the Citra-Solo IPA, to their Peanut-Butter Stout – Lead Dog constantly hosts a wide-array of delectable brews. To complement their delicious beers, the brewery focuses a lot on unique artwork to really showcase each blend uniquely.
Below is the information for each of these locations, and several other breweries outside of the Lake Tahoe area:
Next time you're in the Tahoe Basin and surrounding areas, be sure to take some time to visit each of these delicious breweries and taprooms – who knows, maybe you'll find your new favorite beer!
Lake Tahoe Area Brewery Map & Infographic
[pdf-embedder url="https://www.tahoereport.com/wp-content/uploads/2021/08/Lake-Tahoe-Brewery-Map-Infographic-1.pdf"]
Open the PDF to activate the links to each Brewery (click here).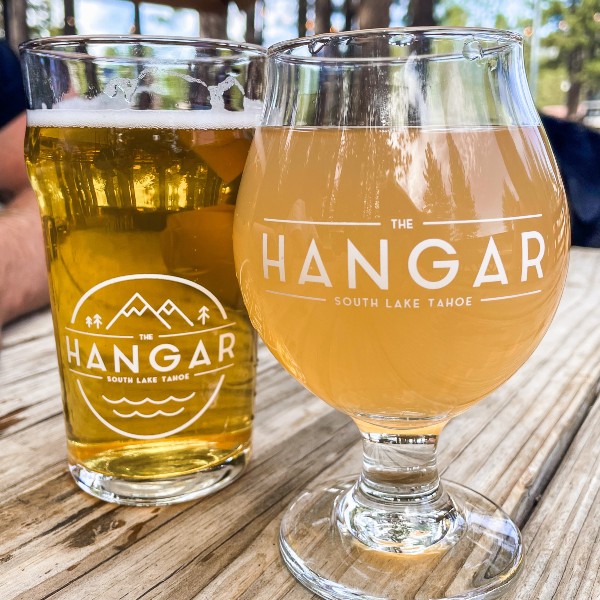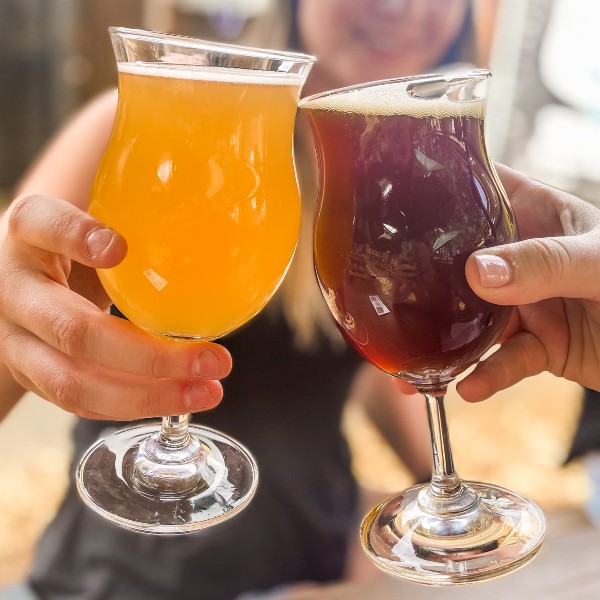 Lake Tahoe Area Breweries – Location & Links
| | | | | |
| --- | --- | --- | --- | --- |
| Brewery/Taproom | Address | Area | Phone Number | Website |
| The Hangar Taproom | 2401 Lake Tahoe Boulevard South Lake Tahoe, CA 96150 | South Lake Tahoe - Midtown | 530-578-0089 | https://thehangarlaketahoe.com/menu |
| Sidellis Lake Tahoe | 3350 Sandy Way, South Lake Tahoe, CA | South Lake Tahoe - Midtown | 530-600-3999 | http://www.sidellis.com/ |
| South of the North Brewing Co. | 932 Stateline Avenue, Suite B S LAKE TAHOE, California 96150 | South Lake Tahoe - Stateline | 530-494-9805 | https://www.southofnorthbeer.com/ |
| Cold Water Brewery & Grill | 2544 Lake Tahoe Blvd (Hwy 50) South Lake Tahoe, CA 96150 | South Lake Tahoe - Midtown (Swiss Chalet Village) | 530-544-4677 | https://tahoecoldwaterbrewery.com/ |
| South Lake Brewing Co. | 1920 Lake Tahoe Blvd, South Lake Tahoe, CA 96150 | South Lake Tahoe - 'Y' Area | 530-578-0087 | https://www.southlakebeer.com/ |
| Alibi Ale Works, Incline Public House | 931 Tahoe Blvd, Incline Village, NV 89451 | North Lake Tahoe - Incline Village | 775-831-8300 | https://alibialeworks.com/ |
| Alibi Ale Works, Brewery & Barrel House | 204 E. Enterprise St, Incline Village, NV 89451 | North Lake Tahoe - Incline Village | 775-298-7001 | https://alibialeworks.com/ |
| Tahoe National Brewing Co. | 850 N. Lake Blvd., Tahoe City, CA | North Lake Tahoe - Tahoe City | | https://tahoenational.beer/ |
| Tahoe Tap Haus | 475 N. Lake Blvd Tahoe City, California 96145 | North Lake Tahoe - Tahoe City | (530) 584-2886 | https://tahoetaphaus.com/ |
| Alibi Ale Works, Truckee Public House | 10069 Bridge St, Truckee, CA 96161 | Midtown Truckee | 530-536-5029 | https://alibialeworks.com/ |
| Fifty Fifty Brewing Co. | 11197 Brockway Road, Suite 1. Truckee, CA 96161 | Truckee, CA - Hwy. 267 | 530-587-2337 | https://www.fiftyfiftybrewing.com/ |
| Bear Belly Brewing Co. | 8428 Trout Avenue bx 1917, Kings Beach, CA 96143 | Kings Beach, CA | 775-412-7694 | https://www.bearbellybrew.com/ |
| Tahoe Mountain Brewing Co. | 10292 Donner Pass Rd, Truckee, CA 96161 | Truckee, CA - Historic District | 530-587-3409 | https://tahoebrewing.com/ |
| The Good Wolf Brewing Co. | ​10990 Industrial way ​Ste B103 ​Truckee, CA 96161 | Truckee - Industrial Area | 530-580-8775 | http://www.thegoodwolfbrewing.com/ |
| The Brewing Lair | 67007 CA Hwy 70 Blairsden, CA 96103 | Outside Tahoe Basin - Sierra Foothills | 530-394-0940 | https://www.thebrewinglair.com/ |
| Lead Dog Brewing – Tasting Room & Production | 305 E Glendale Ave, Sparks, NV 89431 | Outside Tahoe Basin - Sparks, NV | 775-298-1393 | https://www.leaddogbrewing.com/ |
| Great Basin Brewing Company | 5525 S Virginia St, Reno, NV 89502 | Outside Tahoe Basin - Reno | (775) 284-7711 | https://www.greatbasinbrewingco.com/ |
| Lead Dog Brewing – Downtown Taproom | 415 E 4th St, Reno, NV 89512 | Outside Tahoe Basin - Reno, NV | 775-298-1393 | https://www.leaddogbrewing.com/ |
| Shoe Tree Brewing Co. | 1496 Old Hot Springs Rd, Carson City, NV 89701 | Outside Tahoe Basin - Minden, NV | 775-222-0108 | https://shoetreebrewing.com/ |
| The Fox Brewpub | 10 S. Carson Street Carson City, NV 89701 | Outside Tahoe Basin - Carson City, NV | 775-883-1369 | http://foxbrewpub.com/ |
| Virginia City Brewery & Taphouse | 62 North C Street Virginia City, NV 89440 | Outside Tahoe Basin - Virginia City, NV | 775-847-7064 | https://www.virginiacitybrewery.com/ |