Top Stops along Highway 80 to Lake Tahoe
The best thing about California is that there is so much to offer between one region to the other, and North Lake Tahoe being 200 miles from the heart of San Francisco makes it the perfect mountain getaway. Driving to Lake Tahoe via I-80 is the easiest and quickest way to get to North Lake Tahoe (if you go to South Shore then you'll want to
break off onto Highway 50 in Sacramento
). However, while some may consider the drive a little boring (until you get up into the mountains and can enjoy the sweeping vistas), there are some great stops along the way.
So, whether you just want to get to Lake Tahoe and meander your way home or vice versa, here are some accessible and quick places between here and there worth stopping at for gas, food, or fun:
Go shopping at the Premium Outlets in Vacaville
After you get through the San Francisco traffic, consider stopping in Vacaville at the Premium Outlets for some food, gas, and any last-minute shopping. Located 57 miles northeast of the Bay Area (it takes about an hour and a half to get there), take Nut Tree Road to access shops like the Nike store, Under Armour, and The North Face to get your hiking and running gear to help you stay active on your vacation. On that same road, you can also grab some Chik-Fil-A and fill up your tank. The am/pm has the best gas prices.
Ride the train at The Nut Tree Plaza in Vacaville
Or if you're not in a hurry to get to Tahoe, the Nut Tree Plaza is a fun stop off I-80. Across the freeway from the Outlets, the Nut Tree Plaza has a train that carries people around the plaza, a life size checkers board, hobbyhorses, playground, and carousel. Around the historic Plaza are various retail stores and restaurants, including Edible Arrangements, BevMo, World Market, and Jelly Belly. There's also a Panera Bread and a Peet's Coffee to get some caffeine in you if you need it to finish the drive.
Or take the kids to Scandia Fun Center in Sacramento
An hour up I-80 from Vacaville, the Scandia Fun Center in Sacramento is also a great place to stop and stretch your legs and get some excitement in before finishing your drive. Scandia's attractions are for the young and the old alike, and includes roller coasters, bumper boats, batting cages, a full arcade, and more. The best part is that the Scandia Fun Center is open from 10am-10pm Sunday-Thursday and until 11pm Friday-Saturday so if you don't want to deal with congestion then this is an easy stop to let out some energy.
Or let out some energy is by hitting some balls at Topgolf in Roseville
Twenty minutes north of Scandia, there's a new Topgolf facility just opened in Roseville. More than 100 "bays" are available for golfers to hit balls into with their friends as well as 200 HDTVs, an Angry Birds game, full-service bars, restaurants, and more. Dip out of traffic and test your skills, and then brag about your score to your friends all the way up the mountain.​
Visit: Topgolf at 1700 Freedom Way, Roseville, CA 95678
Then grab dinner and a drink at the Auburn Alehouse in Auburn
If you've worked up an appetite from an hour or two at Scandia or Topgolf, then continue north on I-80 for 20 more minutes (past Loomis and Newcastle) and grab a burger and a brew at the Auburn Alehouse in Old Town. Its award-winning beers include the Gold Digger IPA, Hop Donkey red ale, and Old Town Brown. Auburn Alehouse serves breakfast, lunch, and dinner; and rotates in weekly and holiday specials. This popular brewery also makes its own whiskey.​
Visit: Auburn Alehouse at 289 Washington St, Auburn, CA 95603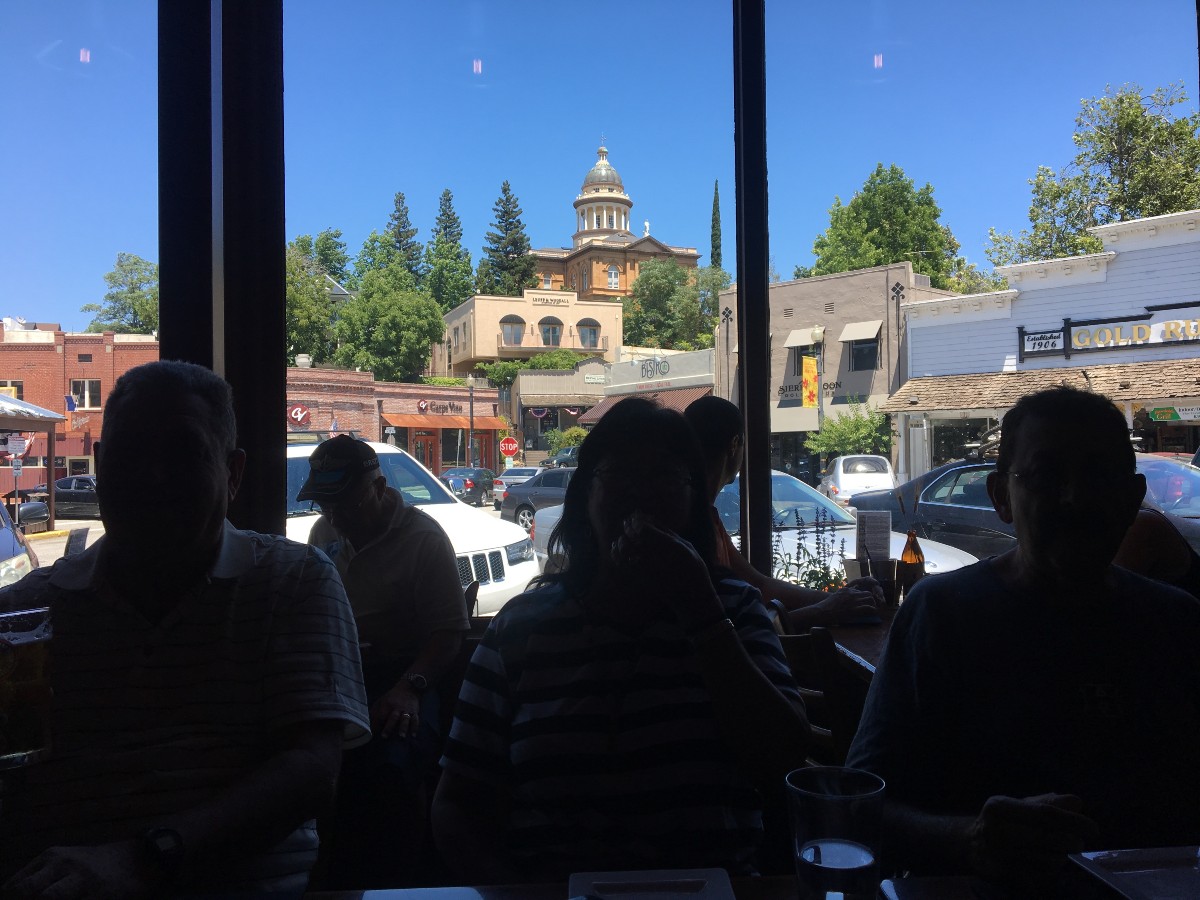 And don't forget to pick up a pie and/or trail snacks at Ikeda's in Auburn
If you're looking for more of a quick fix rather than a sit-down meal and happen to be traveling around lunchtime, then Ikeda's California Country Market & Pie Shop is a must-stop. Its farmers market style layout highlights the freshest and locally made produce, dried fruits/vegetables, nuts, craft beers, and what it's best known for- its pies in all fruity flavors. Attached to Ikeda's is a small quick service restaurant that makes the most delicious turkey burgers and marionberry milkshakes in Northern California. If you're getting ready to grill when you get to Lake Tahoe then pick up some meat at Longhorn Meat Company in Auburn.  This is also a good area to fill up your gas tank again (there's an am/pm and a Valero within a mile of each other on Foresthill Road).
Stop at the Donner Pass Rest Area if you need to go to the bathroom
If you've filled up on food and drinks in Auburn and are climbing your way up towards North Lake Tahoe, then you may need to "unload your own tank" if you know what I mean. Fortunately, there is a nice rest area an hour up from Ikeda's on I-80 just past Boreal ski resort. It's well lit, clean, and an unusually popular place to sled in the winter. As a CaliforniaRestAreas.com spokesperson says, "Tired driving can be as dangerous as drunk driving", so don't be afraid to stop if you need to.
Stretch your legs on main street in Truckee
Once you get back on I-80, go 15 miles eastbound from the Donner Pass Rest Area and turn off into Downtown Truckee. Find a place to park on Donner Pass Road and take in the views of this quaint historic area close to the Amtrak train tracks and Truckee River. Truckee's main street is filled with bars, restaurants, coffee shops, and retail stores. Some of my favorite places to visit are Coffeebar, Atelier, California 89, Moody's, and Drink Coffee Do Stuff. If you're coming into town on a Thursday evening, you might even stumble upon a Truckee Thursdays event.
Between Auburn and Truckee, check out some of these options that connect with I-80.  ( CA-49, CA-20, and Old Highway 40 over Donner Summit )
These alternatives offer everything from a detour due to construction, or just getting off the beaten path to check out some of what the Sierra's have to offer.  Highway 49 (CA-49) – check out the Empire Mine State Park in Grass Valley, Highway 20 (CA-20) near Nevada City try Mountain Bike the Hoot, Pioneer or Scotts Flat trails, or just before getting to Truckee, take a short detour along old Highway 40 to pass Sugar Bowl and get some great views overlooking Donner Lake.  While Lake Tahoe is a destination, there is also plenty to see along the way that will allow you to stretch your legs as well as see some of California's history.
You're so close!
From Downtown Truckee, you're about a half-hour away from North Lake Tahoe, accessible from either Highway 89 or Highway 267. Highway 89 runs parallel to the babbling Truckee River, passing Olympic Valley and Alpine Meadows before eventually ending up in Tahoe City or Highway 267 climbs up over the mountain passing Northstar California and the Ritz-Carlton before ending up in Kings Beach. Now you can start your vacation!