Mountain Biking Lake Tahoe: Offering the best mountain biking in California's Sierra Nevada
Epic Mountain Biking abounds in the Lake Tahoe area.  Lake Tahoe mountain biking options include some world famous trails such as Mr. Toads Wild Ride, Tahoe Flume Trail, The Tahoe Rim Trail, Hole in the Ground, Big Chief, Tyrolean Downhill, Western States, Jackass and many more.  For those more interested in downhill mountain biking, Northstar's bike park fits the bill and for those looking for family bike parks close to home Truckee, Incline Village, and the Bijou Bike Park in South Lake Tahoe fit the bill.
The mountain biking options in Lake Tahoe expand each year.  From networks of paved paths for a family ride along the Truckee River to taking on Rose to Toads, an epic 65 mile / 8,000 feet of climbing  / 10,000 feet of descent all day mountain biking event put on by TAMBA in partnership with the U.S. Forest Service Lake Tahoe Basin Management Unit. (YES, it hurts but is an achievement)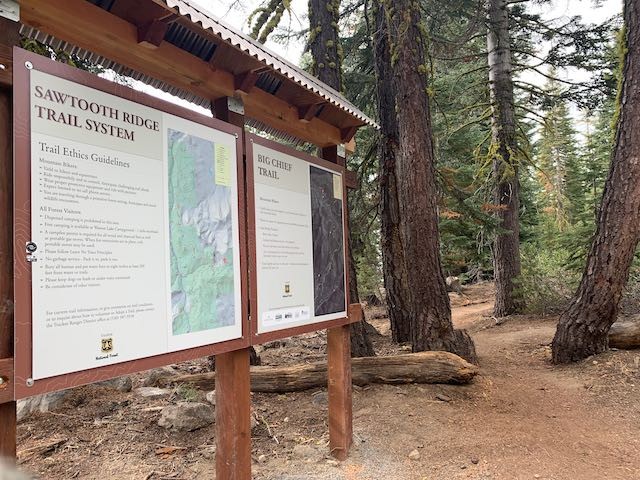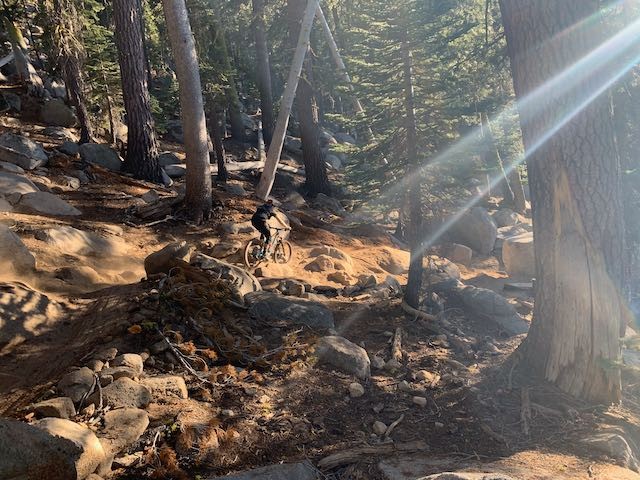 How did Tahoe become the best mountain biking destination in California (and Nevada)?
While mountain biking may have started in Marin County, it has been perfected in Lake Tahoe.   While mountain bikers in Marin spend years fighting for every mile of singletrack due to heavy opposition from a few well organized user groups, Tahoe has more space, less opposition and much more cooperation with land managers.  Tourism of which mountain bikers are a large part, is important to the area.  Add to that the well organized Tahoe Mountain Biking Association ( TAMBA ), local trail builders and solution minded land managers, the number of quality mountain bike trails for all levels continues to grow.   From the famous Tahoe Flume and Mr. Toads Wild Ride to lesser known trails and bike parks there are no shortage of options.  More space, less density, less conflict (still some ex.  class 1 electric mountain bikes e-mtb's) combined with well built trails and spectacular scenery makes for one of the best mountain biking experiences available anywhere.
Tahoe Mountain Bike Highlights:
If you have ever picked up a mountain biking magazine, you have seen the Flume trail.  While there is some climbing to access, the Flume trail itself is a relatively mellow (and very popular) trail that rolls along the cliff edge above Sand Harbor.  While you can grab a shuttle and/or Mountain Bike Rental from the Flume Trail Bike Shop next to the Tunnel Creek Café (post ride beer / food).  For stronger riders, this can be just part of a ride that includes the Tahoe Meadows portion of the Tahoe Rim Trail (even days only) and even the Tyrolean Downhill bringing you to Diamond Peak Resort.  Additional information about the Flume Trail and the greater Tahoe Rim Trail visit the Tahoe Rim Trail Association.
Not for the faint of heart, Mr. Toad's is an iconic Tahoe mountain bike route that takes the rider on a wild ride.  This also represents the final challenge of TAMBA's Rose to Toads epic ride.  As with many rides there are options to shorten the route via shuttle or test your legs and lungs.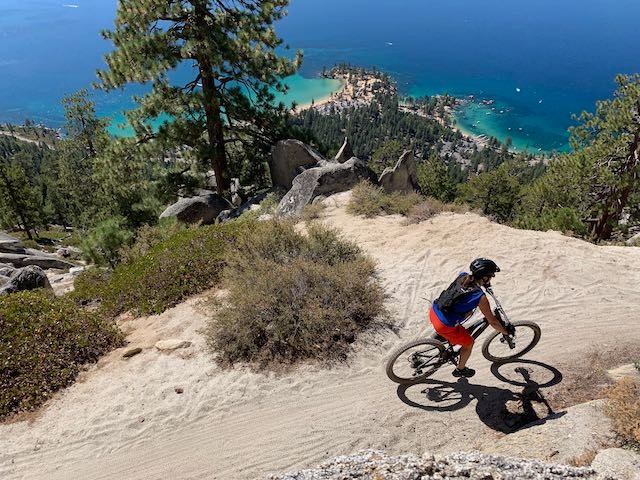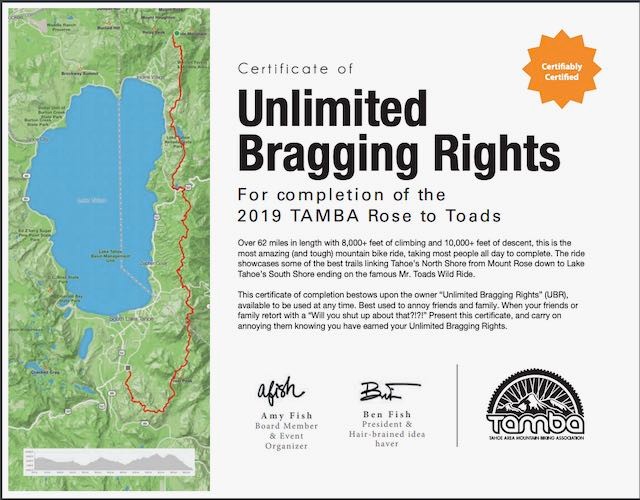 This is a great example of what can be accomplished when land managers (US Forest Service) and trail associations ( TAMBA ) work together.  These organizations worked together to build trails starting in 2017 that features views of Mt. Tallac, Destination Wilderness, Fallen Leaf Lake, Angora Lakes, and a flowy ride through the 2007 Angora Fire burn area.
These winter cross country centers convert to great trail systems for mountain bikes in the summer and Tahoe Donner even offer winter fat biking trails which is a must try in the winter. Both areas offer trails for all levels of rider as well as being great access and meeting points for accessing trails throughout the area.
There are so many trails in this area and Jackass Ridge is one of the most accessible and popular.  (A great collaboration between the Truckee Ranger District and the Truckee Trails Foundation). However, you can spend days in this area hitting Hole in the Ground, Western States, OTB and of course the relatively new Big Chief trail.  Additionally, post ride beer options abound including Squaw Valley, Truckee and Tahoe City.
For the more gravity / downhill mountain biking crowd, you are in luck.  Whether only interested in challenging downhill trails or maybe need a break from mountain pedaling the Northstar Mountain Bike is Lake Tahoe's only lift-served mountain bike park and they have something for everyone.  For hours, mountain bike, or protective gear rentals, visit  Northstar Mountain Bike Park
Beyond Tahoe:
While just riding in the Lake Tahoe basin has more than an adequate number of trails to challenge all levels, there are also many incredible rides a relatively short distance away. In addition to these (and many other) trails in the Lake Tahoe basin, there are also excellent options in the foothills Downieville Downhill, Georgetown with California Expeditions, Auburn, Nevada City, Reno  and there is even the Mammoth Mountain Bike park if you are on your way to Los Angeles or Yosemite National Park.  So if you are planning to visit,  pack your mountain bike (or rent a mountain bike) and make sure to spend some time Mountain Biking Lake Tahoe.
*NOTE: Supporting local trail associations can help keep trail progress rolling.  In addition to your local trail organizations, here are two that are making a major difference.
TAMBA Tahoe Mountain Biking Association (Responsible for so much progress in the Lake Tahoe area they can always use your support, and maybe on your next visit you will get to ride a new piece of trail that you helped support.  As a bonus, you get early information on Rose to Toads.
Sierra Buttes Trail Stewardship (Connecting communities in the Tahoe, Plumas and Lassen National Forests.  Famous for Downieville downhill, Mt. Hough trails and a massive trail plan and overall do great work.
Mountain Bike in Lake Tahoe, Augmented Reality Travel Guide
If this is your very first time using Augmented Reality, check the following video as a quick reference.
Mountain Bike in Lake Tahoe, Augmented Reality Travel Guide
This is 3D model. You can drag or tap it to move in any direction.
1. If you are seeing the image:

click on it.
2. When a new image appears, click on: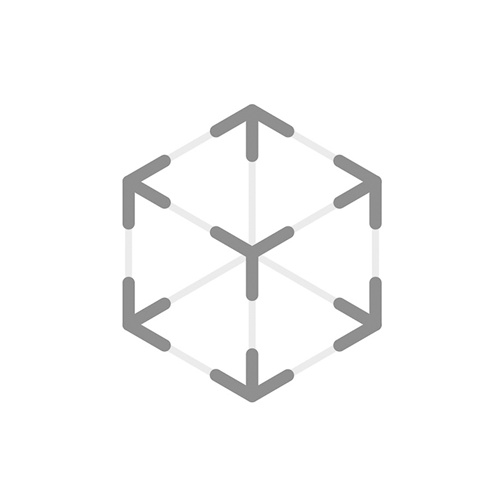 AR powered by Virtualmerse
Now, try your self this amazing Augmented Reality experience:
1. Find a flat and clean surface (table, desktop) ideally without objects on it.
2. Open the current page in your
iPhone

or

iPad

.
3. Alternatively, scan the QR Code with your mobile device camera.
4. Enjoy it!
Scan the QR Code to see the model in your iPhone or iPad only