The Best Pet Friendly Hotels in Lake Tahoe
The Best Pet Friendly Hotels in Lake Tahoe
Many people love to visit Tahoe to go hiking, biking, play in the lake, or recreate in the mountains. It's no secret that there's an abundance of outdoor activities that appeal to people of all ages. However, your furry friends probably want in on the fun, too!
Unfortunately, though, not all accommodations in Tahoe are dog friendly while others fully welcome your pets. That's why if you are visiting Tahoe and want your four-legged best friend to come along, I've compiled a list of some top choices of where to stay in Tahoe with your dog: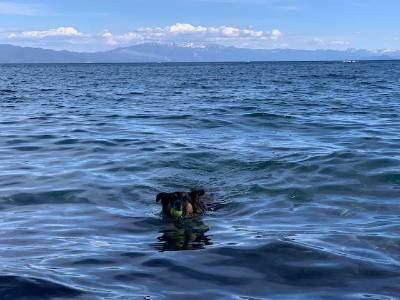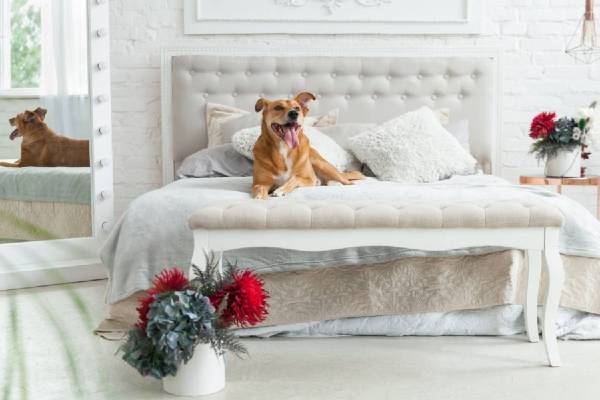 Wylder Hotel, Hope Valley
Over in Hope Valley about 16 miles east from Kirkwood Mountain Resort and 20 miles south of Lake Tahoe on Highway 88, adventurous pooches have room to roam and take in the sights and smells of the Sierra Nevada. Its remote location makes it a great place to find peace and quiet. And the best part is that at Wylder pups are totally welcome for a $50 per pet fee per night.
Hard Rock Hotel & Casino (Stateline, NV)
The Hard Rock Hotel & Casino located on the Nevada side of South Lake Tahoe draws those who are looking for multiple sources of entertainment, but not too many people know that it caters to pets as well. For a $65 per pet per night fee, your dog "can stay like a rock star too" and is given a toy, a water cup, and a treat at check-in. And if you want to truly pamper your pet, take it to the Hair of the Dog Pet Concierge located within the hotel.
Pine Cone Resort (Zephyr Cove, NV)
Over on the Tahoe's East Shore, the Pine Cone Resort offers "heartfelt hospitality and classic Tahoe charm" for you and your pet. Around since 1955, the Pine Cone Resort has plenty of rooms that are dog friendly… seven of which have doggy doors adjacent to an enclosed dog run. The Resort can also give recommendations for affordable dog sitting services in the area, making it one of the most comfortable stress-free pet friendly hotels in Tahoe.
Hyatt Regency Lake Tahoe (Incline Village, NV)
On the northeastern shore of Lake Tahoe in the small town of Incline Village, the Hyatt Regency Lake Tahoe not only has a casino, a spa, and a fancy lakeside restaurant with its own private beach, but it welcomes pets and it's right next to the Aspen Grove dog park. For a $40 per night pet fee, friendly pooches of all shapes and sizes are welcome to stay but must call (775) 886-6603 to ensure they have a spot.
Basecamp Hotel (Tahoe City, CA)
Crossing over the state line into California, the Basecamp Hotel is right on Highway 28 and touts that it's bike, ski/snowboard, and pet friendly! This newly renovated hotel is within walking distance to restaurants, shops, Commons Beach, and a paved lakeside bike path. The hotel itself offers a continental breakfast, outdoor fire pits to relax at, and a bar that serves up local brews and gourmet hot cocoa. Fur babies are welcome to stay for an additional $40 per night fee.
Tahoma Meadows Bed & Breakfast (Tahoma, CA)
There are not many short-term accommodations on the sleepy West Shore of Lake Tahoe, but there is a paved bike path that wraps around the lake and dozens of hiking trails that stretch from Meeks Bay Resort all the way up to Dollar Hill, giving your pup plenty of opportunities to get out and take advantage of their Tahoe vacation. In the middle of the West Shore, Tahoma Meadows offers family and pet friendly cabins and cottages, each one surrounded by towering pine trees and lots of fresh air. Relax in a hammock by your pup after a mountainous trek or dip in Big Blue; all you need to do is sign an agreement to stay at a Tahoma Meadows dog friendly cabin.
Truckee-Tahoe Pet Lodge (Truckee, CA)
If you are looking for a place specifically for your pet, consider dropping your furry friend off to the Truckee-Tahoe Pet Lodge. The animals here are treated like royalty, with daily health checkups, a huge fenced in play area, and customized meal plans that meet your dog (or cat's) dietary needs. Plus, the staff holds birthday parties and holiday celebrations and sends you pictures of their trip.
The manager at the Truckee-Tahoe Pet Lodge once told me that whenever a family drove into the Sierra Nevada, near the Donner Pass Road exit off I-80, their dog went crazy with excitement knowing that he was nearing his favorite place ever.
Other Notable Dog Friendly Accommodations in Tahoe
Spread throughout North Lake Tahoe, Tahoe Moon Properties has more than 50 dog-friendly vacation rental properties, many with private backyards or nestled up next to national forest land. Also on the North Shore, the Ritz-Carlton up by Northstar California accepts pets; it charges a $25 per night pet fee and a $150 nonrefundable pet deposit.
Close to the Heavenly Village and the casinos in South Shore, Doc's Cottages understands how hard it is to leave your pup behind, therefore this highly rated hotel welcomes your pets. These cottages are clean, affordable, and they only charge $20 for one pet and $35 for two pets under 15 pounds per night.
Now go out and give your dog a Tahoe vacation it will never forget 😊
The Best Dog Beaches in South Lake Tahoe
The Best Dog Beaches in North Lake Tahoe