Article Quick Links - Post Table of Contents
Best Lake Tahoe Autumn Hikes for Leaf Peepers
Best Lake Tahoe Autumn Hikes for Leaf Peepers
Autumn is definitely one of the most prominent seasons for change, starkly reminding people of the passing of time as the leaves start changing colors or dropping, preparing for winter. And the Sierra Nevada is known for its expansive, still intact forest, offering miles and miles of towering trees that provide oxygen, shade, and habitat for local wildlife. Sugar pine, lodgepole, cedars, juniper, and Jeffrey pines are just a few of the many species of arbor surrounding the big cobalt blue alpine lake in the center. And autumn is an especially nice time to visit, when the quaking aspens start changing colors, green bushes turn into a fiery red, air temperatures start to drop, and there are a lot less people around. Therefore, if you are a fan of hiking in the autumn and interested in being a part of the changing landscape, here are some of my favorite treks to take in the vibrant colors and changing environment of Lake Tahoe before the snow starts blanketing the mountains: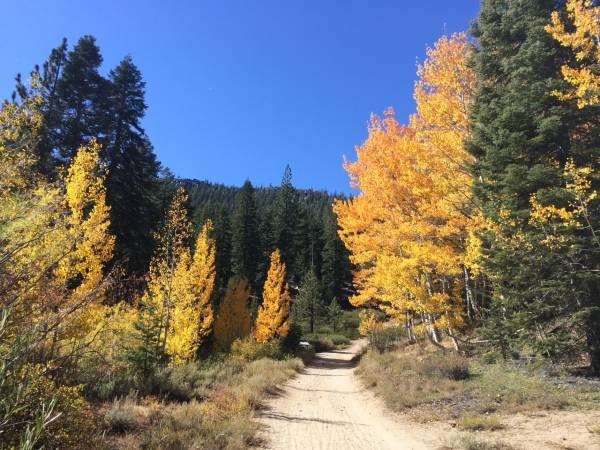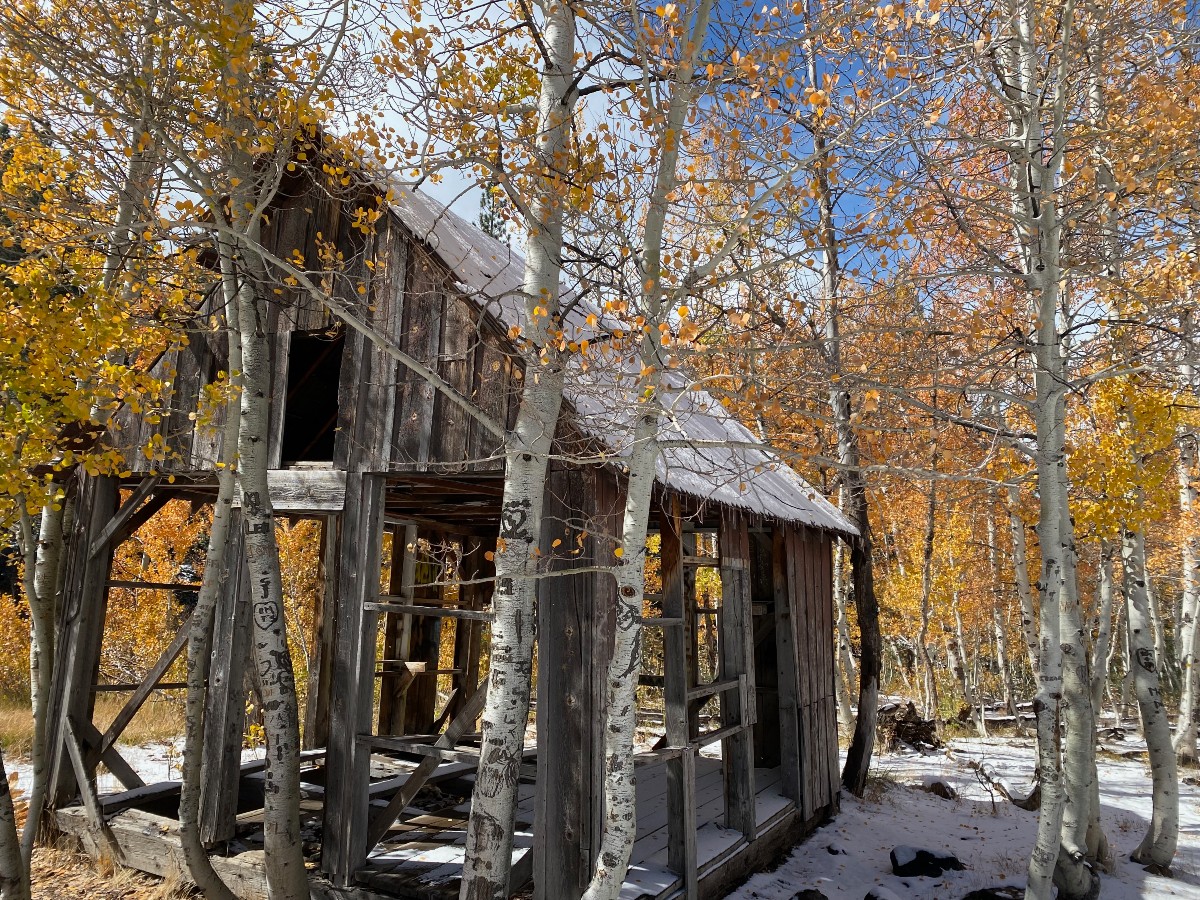 Spooner Lake (East Shore)
At the Highway 50/Highway 28 intersection, Spooner Lake is a small lake that acts as natural habitat for chickadees, ducks, and other wildlife. A 2-mile dirt trail borders the lake, and now is the best time to hike around it as you meander through aspens, go over creeks, and pass through a small meadow, all within view of Spooner. The entire Spooner Backcountry encompasses 50 miles of trails and 12,000 acres of forest, so you're bound to see some beautiful flora hiking it in the fall.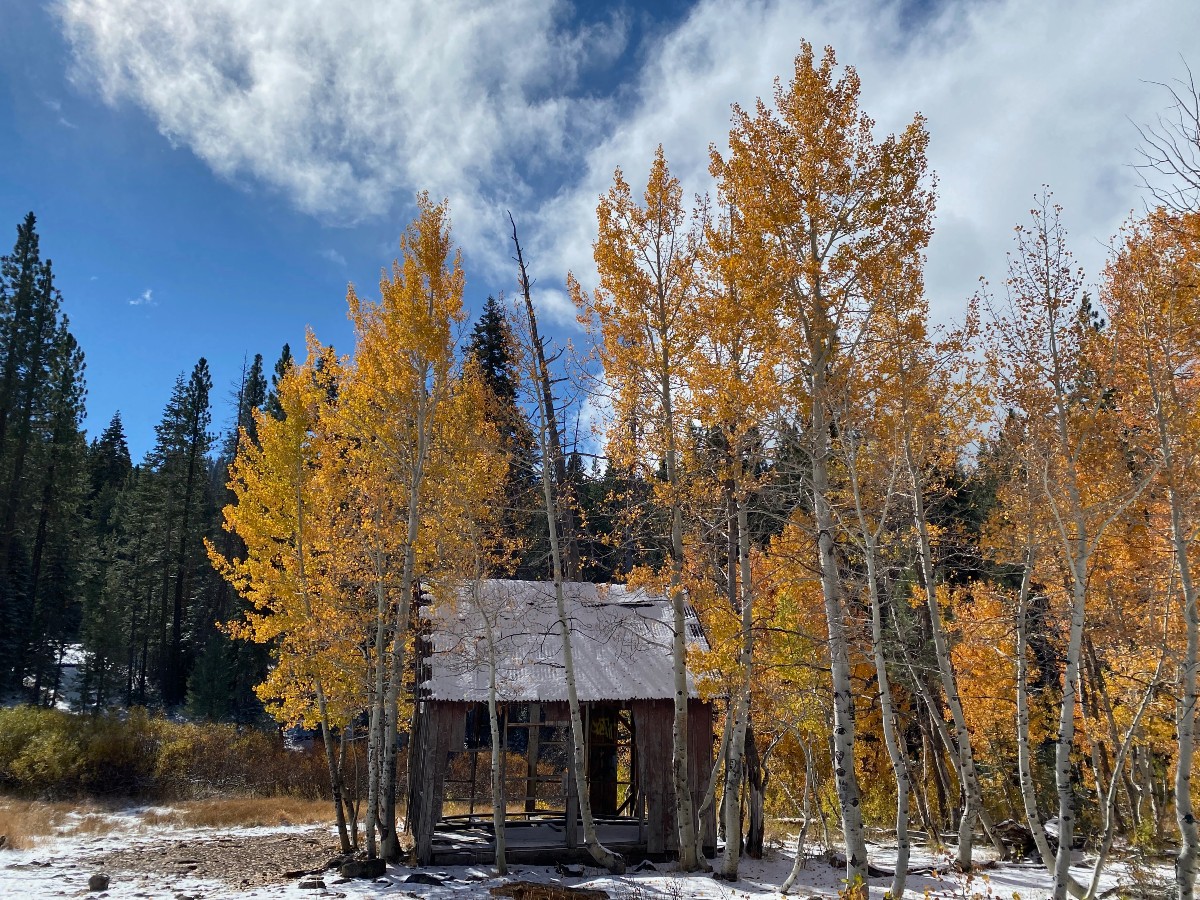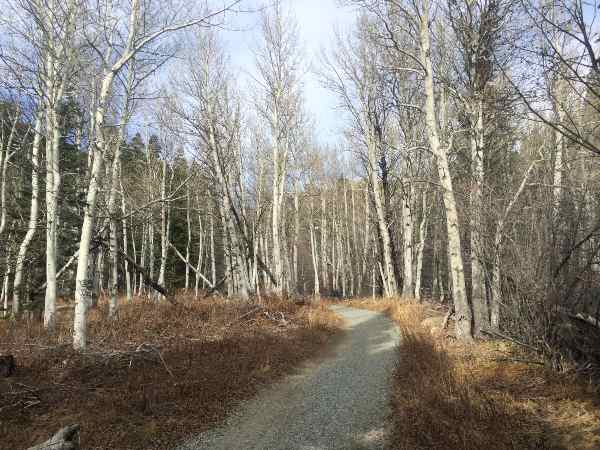 ​The Flume Trail (East Shore)
On the far eastern end of Incline Village by the Tunnel Creek Café and newly built East Shore Trail is an access point for the Flume Trail that goes into the mountainside towards Marlette Lake and the Spooner Backcountry. A popular route for mountain bikers is one-way trek from Spooner Lake to the Tunnel Creek Station which is 14 miles long and climbs up to 8100 feet in elevation (Flume Trail Bikes offers mountain bike rentals and a shuttle service). For those that want something a bit lower key, park at the East Shore Trail parking lot and hike behind the Tunnel Creek Café, climbing above Incline Village and taking in the sweeping views of the lake. About 1.3 miles in, be sure to look out for Monkey Rock, an infamous natural landmark beloved by locals.
Blackwood Canyon (West Shore)
Not a whole lot is ever mentioned about Blackwood Canyon, located three miles south of Tahoe City on Highway 89 on Tahoe's West Shore, but I have to admit that this has become one of my new favorite areas of the lake. It starts at the lake and creeps up through miles of trails on the mountainside meandering through pine trees deep within a canyon. As the only state-managed SNO-PARK on the North Shore, this area is more popular in the winter for snowmobiling, but I like it because it's dog-friendly and always has plenty of parking close to Big Blue.
Hope Valley (South Shore)
Out by Kirkwood Mountain Resort, the four miles of hiking trails out in Hope Valley is quickly gaining popularity as one of the best places in the West for leaf peeping. As part of the 165-mile Tahoe Rim Trail, this small part of it lights up in September and October with bright aspens and willows that impress hikers with hues of red, orange, and gold. To get there, drive south through Meyers towards the Highway 89/Highway 88 junction and you'll start to see trailheads that lead to illuminating colors in either direction. (However, many aspens are grouped together near Red Lake.) Be sure to end your day with a delicious drink at Wylder Hotel and come back in the winter to go snowshoeing. This area is what Visit California says has a "nearly psychedelic displays of yellows and oranges" in the fall.
Tahoma Meadows Bed & Breakfast (Tahoma, CA)
There are not many short-term accommodations on the sleepy West Shore of Lake Tahoe, but there is a paved bike path that wraps around the lake and dozens of hiking trails that stretch from Meeks Bay Resort all the way up to Dollar Hill, giving your pup plenty of opportunities to get out and take advantage of their Tahoe vacation. In the middle of the West Shore, Tahoma Meadows offers family and pet friendly cabins and cottages, each one surrounded by towering pine trees and lots of fresh air. Relax in a hammock by your pup after a mountainous trek or dip in Big Blue; all you need to do is sign an agreement to stay at a Tahoma Meadows dog friendly cabin.
Emerald Bay/Vikingsholm
Stay on Highway 89 going towards Tahoe's southwest shore and eventually you'll end up at the area's most iconic landmarks- Emerald Bay. There are several hikes you can do all around here, everything from hiking the one-mile trek down to the Vikingsholm mansion and the water to strolling along the perimeter of the shoreline via the Rubicon trail, going up into Desolation Wilderness towards Fallen Leaf Lake, or climbing up 14,000 feet to Mt. Tallac. At the very least, stop at the Emerald Bay parking lot at the summit and take a picture of the lake from the nearby vista point…it's beautiful in any season.
Mt. Rose Summit, Relay Peak, and Ophir Creek Trail (East Shore)
On Highway 431 between Incline Village and the Mt. Rose Summit, the Ophir Creek Trail in the Tahoe Meadows gently reach into pine trees and overlook part of the valley while also providing habitat for local wildlife. The loop is around three miles long and easy enough for all hiking abilities. (This is also a popular snowshoeing spot).
Go about a half-mile up to the Mt. Rose Summit and you'll run into some more difficult terrain with equally amazing views. Head towards Relay Peak and immediately notice more of Lake Tahoe or take the more challenging route up to the summit of the 10,000-ft. Mt. Rose Proper to admire Reno and Carson Valley. The wildflowers and sagebrush emit a wonderful scent after a nice rainfall and now is the perfect time to enjoy the views before snow makes it unpassable.
There are so many great hikes in the Tahoe area, it's hard to stick to just these. My advice is that when you drive around Lake Tahoe, stop and smell the pine trees and you may end up on a trail that unlocks more of nature's gems. Enjoy!
The Best Pet Friendly Hotels in Lake Tahoe
Best Mountain Biking in the Sierras is Lake Tahoe