Lake Tahoe Wildlife and How to Deal with Encounters
Lake Tahoe Wildlife and How to Deal with Encounters
By: Kayla Anderson
Many people move to Lake Tahoe to enjoy the great outdoors, to hike, bike, paddleboard, and nestle into the trees away from the concrete, traffic, and busyness of major cities. The expansive forest that surrounds Big Blue also accommodates various wildlife ranging from golden eagles to the Sierra Nevada's notorious brown and black bears. Here are some of Tahoe's mammals, birds, and amphibians who've called Lake Tahoe home well before we did:
Lake Tahoe Bird List
There are more than 3 trillion trees in the world, and the Tahoe basin accommodates 3-4 dozen varieties of them which includes cedars, Jeffrey pines, red firs, and lodgepoles. These towering trees have been around for decades, creating comfortable natural aviaries for migrating birds. Here are some of my favorite Tahoe chirpers:
Mountain Chickadee: Widely known as the "cheeseburger" bird for their long drawn out song, mountain chickadees abound in the Tahoe Sierra. They are small, cute little pudgy birds with black heads and whitish-gray bodies with a song that carries far. The best place to see these Tahoe superstars is to hike up to Chickadee Ridge near the Tahoe Meadows.
Western Tanager: These birds are so strikingly beautiful that whenever I see them, I stop whatever I'm doing and watch them for a while. A little bit bigger than the mountain chickadee, tanagers have bright orange heads and yellow/black bodies. I've seen them up on the mountainside in North Lake Tahoe, sometimes just sitting on a fallen log close to the trail.
Yellow-Headed Blackbird: Sometimes mistaken for orioles, yellow-headed blackbirds look exactly as they sound…blackbirds with yellow heads. I've seen flocks of them together perched in bushes at the Bijou golf course in South Lake Tahoe
Bald Eagle: These magnificent birds have a commanding presence, and gigantic nests have been seen on the western shores of Lake Tahoe (Rubicon/D.L. Bliss area) and on the East Shore near Thunderbird Lodge. Golden eagles' nests and red-tail hawks have also been spotted here, scanning the area for fish, critters, and have unfortunately even gotten ahold of available chickens and small off-leash dogs.
Hooded Merganser Duck: These fast swimmers are often seen in Lake Tahoe and show up while I'm paddleboarding. They have cute little reddish-brown mohawks and travel in packs. I've seen common mergansers as well and they look completely different… they have a sleek black and white sheen and intense eyes.
Other notable mentions: Some other birds that've popped up around my house include robins (who come out when we water our yard or after a fresh rainstorm) and Steller's Jay- a type of blue jay that can be squawky and destructive. I've seen flocks of seagulls take over the East Shore of Lake Tahoe, and there's a huge gang of mallard ducks known to rule the streets of Kings Beach and Tahoe Vista. Canadian geese, woodpeckers, and hummingbirds are frequent summer visitors, and dark-eyed juncos have also been spotted.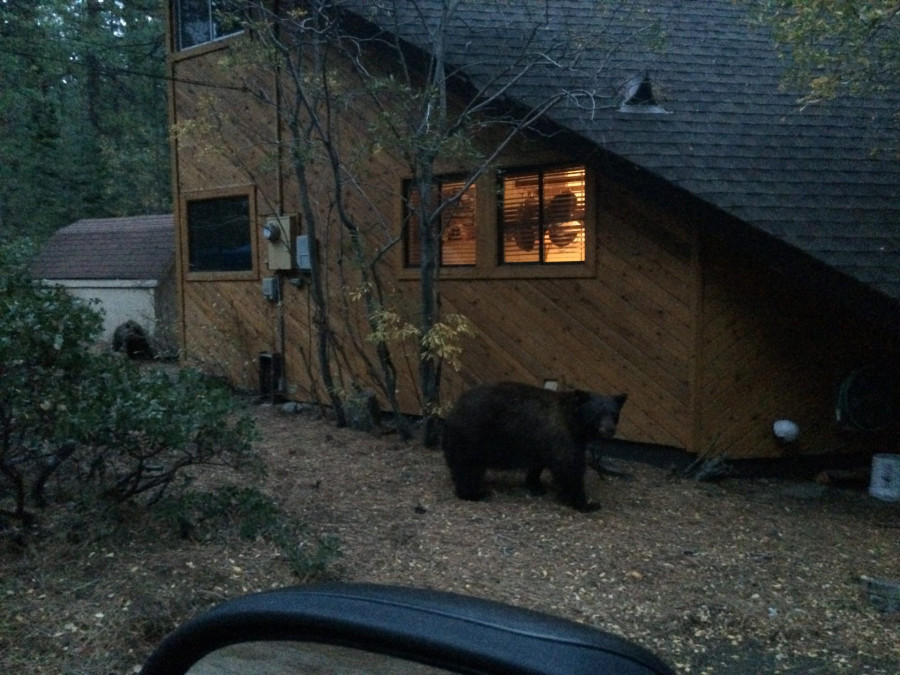 Tahoe Bears
Seeing/dealing with black (or brown or blonde) bears in Lake Tahoe are common for those who've been here awhile, and those bears are hungry. There are more instances of Tahoe bears breaking into homes and even as I write this, I'm cleaning up a mess from a bear getting into my car last night because it happened to be the one time, I left it unlocked.
As more people move to and visit Lake Tahoe, the amount of trash has piled up causing bears to increasingly go down into the neighborhoods and unlocked dumpsters to scavenge for food. They immediately go for unsecured trash but have become smart enough to break into garages, houses, and unlocked cars.
When this happens in Nevada, "nuisance" bears get tagged by the Nevada Department of Wildlife and sometimes killed if they keep coming back and there have been too many complaints against them. And while black bears aren't typically aggressive, they can attack when agitated.
That's why nonprofit organizations such as the BEAR League formed to help educate people about how to keep their homes safe from bears and properly secure their trash to prevent bear/human interactions that end up getting bears killed. Locals are passionate about the bears and want to keep everyone- and everything- safe. While visiting Tahoe, help the bears in Lake Tahoe by doing your part to be bear aware…lock up your trash, your car doors, and your house at night so that bears don't feel tempted to impede into your space.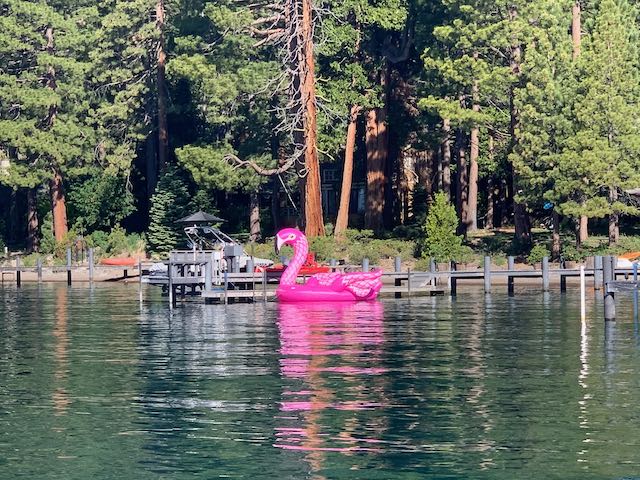 Tahoe's Small Mammals and Critters
Sit outside on my back deck for a day and you'll see three different species of squirrels running around (ground, tree, and gray squirrels that are the size of small cats) as well as a couple of families of chipmunks. The way the birds interact with these backyard foragers creates endless entertainment, but you have to make sure that there are absolutely no holes in your shed, garage, or enclosed space otherwise they'll take over fast (along with the mice).
Coyotes, raccoons, and bobcats are also frequently spotted, which is why Tahoe dogs and cats must be indoor pets.
What to do When Finding an Injured Animal
Humans and animals maintaining a symbiotic relationship in Tahoe's natural environment requires effort on our part, and sometimes we may encounter a wounded or abandoned animal. I've found a nest of baby chipmunks before and (using gloves) left them outside in a shoebox and watched the mom relocate her kids.
However, when finding an injured bobcat, coyote, bear, or other animal, it's best just to call the number one source, the South Lake Tahoe animal shelter called Lake Tahoe Wildlife Care at 530-577-CARE. If the animal appears to be dangerous just leave it alone, but if it's injured and orphaned then do your best to keep it warm, don't feed it, and call the care center for further advice.
What to do If There's a Bear Break-In
Generally, bears only try to break into a home, car, or garage if they smell food, so it's best to try to keep things as locked up and neutral smelling as possible. Don't ever leave food in your car and keep trash in locked bins or bear boxes. If a bear breaks into your home, call the BEAR League at 530-525-PAWS as they can provide information on how to avoid a future break in.
*For articles and updates regarding Lake Tahoe Bear activity:  California Fish and Wildlife: Bear Blog and newsletter Bear Naked Truth
Living in an area with an abundance of wildlife never ceases to amaze me and personally I feel like it's one of the true joys of living here. Therefore, when I see a bear or a bobcat or a coyote, I try to keep a healthy distance and give them their space. Don't try to approach them or feed them (as the BEAR League says, "A fed bear is a dead bear.") If you are interested in learning more about other species of wildlife spotted in Lake Tahoe, the Truckee River Guide is also a great source. Now go out there and see what you can spot! ​