Our Top 3 Spots to Rent a SUP or Kayak in North Lake Tahoe
Summer is here, and one of the best ways to get out of the heat as well as get some exercise in is to take out a kayak or a stand-up paddleboard and paddle around Big Blue. Here are our top three spots to rent a SUP or kayak on the North Shore and what they have to offer:
Waterman's Landing/Tahoe Waterman, Carnelian Bay
All of us at the Tahoe Report are frequent visitors of Waterman's Landing because not only do we like to paddle and support local family-owned businesses, but we enjoy sitting out on the lakefront patio to warm up with a latte and a housemade blueberry scone before or after our paddle. Or grab a beer and a panini on the days when it's too windy to go out.
Along with offering organic made-with-love snacks, breakfast, and lunch items, Waterman's Landing rents out single kayaks and stand-up paddleboards for $25/hr., double kayaks for $40/hr., or a Super SUP that's pretty fun to take out with a group of friends.
Points of interest out on the water within this vicinity include Gar Woods, the Sierra Boat Company, Flick Point towards Agate Bay, or the flora and fauna near the shoreline heading towards Dollar Point.
Waterman's Landing also hosts summertime SUP Yoga, Youth, WaterWoman, and Downwind tours/experiences as well as clinics, personalized lessons, and kids' camps. For more information or to make a reservation online 24 hours in advance for a rental SUP go to www.watermanslanding.com or they are available on a first-come first-serve basis. When you go, you'll see why we are all fans…this place is affordable, inclusive, and dog friendly.
If you want to see current LIVE Lake Conditions in front of Waterman's Landing you can access the Waterman's Landing Lake Tahoe Webcam from our Travel Resources page.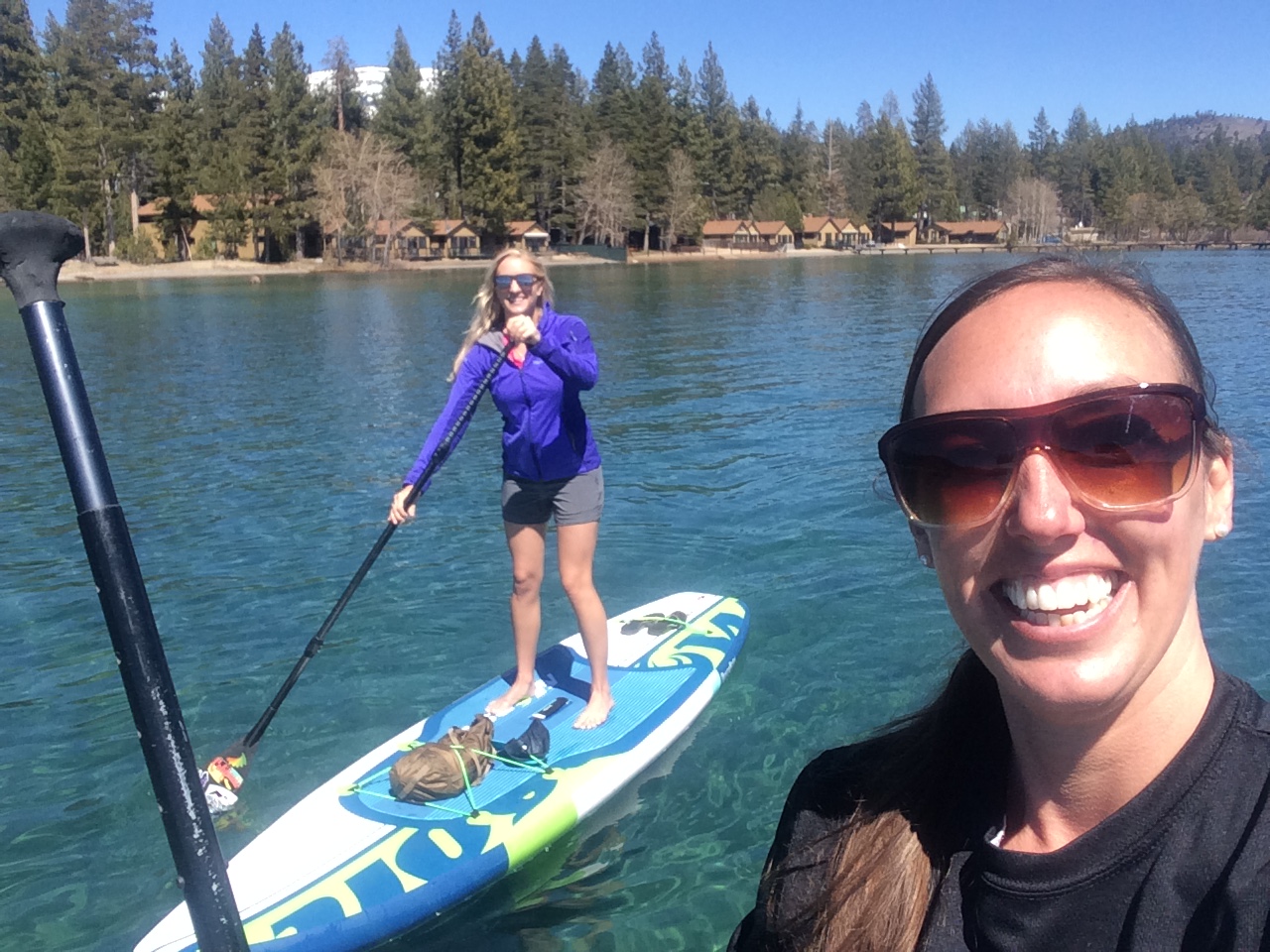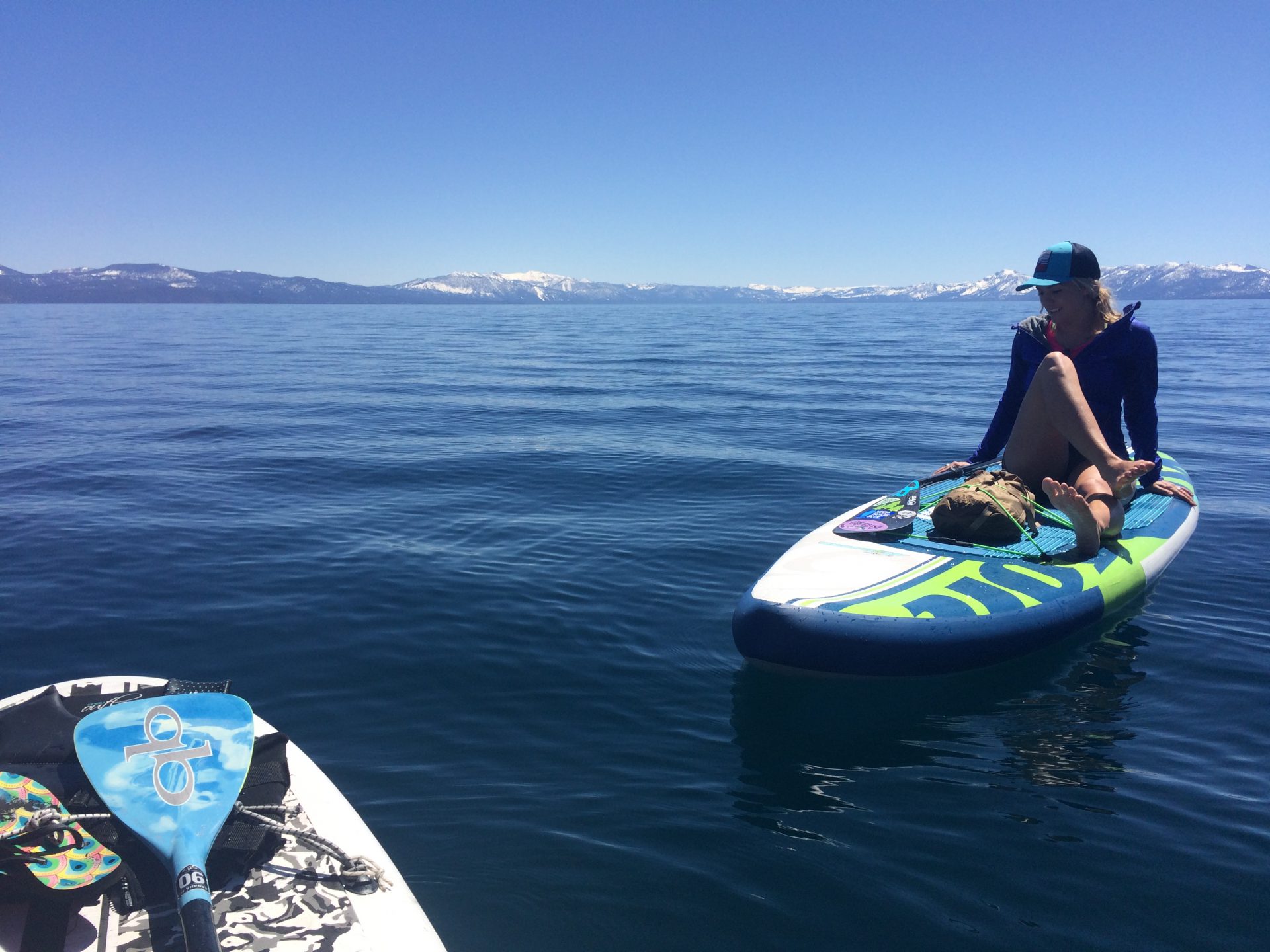 Adrift Tahoe, Kings Beach
In the cluster of businesses on the main street of Kings Beach (next to Jason's Beachside Grille), Adrift Tahoe rents stand-up paddleboards, kayaks, and canoes. Single-person kayaks and SUPs are $25/hr., 2-person and pedal drive kayaks are $40/hr., and canoes are $50 per hour to take out. On-water tours are available from 9am-11am daily or this is a nice place to stop and grab some beach gear while out dining or checking out all the various shops. On-water points of interest include heading out to the rocks towards Speedboat and the East Shore or paddling in the other direction in the way of Tahoe Vista and Moondunes Beach.
Tahoe City Kayak, Tahoe City
With rental locations in both Tahoe City (within walking distance to Commons Beach) and Sand Harbor, Tahoe City Kayak allows people to check out single kayaks for $25/hr., double kayaks for $40/hr., and SUPs also for $25 per hour. Tahoe City Kayak also offers sunset, Sand Harbor, and lakeside brunch tours that range from $75-$95 per person. Some points of interest close to its flagship location in Tahoe City include the Tahoe City Marina and the Lake Tahoe Dam that controls water flowing into the Truckee River.
And for South Lake Tahoe, Zephyr Cove and other areas of Tahoe check out: Best Places to Rent a SUP or Kayak in South Lake Tahoe
From walking to the beach, to finding the nearest ski resort, to taking a day trip to some of the nearby destinations.  Check out the options!
Lake Tahoe is a magical place.  Surrounded by mountains with access to the crystal blue water, excellent trails, world class ski ressorts and more within the Tahoe basin.
Beyond any of the mountain passes lie many additional opportunities that are a relatively easy day trip.  Some are on your way to Lake Tahoe from the San Francisco Bay Area  such as the Sierra Foothills and Gold Country.
Others such as the former mining town of Bodie and the Bodie State Historic Park as well as Carson City, Reno, and even a little farther to Mammoth Lakes and Mono Lake offer plenty of interesting options.  As a day trip or for ideas on where to stop while exploring California and Nevada, check out some of our travel ideas.