Be the right kind of visitor? Guide to Visiting Tahoe – Responsibly
Be the right kind of visitor?  Guide to Visiting Tahoe – Responsibly
Lake Tahoe as well as other towns and parks across the nation that rely on tourism, experience a major challenge during the high season.  People – Yep, those people….the irresponsible, inconsiderate tourist.
All of us have been tourists and most people are responsible, rule following, have a great time, enjoy, don't trash the destination types.  We have all traveled and we have all made mistakes.  Whether coming from a place with no mountains, a different language, or first time bringing the kids or your new dog, a little research can help maximize your experience. Just don't be the visitors who think of vacation as meaning that the rules do not apply and that forget that their behavior can impact the experience of others.  It is as simple as keeping a few things in mind.

Lake Tahoe is a special place combining mountain air with one of the most spectacular lakes in the world. 
Crystal blue waters, streams and waterfalls flowing from the melting snow all with the backdrop of the Sierra Nevada mountains creates an incredible vacation paradise.  Following some simple guidelines, visitors can enjoy Lake Tahoe while not trashing the land or entirely pissing off the local community.
A little planning goes a long way:
From getting the coveted parking spot at the beach or ski resort, to avoiding winter road closures, to just getting some food without waiting in a long line, a little planning can make a big difference.
Not everything needs to be planned, but having a basic strategy can be extremely helpful for everything from the meals that you cook to getting the chance to visit the spots that you would like. Unless you are trying to camp in a snowstorm, the chances are that there are a lot of people planning to visit the same places that you are and likely at the same time.
Travel Resources: adjust for traffic and whenever possible avoid peak times. Not only is this beneficial for the road and parking, but also can help you get in and out of the supermarket with more time to enjoy the beach.  You can even check out some webcams on the Tahoe Travel Resources
​
Don't Litter:
Pack out any trash (or dog doo) that you brought on the trail.
Forget buying bottles of water: Drink Tahoe Tap – some of the best water anywhere comes from the faucet and is FREE.
Throw away your trash if there is available space in a trash bin. If full, then pack out your trash. 
Dog Poop: There are no Tahoe Poop Fairies – actually there aren't even any where you normally hike, so don't leave it on the side of the trail for pick up later….no one wants to see it, or even worse pick it up when you forget so just bag it and take it with you.
Be Considerate:
Say hello. Amazing how this works.  With few exceptions, if you are nice and respectful to other visitors, neighbors, workers, everything usually runs quite smoothly.
You are on vacation, but the people next door to your vacation rental may have to work the next day. Normally as simple as bringing in and calming the festivities indoors after 10 pm. 
(benefits: You are ready for the morning to get out earlier and get a parking spot, the neighbors and the person who rented you the cabin will appreciate it)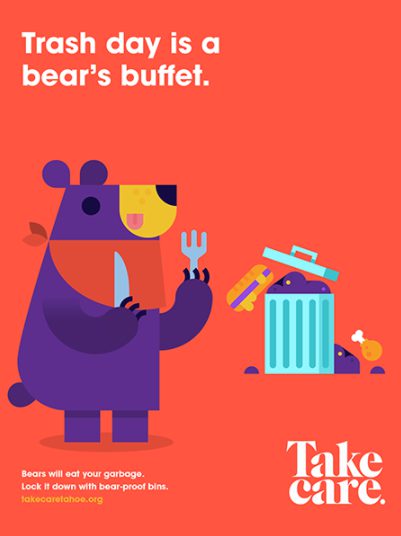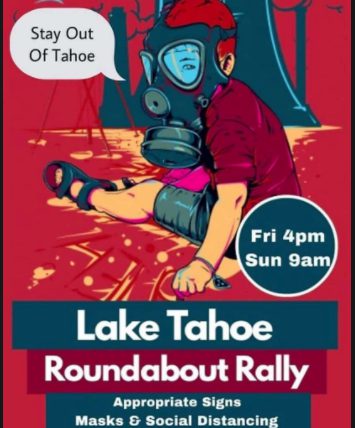 Follow the Rules:
In the summer: The fire danger is HIGH and there is no shortage of signs informing you. From signs to rangers, to common sense, the rules are simple.  Important updates and tips found at Living with Fire Tahoe
Trash: It can never be said enough – do NOT litter and pack out what you pack in.
Wildlife & Bears: By keeping a safe distance and safely stowing food and trash any encounters with wildlife should be without issue and enhance your experience.
COVID19: Mask Up Tahoe – Maintain Physical distance and Mask Up. Follow local guidelines and protect yourself as well as locals and other visitors.
Parking: Best way to avoid parking issues (and fines), plan your trip and arrive early, at other off peak hours, or walk.  From too many cars at the vacation rental, to blocking fire hydrants, there are no shortage of examples of visitor malpractice in Tahoe.  As souvenirs go, the parking ticket is one of the most expensive.
The Lake Tahoe area should be on everyone's list of places to visit.  The area is beautiful, very welcoming to visitors and has everything that one would want in a vacation destination.  By supporting local businesses, cleaning up after yourselves, following the rules and in general just being considerate everyone will have positive experience (even the bears).
For more information on how to Take Care of Lake Tahoe visit Take Care Tahoe or check out the Tahoe Report Travel Resources page.
Winter 20/21 Lake Tahoe Ski Resort Openings & Health Protocols