Article Quick Links - Post Table of Contents
Staying Healthy and Active When Smoke Moves Into Lake Tahoe
It's no secret that Lake Tahoe is full of trees- it is part of the draw of living in and recreating in this clean oxygenated environment. However, recent wildfires that swept through the region have greatly impacted operations. Even without the threat of homes burning down or being evacuated, smoke generated from the falling forests tends to move into the basin, clouding the air with fine particulate pollution matter that makes it hard to breathe.
Therefore, what do you do when the beloved Tahoe environment gets threatened? How do you stay healthy, happy, and active when there is a temporary closure on national forests? Check out  Summer Travel Resources for Tahoe air quality, fire maps and webcams to see live conditions in the area.
Here are some tips for surviving wildfire season in Lake Tahoe without having to invest in a Peloton to exercise safely…BTW these suggestions/temporary solutions may even help when you're snowed in during a Tahoe blizzard this winter: (10 things to do when stuck indoors – Winter)
Adjust Your Vacation Plans
We get it…you've been dreaming about your vacation to Lake Tahoe for months, finally getting the time off work to come here and enjoy the outdoors. Maybe you're training for a paddle race or trail run or want to simply relax on the beach or check out Emerald Bay. And then the smoke rolls in, likely to upend your trip when the Lake Tahoe Air Quality reaches unhealthy or hazardous levels. Boat tours take a break, events get cancelled, and businesses shut down.
In this case, if there's something you specifically want to see and do while in Tahoe, it might be best to put off your Tahoe trip until another time. Or better yet, if you're flying in from far away, redirect your vacation to check out other beautiful landmarks that are within driving distance yet easier to see in clearer skies. Consider checking out the Golden Gate Bridge, visiting the Monterey Aquarium, or going up north to try some mushroom ice cream in Mendocino. Yosemite and Lassen national parks are all within a half-a-day's drive, too, but it's a good idea to check that the smoke isn't affecting those areas, too.
Keep in mind that flights in or out of the Reno Tahoe International Airport may be cancelled or delayed on particularly bad smoky days but the Sacramento International Airport and/or Oakland/San Francisco airports can be good alternative options.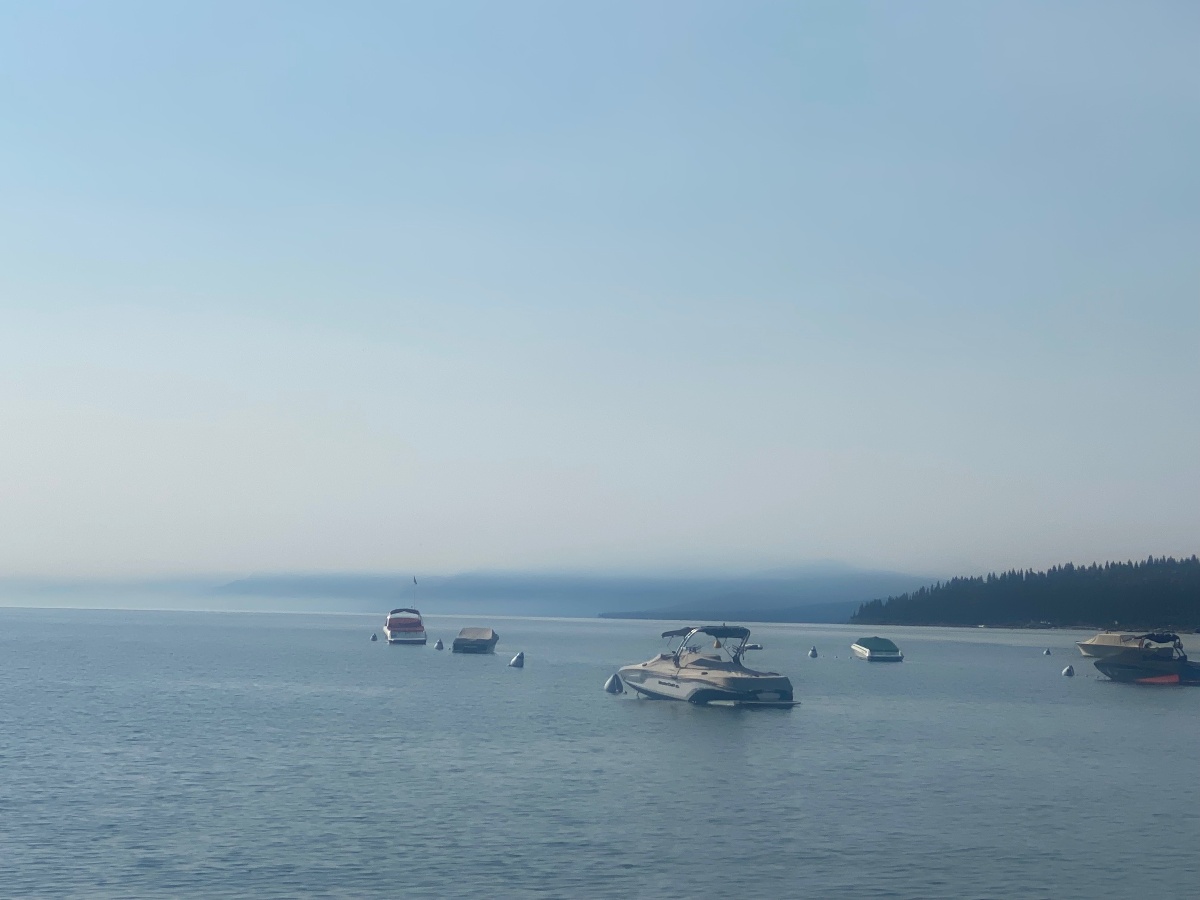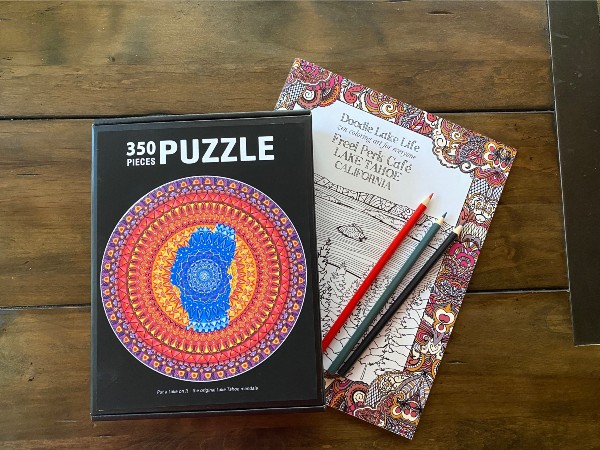 Monitor the AQI (and Make a Break for It When You Can)
On a few nights this past summer, the wind stopped blowing as hard and smoke settled like a blanket over Lake Tahoe until it lifted in the late morning. Or it could stay lingering throughout the day making it tough for firefighting aircraft to put out the flames. That's why consistently checking the Lake Tahoe Air Quality Index is your best bet on taking advantage of the clean air when there's a break.
For instance, The Weather Channel app on iPhones generally shows the air quality when it gets to unhealthy levels. Along with an hourly weather report, it also pulls the AQI from BreezoMeter. Many weather stations in the area take readings from sensors that measure particulate matter in the air (such as PurpleAir, that offers real-time air quality monitoring devices and readings available for personal or commercial use).
Smoke can change directions depending on which way the wind is blowing and how much of the adjacent fire has been contained but it's probably okay to go outside for a quick low impact hike, paddle, or bike ride if you're staying close to home, can see a good distance ahead of you, and you're not breathing heavy.
It can be a bummer when national forests or parks are closed but getting outside when the air clears out (even for an hour) can rejuvenate your mind and spirit. It's also a good idea to check local webcams to see live images of what's going on at the top of Tahoe's mountains and down at the lake.
Keep Your Mind Active with Indoor Activities in Lake Tahoe
Lake Tahoe is well-known for its outdoor activities, but there are a lot of unique indoor options that can keep you entertained while protecting your lungs. No matter how much time you spend in Tahoe, here are some options for how to make your trip here memorable:
Support local businesses- visit local cafes, restaurants, casinos, and bars: Smoky skies can crush businesses that depend on tourism to stay afloat, and there are many options all around the lake that stay open in sun, snow, or smoke. Places like The Idle Hour on the South Shore provide panoramic birds eye views of the lake in a cozy atmosphere, while Waterman's Landing on the North Shore serves delicious breakfast, lunch, and coffee on the water's edge. There are also a plethora of unique breweries and casinos that contain a ton of history…and you might get lucky on blackjack or the slots.
Bask in your Tahoe cabin: Besides watching TV, there are plenty of ways to give your mind a break while stuck indoors. Get the family together and do a mandala Tahoe puzzle sold at the Chickadee Art Collective, read a Tahoe murder mystery by Todd Borg, get creative with a Tahoe-centric adult coloring book, or if you're in South Shore, browse the aisles and sip on some coffee at Cuppa Tahoe.
Take a tour: Now that things are opening back up, visit a museum or take a tour to learn more about Lake Tahoe's environment and history. The Tahoe Environmental Research Center (TERC) at Incline Village's college campus gives public tours four days a week for a small donation, and the Gatekeepers Museum in Tahoe City has an incredible display of woven baskets paying homage to Tahoe's original inhabitants as well as other interesting exhibits.
Drive around the lake (if the roads are open): People always ask me what the best part of Lake Tahoe is or how long it takes to drive around the lake, and I always tell them to go check it out for themselves! The East Shore is different from the West Shore, the North Shore is different from the South Shore, and there's a lot to see without having to get out of the car. On a good day with no traffic, it takes about 2.5 hours to go around Big Blue's 72-mile circumference and you'll pass Emerald Bay, go through the tunnel at Cave Rock, see the beaches and quaint towns of North Shore, and go through the bustling City of South Lake Tahoe. However, you'll probably want to stop at one of the many vista points to snap a photo, go on a short hike, or dip your toes in the water.
Take a day trip to Virginia City or Genoa: If you feel it's too smoky to drive around the lake, consider taking a day trip to Virginia City about 1-2 hours away from Tahoe. Historic Virginia City will throw you back in time as residents walk around in period-style clothing. Old, haunted saloons, the graveyard, and broken-down mineshafts will have you seeing things if you have too many bloody marys and stay after dark. Genoa is also a historic town on the edge of the Carson Range; have a beer at Nevada's oldest thirst parlor and then go for a soak at David Walley's hot springs.
Go to a movie: Now that movie theaters are back open, cinemas all around the lake are eager to welcome back moviegoers. Check out the latest flicks at the Heavenly Village Cinema, the Village Cinemas at Northstar, or the movie theater in Incline Village.
Keep Physically Active Indoors in Lake Tahoe
If you want to get some actual movement but don't want to breathe in smoke, then fortunately there are many options to break a sweat while staying safe indoors. For instance, you can visit a yoga studio such as Lake Tahoe Yoga or Yoga Om on the South Shore or Mountain Lotus, The Sanctuary, or Tahoe Flow Arts on the North Shore. Or get on the ice (yes, even in the summer) at the South Lake Tahoe Ice Arena or new Reno Ice facility.
Practice your bowling hook and impress your friends with your triple strike turkeys at Tahoe Bowl in South Shore or Bowl Incline in the North Shore or practice your mountaineering skills on High Altitude Fitness's rock-climbing walls in Truckee or Incline Village.
A new axe-throwing facility even opened in South Lake Tahoe, providing 10 lanes for you to let out some energy throwing into wood targets (in a safe, controlled environment of course).
If you still feel like you need to release some toxins, there are a handful of massage parlors around the lake as well, and hot springs in South Reno and Carson to soak in.
Thankfully, Know that the Smoke Never Lasts
No matter what you decide to do if you happen to come to Tahoe during a smoky time, the good news is that the smoke never lasts. When a wildfire does get close to Tahoe, local firefighting agencies have proven that they are adept at getting it under control as quickly as they can and communicating their plan with the public as often as what's necessary.
When the Caldor and Tamarack fires came close to South Lake Tahoe, CAL-Fire and other local agencies shared information through social media, emails, the press, implemented emergency alerts orders, and even posted evacuation routes and warnings on sandwich boards outside of busy grocery stores. When people did have to evacuate, residents were prepared and followed orders, allowing firefighters to bring in more resources to get it under control. Tahoe locals and businesses also quickly organized to take care of each other by providing shelter, food, and necessities. And like all things, the smoke is temporary, the Lake Tahoe community is strong, and everyone works together so that we can get back outside and enjoy the clean air again. So now how do we convince CAL-Fire to take on Covid?