4 Best Spots to Stargaze in Lake Tahoe
4 Best Spots to Stargaze in Lake Tahoe
By: Alejandra Jiménez
Because of its dry air and permanent marine airflow, Lake Tahoe features almost 300 cloud-free nights every year, which makes the area ideal to watch the stars.
If you're passionate about astronomy and use to carry your telescope wherever you go and want to find new places to stargaze, or if you just enjoy spending part of the night contemplating the milky way and counting shooting stars (with friends or by yourself), this guide will help you get to the best spots in Lake Tahoe.
1. Spooner Lake
Located at the north of Highway 50 and Highway 28 intersection, with an altitude of 6,980 feet, Spooner Lake offers some very nice open spaces free from light pollution. For those ambitious stargazers, the Marlette Lake Trail (8,000 feet above sea level) may be the best option, with a 10-mile round trip hike and breathtaking views of Lake Tahoe. Make sure to bring a headlamp and extra supplies.
If you're not about hiking, Spooner Lake's gate remains open so you can drive along the path to the shoreline and enjoy the sky scene right next to the lake.
2. Emerald Bay
Even though it is one of the most popular destinations in South Lake Tahoe, Emerald Bay is never crowded during the night. In spite of the occasional light impact from the highway, this place offers unique night shows where the crystal waters of the lake reflect back the stars in sky. Don't forget to bring chairs, blankets, some snacks and hot/cold beverages so you can easily stay the night awake and see the amazing sunrise.
3. Camp Richardson
Located on Highway 89, about 3 miles north from South Lake Tahoe, Camp Richardson Resort has peaceful sandy beaches where you can stargaze accompanied by the pleasant sound of the waves reaching the shoreline. Hot beverages are always welcome.
4. Hope Valley
Next to the intersection of Highways 88 and 89, there are many road pullouts and service roads where you can park and take any of the trails that lead you to wide open spaces free from light pollution. Bring blankets, hot coffee or cocoa, or soup.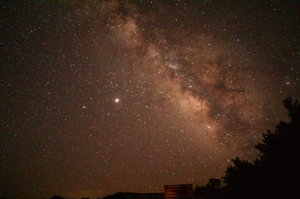 Bonus
For those who like to watch shooting stars, or just learn about the planets in our solar system, guided by the experts, Jack C. Davis Observatory in Carson City, is open to the public on Saturday evenings until 11 pm. This observatory also hosts "Star Parties" when an astronomical event happens (eclipses, meteor showers).
Some General Recommendations
Make your stargazing experience comfortable: Bring chairs, blankets/sleeping bags, and hot beverages/soup.
Download a Stargazing App: There are plenty of free apps available that allow your smartphone to identify planets, stars and other celestial bodies. We recommend Star Chart (iOS / Android), and NASA App (iOS / Android).
Enhance your experience with a Telescope and/or Binoculars: A telescope is always the best option to make your stargazing adventure more interesting. If you're willing to get your own telescope to start learning about astronomy, but don't know which one to buy, we recommend you the Celestron Astromaster 130, which brings everything that a starter needs. Otherwise, if you don't want to invest in big equipment, a pair of binoculars will help anyway.